Here's my newly aquired MB-1. All original except for; tyres (perished), skewers (had been replaced with locking cack), front derailleur (rusted to sh1t) & pedals (missing). Although it's not in 'showroom' condition, it's mechanically PERFECT. Judging by the condition of the components i'd say it'd be lucky to have seen 20km of action!
If anyone knows what model year ('91?) or size it is, please let me know! The TT measures about 560mm. I'm torn between leaving it in the condition it's currently in & just using it... and stripping it down for a full re-spray & new decals. What would you do?
Frame:
Bridgestone MB-1. Lugged Ritchey Logic Tange Prestige Cr-Mo tubing. Not sure of year or size.
Fork:
Bridgestone unicrown. Ritchey logic Tange Prestige. 1" threaded.
Headset:
Ritchey Logic 1" threaded. Over-sized lower bearing assembly.
Stem:
Ritchey Force Cr-Mo
Handlebar:
Ritchey Force alloy
Grips:
Ritchey Logic rubber
Barends:
N/A
Brakes:
Dia-Compe 986
Brake Pads:
Dia-Compe
Brake Cables:
Suntour
Cantilever cable hangers:
Suntour XC-Pro
Brake Levers:
Dia-Compe Advantage
Shifters:
Suntour XC-Pro thumbies (3 x 7)
Front Derailleur:
Suntour XC-Pro 28.6 down-pull
Rear Derailleur:
Suntour XC-Pro
Derailleur Cables:
Suntour Accushift
Cassette:
Suntour 7 speed freewheel 12-28
Chain:
Suntour Accushift
Cranks:
Ritchey Logic 172.5mm
Crank Bolts:
Tange
Chainrings:
Ritchey Logic 26, 36, 46
Chainring bolts:
Ritchey
Bottom Bracket:
Tange sealed
Pedals:
Shimano M515
Hub Skewers:
M732 XT
Rims:
Ritchey vantage Comp 32h
Hubs:
Sansin Sealed 32h
Nipples:
Wheelsmith Brass
Spokes:
Wheelsmith double-butted 20./1.8/2.0
Tyres:
Kenda Klimbmax Lite 26 x 1.9
Tubes:
Specialized 26 x 1.75 presta
Saddle:
Avocet leather
Seatpost:
Ritchey Logic
Seatpost Binder:
Aloy, black anodized
Weight:
23.5 lb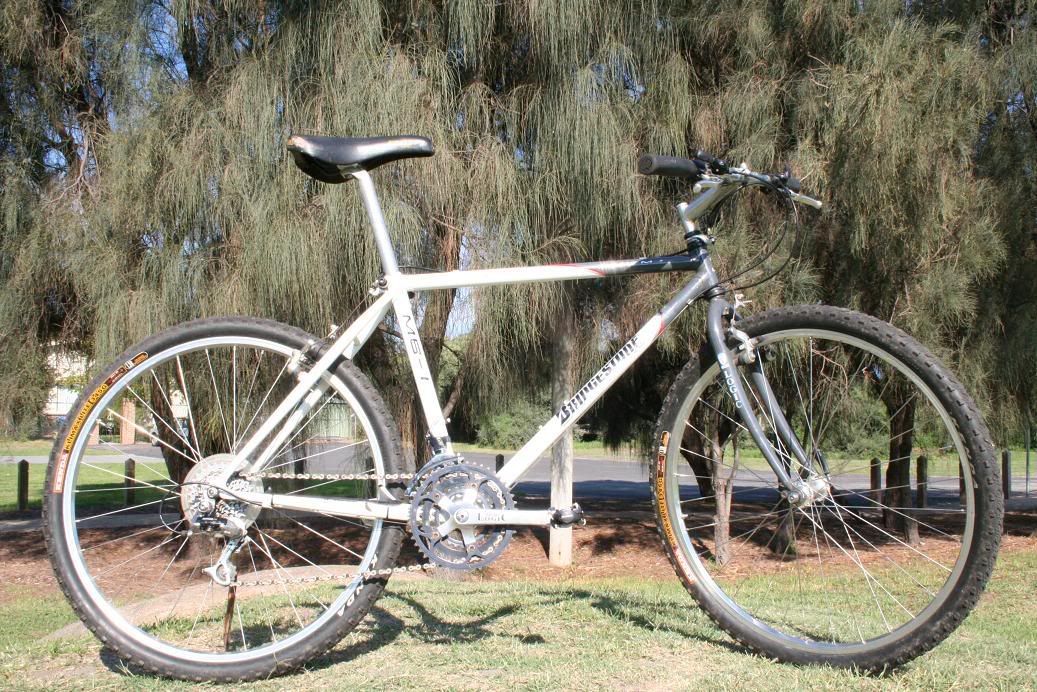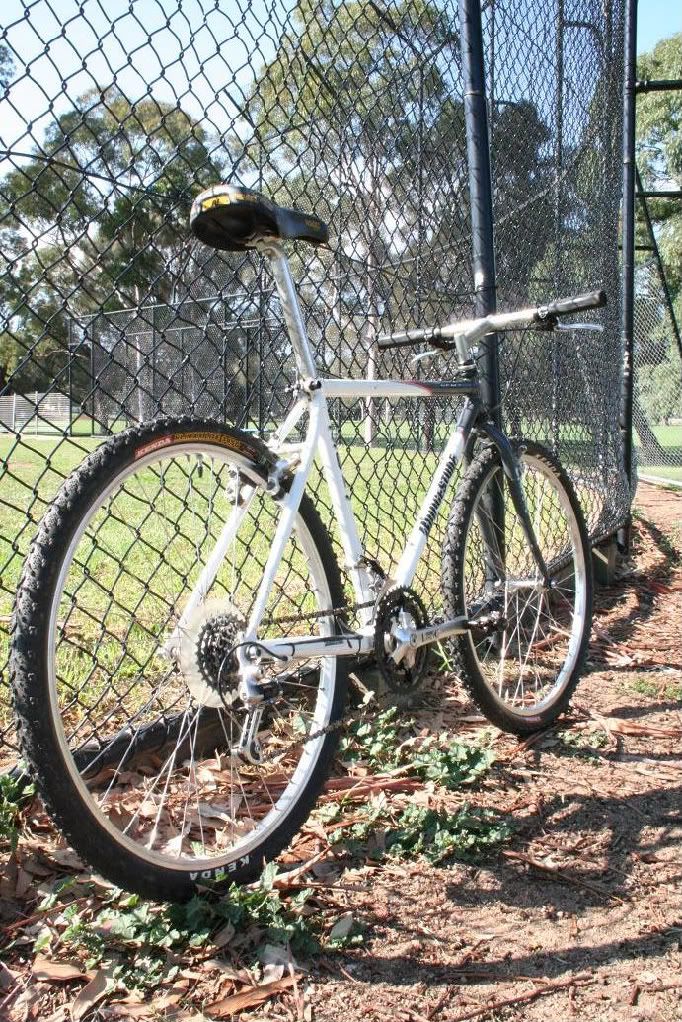 _________________
Wanted:
* '89 Nishiki Alien 17/19"
* Mantis Valkyrie-EC 18"
* Titan 1/2 Trac 18"
(Stay tuned to this channel...)
'89 Titan 1/2 Trac, '90 Nishiki Alien ACX (NOS, M735), '90 Pearson Kea, '91 Nishiki Alien ACX (M900),

'91 Haro Extreme Comp (M735)

, '91 Milazo Rock Comp II, '91 Mantis XCR-EC, '92 American Comp-Lite (XC-Pro), '12 Soma B-Side (650B), '14 Cannondale Evo Hi-Mod 1 DA9000, '15 Cannondale Trigger 27.5 Carbon 2 (XTR)