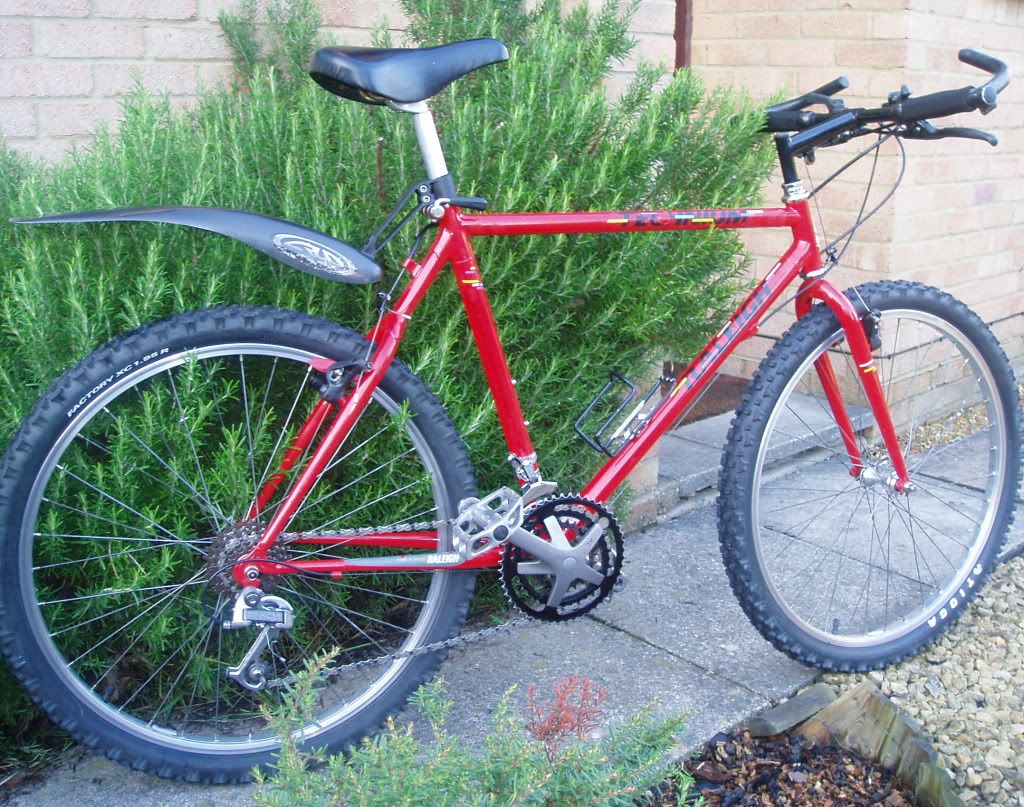 Hi –
This is my first post – so please go easy on me! I've been a cyclist for many years now and for the last 7, I've been well served by a Claud Butler Olympus XT – the ubiquitous Taiwanese Alu 7005 frame coupled with some half-decent components. Reliable and . . . . sensible. Anyway, for stress-relief and exercise, running has always been my forte. However, a long-running (no pun intended) knee niggle has become something more, so the cycling started to become more than just a way of moving around! In this time, the Claud had become a commuter – Blackburn rack, Karrimor panniers, Schwalbe Marathons etc etc – all very sensible! I wanted a cheap bike that I could take out for quick blasts at the weekend, mild XC stuff, something that would take a few knocks. The only problem – budget! I noticed that a lot of the big stores are selling bikes around £70; seemed a budget had been set! A few evenings Googling found such terms as 'BSO' and the Asda / fork scenario. It's been a while since I've picked up a bike mag, but I know enough about the differences between 'cost' and 'value'; I'm also aware that the two don't always exist in a relationship with the other. So second hand, then! And that's when I stumbled across this excellent web-site – full of truly wonderful builds and bikes that I remember lads at school lusting after (I'm in my mid 30s). I was interested to realise that what lies behind the concept of the majority of builds is the security of relatively simple designs – so much less to go wrong. I was hooked and decided that a 90s Raleigh / Claud Butler et al would be the way to go – cheaper than the Marins and Speshes that pop up every now and then. Probably British and probably a model that someone once owned at school. Put it this way – if a good condition Lizard had popped up in the Bournemouth area, I'd have snapped it up.
Disclaimer: I am more than happy to be corrected in any shape or form! I've only just found out (2 weeks ago) that there was a Raleigh Cycles of America, so any info that other members have about his bike – please let me know!
A couple of days scouring the 'Bay for a second hand sub £70 steed revealed this Technium - £40 BIN and located in Southampton. This was slightly more exotic than I'd hoped for! A quick phone call revealed that there was no play in the cranks, no cracks in the frame and that both wheels were true. All information was correct and it was a delight inspecting the bike in the light of day. She's been used – no doubt - but not much. Red paint peering through the patina of dirt. The grime / dirt / oil was dust dry – more powdercoated than smeared. Front tyre was a Ritchey skinwall – cracked beyond use, but plenty of tread. The Dia Compe brake blocks (now landfill) were original, I assume, but had not been worn away so much. They had the consistency, appearance and stopping ability of pumice. Pure speculation – but the bike looked as if it had been used for the first couple of years and then simply shelved, mud and all. I'm going to put my neck on the line and say that it is a 1989 model – MOMBAT's Raleigh entry has the 1990 models as having the rear brake cable mounted externally. Mine runs through the top tube.
I've spent a further total of £20 on her - (so, £60 in total; under budget – first time in my life; as an aside, I also have an expensive hi-fi habit and two daughters. I'm skint) new Ritchey brake blocks, Ritchey WCS grips, inner tubes and rim tapes. The Tioga factory XCs, whilst not period were the stock tyres off my Claud Butler before commuter-ville set in! Likewise, the Crud catcher was pre-Blackburn for the Claud! Same for the DMR V8s. In addition, the X-Lite ski bar ends were part of a two set 'deal' on eBay a while back – silver for the Claud and the black for the garage! Other than that, AFAIK, she is completely stock. Longish stem, but suits my gibbon arm / freak physique perfectly. Araya rims (still with white / blue stickers) Dia Compe XCE brakes (construction date Nov 1988), Suntour XCM 3040 groupo. Indexed on the right and friction on the left. After a thorough cleaning of all drive train components and tightening of the rear cable, she shifts perfectly. The new Ritchey pads also work well with the Dia Compes in stopping her competently. Not as crisp as the Cane Creek Direct Curves on my Claud, but pretty good, nevertheless. No complete re-build necessary – just a few evenings of following advice from this wonderful site – wire wool where necessary, car shampoo followed by t-cut for the frame and a squirt or many of Muc-Off for the running gear. Oh, and £1.40 spent at Hobbycraft for a 'tinette' of Humbrol enamel. If you get too close, you can see where I've applied it with what looks like a blunt stick. Needless to say, I didn't! There was a bit of rust in couple of areas (but obviously not on the alu!); Wire wool, car zinc treatment with a few overcoats of the Humbrol has banished all signs. Likwise, the wool and T-cut worked wonders on the rims. (Not trying to plug anything / one here, but being on a budget, all supplies were Wilkinson's own, including the stockinette used to finish off the frame – a fraction of the cost of branded stuff. Don't know what other readers think of Wilkinson's . . . . .?) Out of interest, the sticker at the bottom of the downtube informs us that the bike is from Bicycle Village of Columbia. A long way from Bournemouth!
Bank holiday Monday saw me, bike and a pal (and his bike) set off from Bournemouth. For those of you who know Dorset / south west, we slid, skied, skated to Blandford Forum and back, via Badbury Rings and Wimborne – a lovely 35 mile route (especially in the summer). The Raleigh coped magnificently – a very comfortable ride although deceptively fast when the going allows. She feels quick to follow wherever she's pointed and whilst Nottingham Raleigh's of this era have sometimes been described on this site as having a 'relaxed' geometry, I'm not sure the same can be said of this bike. Not aggressive; responsive being the word, perhaps?
Having scoured the German '91 Raleigh catalogue (like many reading this), the Technium is 4th of 5 in the hierarchy. MOMBAT, accordingly, positions The Heat lower down in the range. The use of the Suntour groupo and Dia Compe brakes supports this. So, I have a question that I'm burning to find an answer to – where and how in the Nottingham Raleigh range, does this model correspond (price wise and performance wise)? Is such a comparison available? If I had stood in the Raleigh dealership in '89 and expressed an interest in this model and had asked the dealer what else I could get for the money from this side of the pond, what would his answer have been? (As an aside, my parents did stand in a Raleigh dealership in '89 – I received a Raleigh Team Banana for my 13th birthday. Couldn't touch the floor and the Weinnman brakes, didn't. Another story.)
I know this is a modest build compared to the Chills and Peaks. However, there was so little evidence of the Heat on the web, so maybe my posting might provide a little more info on this particular model for anyone searching for details. I'd be delighted to hear from other Technium owners with their own insights and comments. Likewise, I'd be delighted to answer any questions regarding the bike.
My sincere thanks to all those responsible to those who set up and maintain this wonderful web-site and forum – it may well encourage me to spend more money when funds allow!
All the best, Matt.
Further photos: