Someone told me I was a sucker for basket cases - sadly, its the truth. There's something about the restoration process that attracts me.
It was actually a Cloud 9 that I wanted most when I was 14. I still have my christmas wish list from that year with it at the top. Probably the classiest looking bike I had ever seen. I've wanted one since.
Its always a shame to see so many Breezers with beat up paint and decals. There's certainly nothing special about an Asian-built steel frame, but they were always specc'd with such beauty and class. The catalogs with beautiful looking people cruising around the Marin hills at speed... very well done. This frame came to me the way most Breezers are today: beat up. I dropped it off at Spectrum for them to work their magic (with an original decal and paint mask set from Joe Breeze), and this is the end result: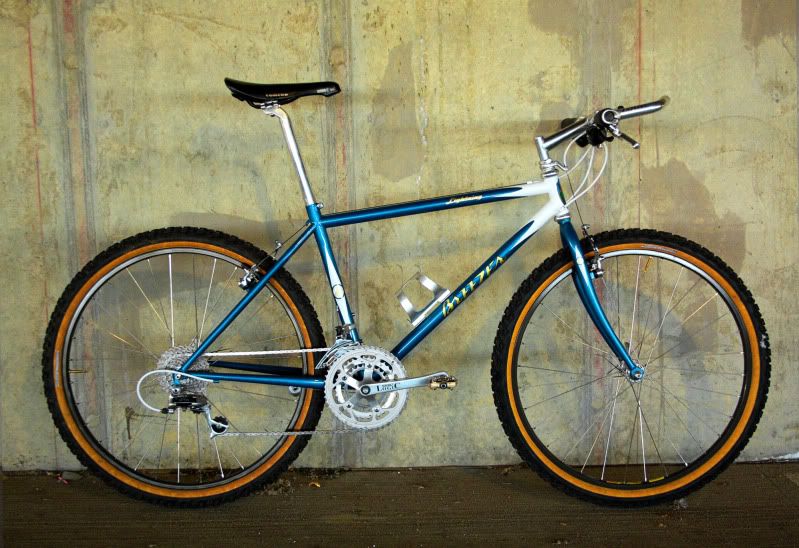 Frame: 1994 Breezer Lightning / Logic Prestige
Frame Number: ?
Fork: Ritchey Logic
Rims: Mavic M231CD
Hubs: Shimano XTR M900
Skewers: Shimano Dura Ace
Tires: Ritchey Z-Max
Pedals: Ritchey Logic
Crank: Ritchey Logic
Chain: Shimano
Rear Cogs: Shimano M900
Bottom Bracket: Shimano UN-71
Front Derailleur: Shimano M901
Rear Derailleur: Shimano XTR M900
Shifters: Shimano XTR M900
Handlebars: Ritchey Prolite
Grips: Ritchey True Grips
Stem: Nitto/Ritchey Force
Headset: King No Logo
Brake set: Ritchey Logic Cantis
Brake levers: Ritchey Logic
Saddle: Selle San Marco Concor
Seat Post: Nitto / Ritchey
Paint: Candy blue with pearl white
Size: 15.5
Frame Weight: 1635g
Place of Origin: Hodaka