Where to start with this one.
Another frame off ebay.
Went for cheap for a carbon frame, well i thought so.
Price held down by the front mech. hanger being absent.
So E-type or no front mech.
Well, no front mech was fine for what i was thinking.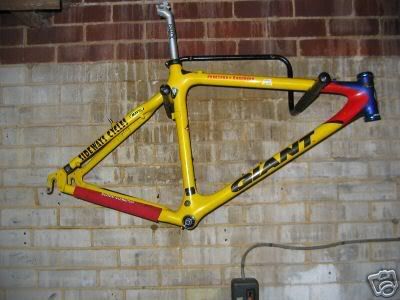 Team colours, but i had other ideas. Could not live with the finish as purchased, the stickers had to go. So, only one thing for it, fine wet and dry, and a winter in the garage.
Paint came off eventually. Original plan was to take the paint off and give it a respray. Out of curiosity i took off enough paint to see what the weave was like. It was there, and nice enough to not be painted over. I managed to source some UV resistant lacquer (bad rumours from sailing people about masts snapping where the lacquer was chipped off).
Retro frame, sort of nowhere in particular build.
Slow acculumation of parts as ever. Originally had straight polished Ali. Cannondales rigids, light and looked ok. Could not resist when the Pace forks came up with a "cheap" Buy It Now. The wheels came the same way, Buy It Now before anyone else had seen them (£40 plus postage IIRC). Altek levers, nothing much else to comment on.
Never managed to find the exact year of the frame. Did not come with the little disc brake tab that i have seen on an otherwise identical looking frame on eBay. Giant catalogues seem to be a bit thin on the web. Any information gratefully received.