Sorry for the crap pic and poor state, just reclaimed my 1st mtb off my bro-in-law... happy days... I vould have it back... so long as I gave the horrible epic i "gave" him a service...
Frame: DiamondBack Apex
Fork: DiamondBack straight blade taper thing
Headset: Shimano
Stem: Girvin Flex stem (I think the T-bone is somewhere about... I hope
Handlebar: DiamondBack alloy
Grips: DiamondBack
Barends: Onza (my very first upgrade
Brakes: Shimano
Brake Pads: Front:cools stop, Rear: Dia Compe
Brake Cables:Shimano
Cantilever cable hangers: shimano
Brake Levers: Shimano DX
Shifters: Shimano DX 7 speed thumies (too bad the rear one is bent)
Front Derailleur: DX
Rear Derailleur: XT (origianl DX exploded Dec 1992
)
Derailleur Cables:shimano
Cassette:DX 7 speed
Chain: shimano... or rust
Cranks: LX (the DX ones died a horrible death mid 1992
Crank Bolts: LX
Chainrings: not sure, there soe weird stuff there
Chainring bolts: LX
Bottom Bracket: LX
Pedals: hmmm, not sure yet, cages or clipless
Hub Skewers: shimano
Rims:Front Araya, Rear: Velocity (the very 1st type rim they made)
Hubs: shimano sealed (DX?)
Nipples:?
Spokes:?
Tyres:Front: Panaracer Dart, Rear: Tioga Psycho K
Tubes: ?
Saddle: Vetta SL cro-mo
Seatpost: yes
Seatpost Binder: aviner
Weight:?
woo hoo... the memories...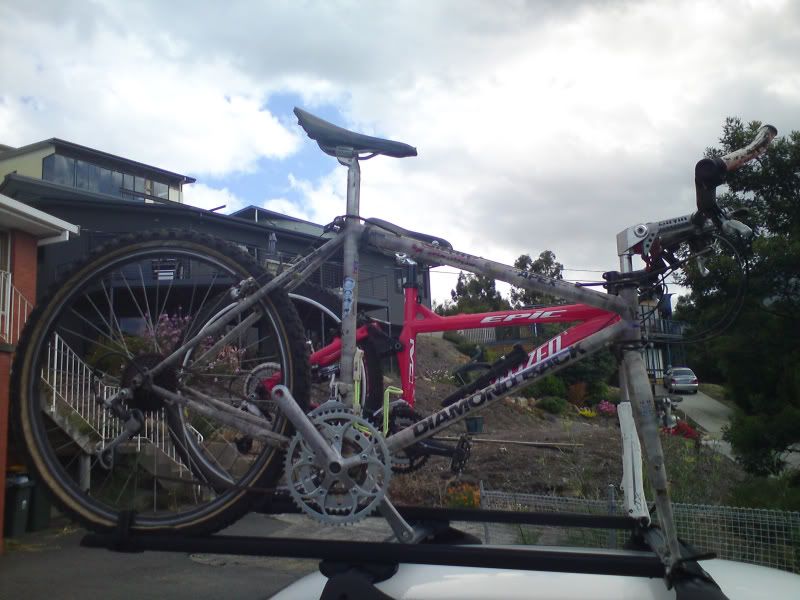 ooooh... its not very happy... bit of air in the tyres and a bit, er lot of lube on the chain... and it'll be back to new... crickey what did they do to you!?!?! stupid family:roll: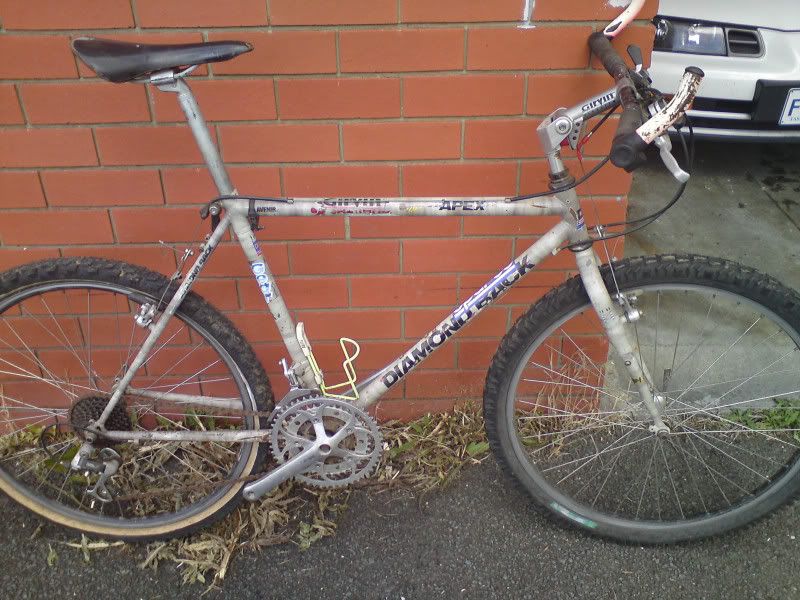 _________________
1989 DiamondBack Apex, 2003 Yeti ARC,
2008 GT Zaskar Reissue
,
1996 GT Xizang
2012 Cervelo R3, 2015 Look 675 Light, 2015 Scott Spark 710