I've made a few changes to the B4 over the last few weeks. I restored its original (and expensive) Gore cables, and swapped the seat stay for a longer and more laid back one. Fettled the gears and then pumped the risse rear shock up to 180psi and took her out for a spin.
It rides really nice across fields and on single track. It doesn't feel like suspension, just 'a little give' over the bumps. I will give it a thorough testing this Sunday, as I only went on local paths with a pocket full of tools to make the on-trail-tweeks.
As with all Amps, they are light and lively. It feels about the same weight as my '95 Marin Team Titanium, which comes in at 22.5lbs.
The disc works well when hot, but not great when cold. I will give it a little longer and if there's no improvement, then I'll get some new pads.
Also discovered some play in the White Industries rear hub, which will need attention. Never opened one of those before!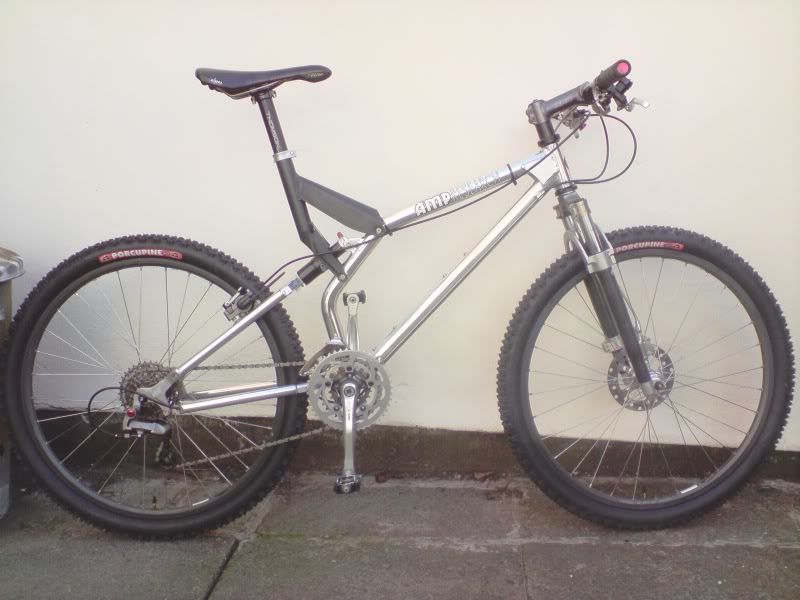 The full spec is...
1997 Amp Research B4 frame with Risse Genesis air shock.
1997 Pace RC36 forks with alloy steerer
Onza Mongo headset with Ti ahead bolt
Control Tech stem with X-Lite Ti bolts
X-Lite Ti bars
Onza Ules grips
Hope front disc and hub with Pace fork adapter and braided hose
Magura HS33 rear brake with Ti bolts
White Industries rear hub
DT DB spokes with Mavic 217 Ceramic rims (a bit elaborate for the front perhaps)
Control Tech Ti allen key skewers
XTR 9 speed cassette
XTR M950 rear mech with new jockey wheels, Ti bolts and alloy pivot bolt
XTR front mech bottom pull, top swing etc. Looks cleaner anyway!
XT 9 speed shifters
Action Tec Ti bottom bracket
Middleburn RS7 cranks with Race Face and unknown rings
Black alloy chainring bolts and X-Lite alloy crank bolts
Full gore sealed cable set
Thomson Elite post
Flite Alpes saddle
Amp seatpost clamp with Ti bolt
Onza Ti pedals
Onza porc re-issue tyres and Michelin Latex tubes
And of course, my signature...
...a Rohloff chain.
I just want some Red alloy nipples now, and I can replace those heavy ones!

_________________
1990 Marin Team Titanium, 1991 Marin Team Titanium, 1993 Marin Team Titanium, 1994 Marin Titanium FRS, 1995 Marin Team Titanium, 1995 Marin Eldridge Grade, 1996 Marin Team Titanium, 1998 Marin DH FRS, 1999 Marin Team Titanium, 1999 Marin Mt. Vision Pro, 2015 Marin Mount Vision C XM9

1988 Concorde Colombo, 1990 Raleigh Dyna-Tech Cronos Titanium, 1992 TVT92 HM, 1993 Colnago Master, 1997 Colnago Master Olympic, 2005 Look KG481-SL, 2009 Look 586

WANTED: Marin Titanium - pre 1990, 1996 FRS, 2007 25th anniversary