sam264 wrote:
i meant the quality, it's quite impressive considering the camera in that case!
I have been having a look at the settings and it's on 1280 x 960 but it's also got :
640 x 480 (we will forget that
)
1600 x 1200
2272 (3:2)
2274 x 1704
Would it be better if I put the size up or would it loose the quality back again when I upload them to photobucket ?
Ally wrote:
How are you getting on with it dude?

Pretty interested in how its going.

Mine will be due a complete overhall after winter.
Slowly ...
The only thing I have done recently (due to Christmas / work / blah, blah, blah etc) is to polish the bottom of the steerer :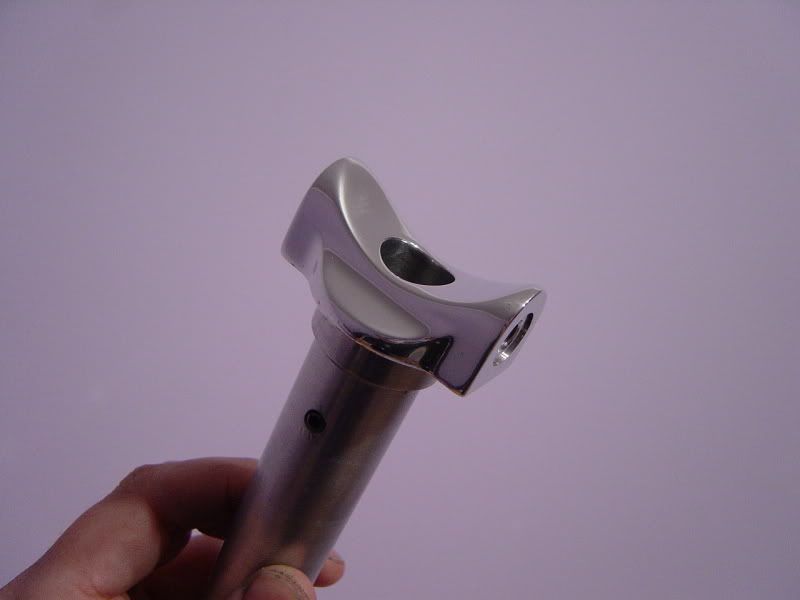 I am not having much polished stuff on this build and wanted to have this powder coated but on close inspection its bonded on and I was worried about the heat from the ovens weakening the joint
It came up better than expected due to it's shape and it being a casting rather than a billet / cnc part
bwhsh8r wrote:
are those team legs? they look a funky color

got the bmw logos

etc
Absolutely no idea ? ! If it helps I think they were yellow and the sun has 'faded' them brown ! When I pulled the stickers off they were bright yellow under the dark areas of the stickers where they were shielded from UV
A 'funky' color ? You really should have said a sh1ty shade of brown
Just a tip I should have mentioned above - for any one that strips parts in the front room (like me) don't try it with the ODS shocks
Using the old elastomer to push the piston out results in it firing across the room leaving a trial of oil so it's easy to find again. Seems obvious now but not so when your attention is taken by re runs of top gear on Dave
at least the laminate is wipe clean ...
As this will probably be my last update of the year - Have a good Christmas everyone !
WD