No new pictures sorry ...
I have been asked (via pm) about removing the logos that were printed onto the carbon top cap and polishing it back up again.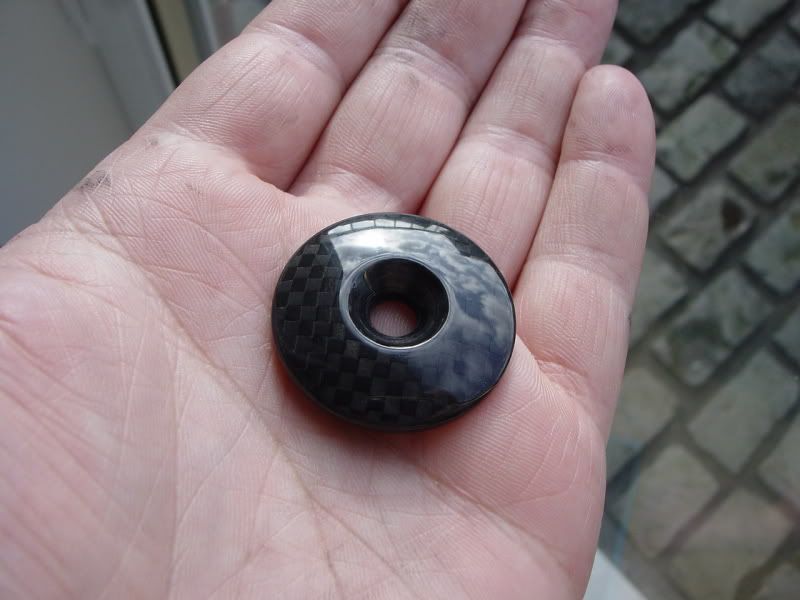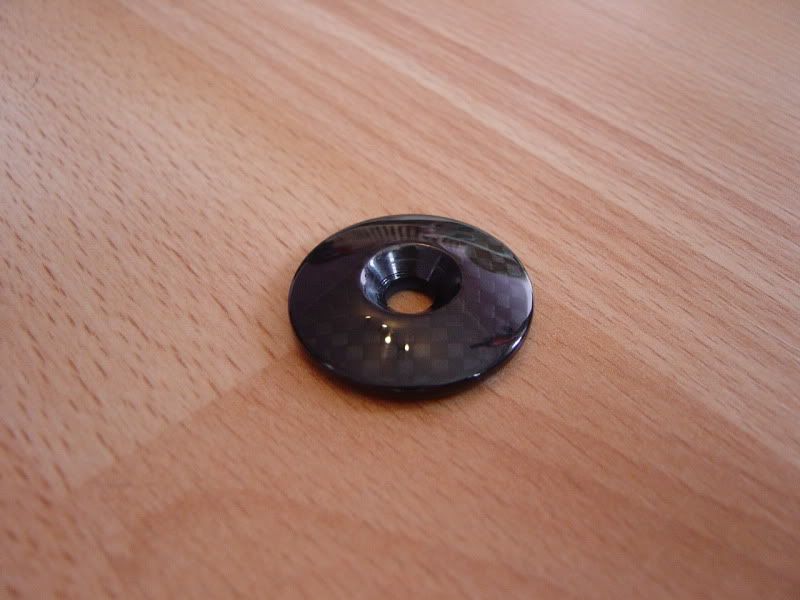 I have posted my response up here as it may be useful to other forum users
OK, first things first – check the logo is definitely on top of the lacquer and not under it
Other than that I treated it exactly as I would a scratch in car paint (yes I am quite anal with the four wheeled things to
). Start with wet n dry (2000's – from a car paint suppliers), you only need a small piece (30mm x 30mm), round the corners off and leave it soaking in a mild soap solution before use.
Rub over the logo very lightly, if its defo on top you will see the water take on the main colour of the logo very quickly. Although 2000's almost feels as smooth as paper you will be surprised how quickly it will remove logos / marks etc, even if used on ally
Try and work in a motion that flows with the shape you are working on i.e. circular for the top cap (see below), straight on frame tubes etc and if you're working on a car, horizontal or following the flow of air. If you are working on a scratch try and work along its length, rather than across it. You are trying to round over the edges of the scratch (to stop the light / your eye catching it
) rather than removing it completely (loosing precious lacquer / top coat
).
For round things I try were possible to mount them in either a drill or a lathe to save me work. The top cap was mounted in a drill using a csk bolt and then the drill was held in the workbench.
Once the logo / scratch has gone you should be left with an even / smooth / matt finish with no visible sanding marks. Then it's a simple job of polishing up the finish back to a gloss. NOTE : The carbon actually looked really good like this (similar to the USE posts) and I may actually end up flatting my stuff off again.
Without spending too much money or shopping around for specialist products I would recommend Meguiars 'Scratch X' which I believe is now available from most good car shops and some of the larger Halfrauds. You don't need loads, polish in the same direction that you sanded and work the product until it has all gone i.e. your cloth or pad that you are using to apply it is virtually dry. Repeat the scratch X if necessary (depending on how hard the paint / lacquer is), maybe two or three times. The gloss level should be very good at the end of this stage and then it will only need protecting with a good car wax.
It goes without saying that if you decide to have a go at your car door or similar, try a small area first, be very careful on edges / swage lines and don't blame me if it all goes wrong
I picked up some NOS carbon bars for the ProFlex and the logo on those was slightly damaged so I decided to remove that to. Tip – try white spirit first, you might not even need to get the wet n dry out ...
Hope that helps,
WD