Hello,
Rather than do a seperate thread for each are them all- mainly as I only have a few photos of them really.
Got my first yoeddy when it was only 2 years old. Always wanted one but too much new so found one second hand in recycled recreation CH CH , NZ. sweet- my dream bike cheap(er). Its a 1990 19" with big 1" forks in flouro green. Lovely!
Photo of my 1st Yo after later being converted to S/S. taken whilst in Italy- had just done a race with 3500m climbing...bike went well- my legs got a thorough caning!!!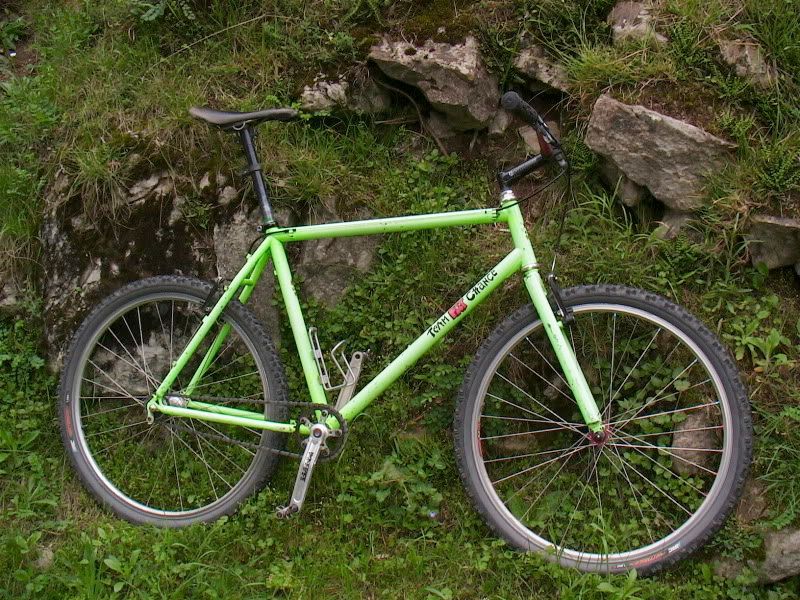 Used and abused this bike for years (as you should!!!) and brought it over with me to UK.
Then got another one that evolution imports had found hidden in the storebox was turned backwards and got lost from system! I got it cheap too at trade as I work in bike shop in Oxford now. bargain! me happy lad!
Its a '97 and I ended up brazing a disc mount onto rear
and kitting it out with full XTR etc.
It did have an Igleheart fork but it was not very ideal for long descents in Euroland when Hannah and I lived there a while in our housetruck. Its now a very usable bike and has done a lot of mileage!
So I fit some retro looking white bro 80mm forks- bliss.
Here it is along with Hans yo and my mate john's Yo- he's from Blighty and met up with us for some rides whilst we were in NZ
Another of hans Yo in NZ..
Hannah and I heading off on way to NZ (less trailer...) on our yo's
And forks i fitted- alas no photos I can find of complete bike since it was blinged over with xtr...
Old Yo got converted to S/S and my old Kona Kaboom got sold.
Then Hannah bought a new Broeddy- still her favorite. Then she bought a second hand Yo from the US but found the ride too harsh. Back to her Bro and the Yo got sold to Daj on this here forum.
Unfortunately no photos of the broeddy except one here of it on back of car on way to wales...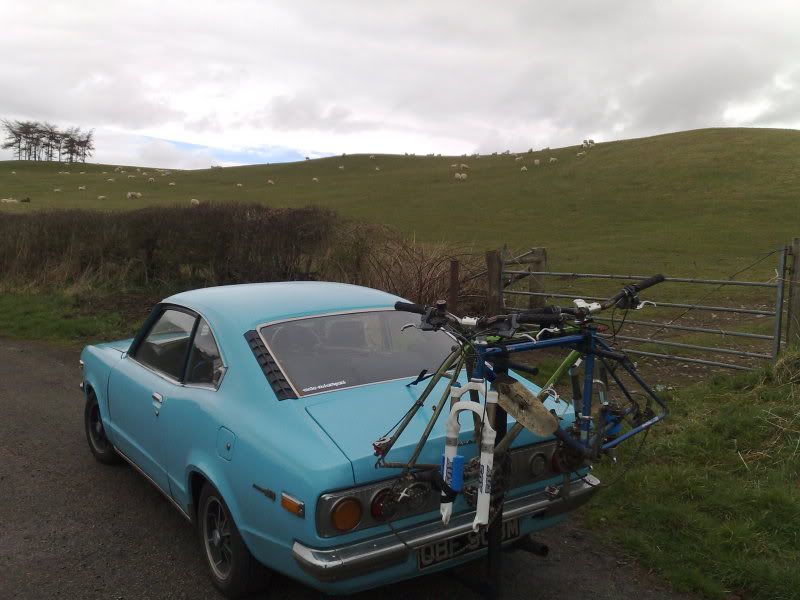 I also bought a Yo frameset from a shop in LA a few years back and stored it but have recently just sold that as its clearout time before we head back to NZ.
So thats my current history with these bikes. Until the next one...
random photo of me with a bl--dy big Dragonfly... Nice hot day on bikes and then this came along. cool.
alex