Seem to be quite a few of these surfacing recently. Here's mine: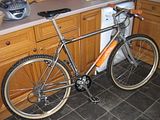 More (and bigger) pictures here:
http://s187.photobucket.com/albums/x32/XCDave/
Spec:
Frame: 1994 Orange P7, 19", nickel plated.
Fork: Orange F8, silver painted.
Headset: Shimano XT.
Stem: Orange SK8.
Handlebar: Orange Hot Rod.
Grips: Lizard Skins Charger.
Barends: r gay.
Brakes: Shimano XT M737 cantilevers (NOS).
Brake pads: Shimano XT M737.
Brake cables: Shimano XT.
Cantilever cable hangers: Shimano XT.
Brake levers: modern Shimano Nexave (fabulous brake levers by the way).
Shifters: Shimano XT M740 8 speed.
Front derailleur: Shimano XT M737 31.8 top pull (NOS).
Rear derailleur: Shimano XT M737 short cage.
Derailleur cables: Shimano XT.
Cassette: Shimano XTR M950 8 speed.
Chain: Sram PC whatever.
Cranks: Shimano XT M737 (175mm) (NOS).
Crank bolts: Shimano.
Chainrings: Middleburn 22, 32, 44.
Chainring bolts: Shimano.
Bottom bracket: Shimano XT UN73 (NOS).
Pedals: DMR V8.
Hub skewers: Shimano XT.
Rims: Mavic XM317 32h.
Hubs: Hope Mono XC, 32h.
Nipples: erect.
Spokes: DT Swiss double butted stainless.
Tyres: Panaracer Fire XC 2.1 folders.
Tubes: generic.
Saddle: Orange.
Seatpost: USE Alien.
Seatpost binder: Kalloy Uno.
Weight: no idea.
This was soooo close to being perfect - only needed some M737 levers, an M737 cassette and a pair of M737 hubs/skewers. However, there are lots of hidden expenses involved in buying a house, so this will soon be for sale I think.
It's no looker or garage queen and was a daily rider up until last summer when I started to dismantle and rebuild it in vaguely period fashion. Wasn't going for a dogologue rebuild but wanted period XT and ended up with quite a few NOS items which I really wasn't too bothered about, but hey. Thanks to those who sold me stuff, I can't remember you all but you're all great!
Let me know what you think.