A slightly alternative approach from my usual route of restoring everything.
This bike was originally bought from a mate with the intention of passing it on to my uncle (unclebuck on here). As I rode it over to his house in 1997, I was quite impressed with its lightweight steel frame and how similar LX was to the older faithful XTR M900. The saddle was an upgraded Flite Transalp, and the tyres were slicks. I loved it, and was glad the journey over there was only a short one, as I'm sure I would have kept it, had it been any further.
The bike was used and well cared for over its years with my uncle, until he decided to treat himself to a shiny new Aluminium frame with suspension forks. The Marin was left unloved, and hiden in the back of the shed, along with a promise of a rebuild to its former glory.
The Aluminium bike and all the Marin's components were sold to make way for a Merlin XLM, but the Marin's frame and forks still sat at the back of the shed. Years pass, and he did actually collect a fair few parts for it, that were either in very good or NOS condition.
Sadly it never reached its restoration within his care.
Now, I had just built this fantastic Marin Palisades Trail. But, and it is a very big BUT. It just won't make me comfortable on anything over 10 miles. The lower grade Marins had sports geometry with 4.5cm shorter top tubes. It made me hurt, and I needed a plan.
So I swapped all my XT group from the Palisades build for his Marin Eldridge Grade frame and forks, plus the decent LX bits he'd sourced. What you see below is the bike rebuilt, but unrestored as I feel it shows its history more. There are a few parts I had knocking around to fill in the gaps, as well as the original transalp saddle which he didn't get along with all those years ago. I bought some ITM bars from Peter (WD pro) and fitted a Hope Ti BB.
It rides fantastic, and was a joy to build, as I didn't need to take so much care as usual. It will replace the Palisades Trail as my off road tourer.
I'll point out at this stage, that I haven't cleaned the frame. This is how it was found, minus the many cobwebs.
I was amazed at how well the Marin headset came up with a degrease and regrease! Feels like new.
The shifters that came with the deal were NOS LX 7 speed, and I really wanted 8 speed. I bought some 8 speed from the US and swapped the 7's in a
'post these very heavy car seats to Exeter for me'
deal.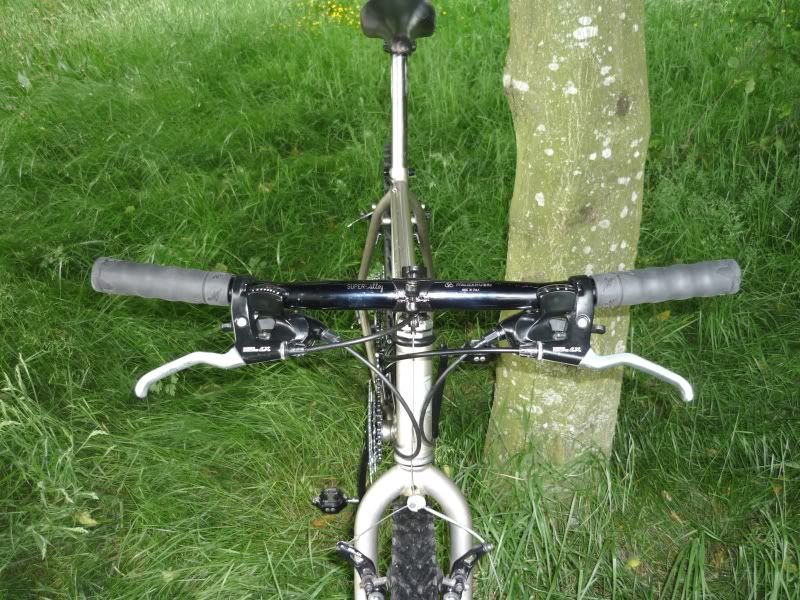 Yes, yes, the cable was a fraction too short, and it was too late for trips to bike shops.
Iam astonished at what Gunk has done to this cassette. I found a dirty old Black cassette in the back of unclebuck's shed and thought I'd see what it would come up like. It almost looks new.
I need to get some new canti brake blocks (anybody help me with a source?) and I will change the chainrings.
Oh, and apologies for the Purple, it will only be short lived!

_________________
1990 Marin Team Titanium, 1991 Marin Team Titanium, 1993 Marin Team Titanium, 1994 Marin Titanium FRS, 1995 Marin Team Titanium, 1995 Marin Eldridge Grade, 1996 Marin Team Titanium, 1998 Marin DH FRS, 1999 Marin Team Titanium, 1999 Marin Mt. Vision Pro, 2015 Marin Mount Vision C XM9

1988 Concorde Colombo, 1990 Raleigh Dyna-Tech Cronos Titanium, 1992 TVT92 HM, 1993 Colnago Master, 1997 Colnago Master Olympic, 2005 Look KG481-SL, 2009 Look 586

WANTED: Marin Titanium - pre 1990, 1996 FRS, 2007 25th anniversary