New member and I am not even 100% sure of the vintage of this thing...
Bought the Norco while doing a 10,000km rebuild of my 06 Cannondale Prophet so I would have a good cheap second dirt bike to keep sane and away from the skinny tyres. What I know of the bike is that it has an 853 main triangle, is stamped "TEAM ISSUE" on the BB shell and it is crazy fun to ride!
The Dorco as it has grown to be known as has been in my garage for around a year, yet to race it but I would probably reserve it for short course XC as the longest Enduro ride I have done on it to date is 110km of fire trails in the hills around Brisbane and that hurt.
Anywho, as I said. Not sure of exact vintage etc but I like it and will one day spec it up NOS style and maybe even repaint but for now I'll keep on fanging it about scaring the beejebus out of my mates.
Spec and pics: (sorry bout pic size should have resized)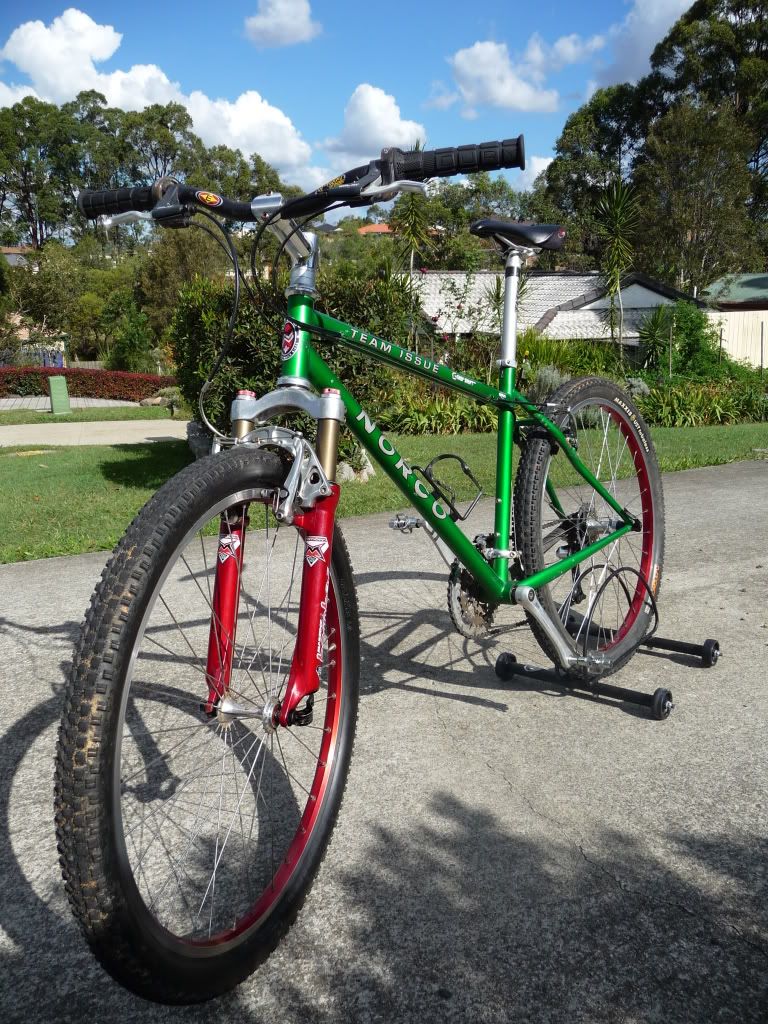 Frame: Norco Team Issue Reynolds 853
Fork: Marzocchi Z2 Bombers
Headset: Dia Tech
Stem: Kore Alloy
Handlebar: Easton EA70 Monkey Bar
Grips: Oury
Brakes: Shimano XT V
Brake Pads: Shimano XT
Brake Levers: Shimano XT
Shifters: Sram grippies
Front Derailleur: Deore XT
Rear Derailleur: Deore XT
Derailleur Cables: Shimano XTR
Cassette: um Shimano 8 Speed of some sort…
Chain: Wipperman
Cranks: Sugino Mighty
Chainrings: Sugino (Shimano big dog)
Pedals: CB cheapy egg beaters
Hub Skewers: American Classic
Rims: Sun Rims Rhino Lite
Hubs: Suntour Xc Pro Front,Shimano STX RC (rear)
Nipples: DT Comp
Spokes: DT comp
Tyres: Maxis Larsen TT up front and Crossmark on the back
Tubes: Maxis
Saddle: Specialized BG
Seatpost: Titect alloy
Seatpost Binder: Beat up old Hope