Hi...
I'm not really all that much into retrobiking. But I still wanted to continue the story of the GT Zaskar frame, the white one to be more accurate. I got it from Mike on ebay back in July, and while it is sort of finished for some time now, I'd only now consider it to be in the final state that I wanted. Or close to, at least! It's a horribly unauthentic mix of old and new stuff, though... to make the long story short, here's a picture of the full bike: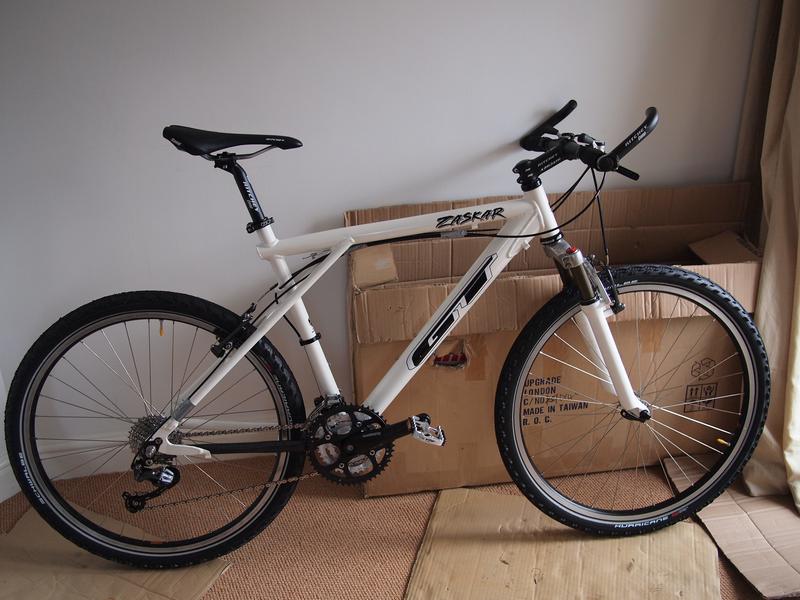 The first major problem was to find a suitable fork. According to
this thread
a crown height of 405-420mm would be ideal for the frame. I eventually found an old Marzocchi Z2 from around 1997 on ebay with a crown height of about 430-435mm, but people also seem to use Z1's and other things on the frame. My current setup feels kind of okay, but maybe I'm missing out on "the real Zaskar experience" (tm)? Can anyone confirm that it's a good match?
Anyway, the forks have probably not seen a single service since they were made. The paint had bubbles and scratches, and I simply decided to take it completely apart, get it newly powdercoated and install new seals. While taking it apart, I noted, that there are three coil springs on either side, which does not match any of the drawings in the Marzocchi manuals from the time, so I guess it must be some odd OEM version. Also, the steerer is not fixed to the crown with bolts, which is a shame, because on my test rides I noticed that I'd prefer the stem to sit a bit higher, but the steerer is too short for that: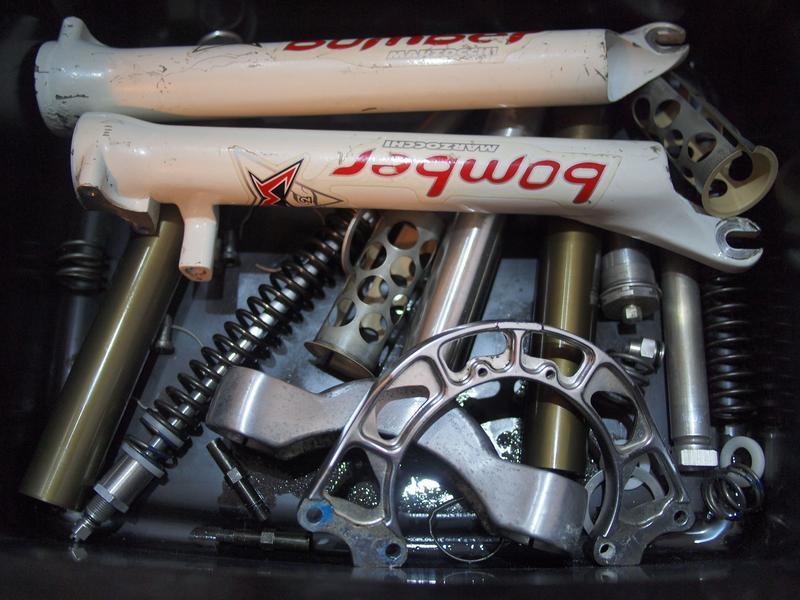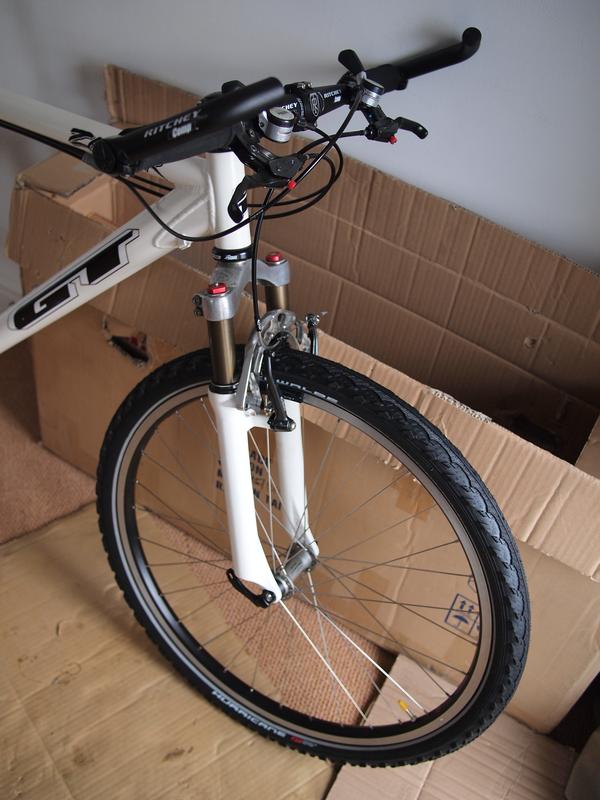 (probably noone is ever going to notice the crow-foot-like spoke pattern in the hand made front wheel)
Okay, now the out-of-time things start to appear. I went for Avid V-brakes, which are nice and black, and some old Deore II thumbshifters, which are unbreakable and match the colour scheme. Most of the other components are modern, off the shelf Ritchey bits:
Also, I don't like the idea of routing cables through the dirtiest part of a bike underneath the bottom bracket. Some Problem Solvers and an old spare inner cable to hold the three outer cables made me happy. And yes, I'm going to replace that tape with something more appropriate!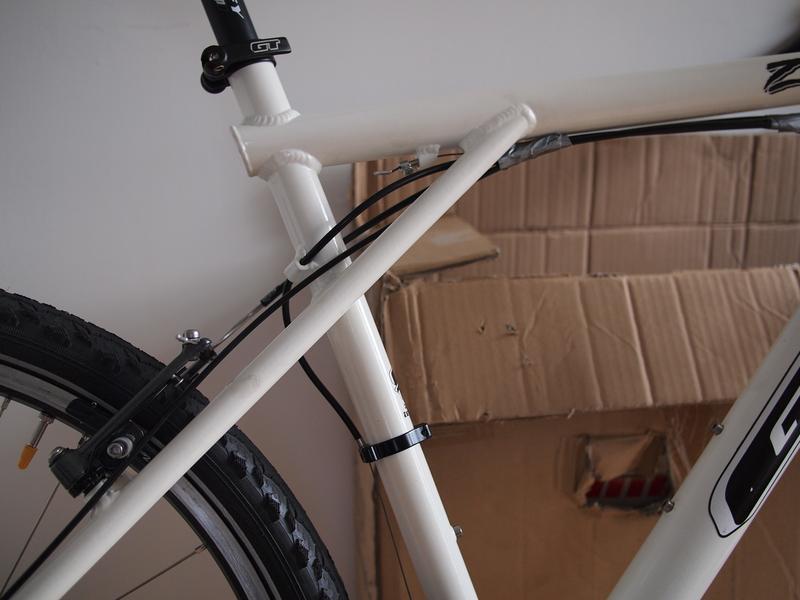 Finally, the rear and front mechs are post-modern and completely inappropriate. Some SLX Shadow derailleur on the back and an equally post-modern XT one for the front. Also the crank is some bog-standard post-2005 model. But at least they all mostly match the colour scheme: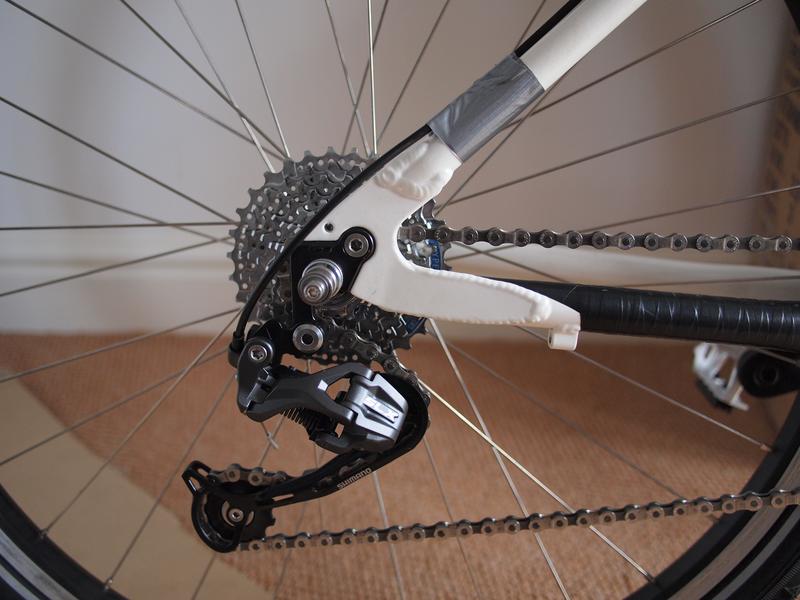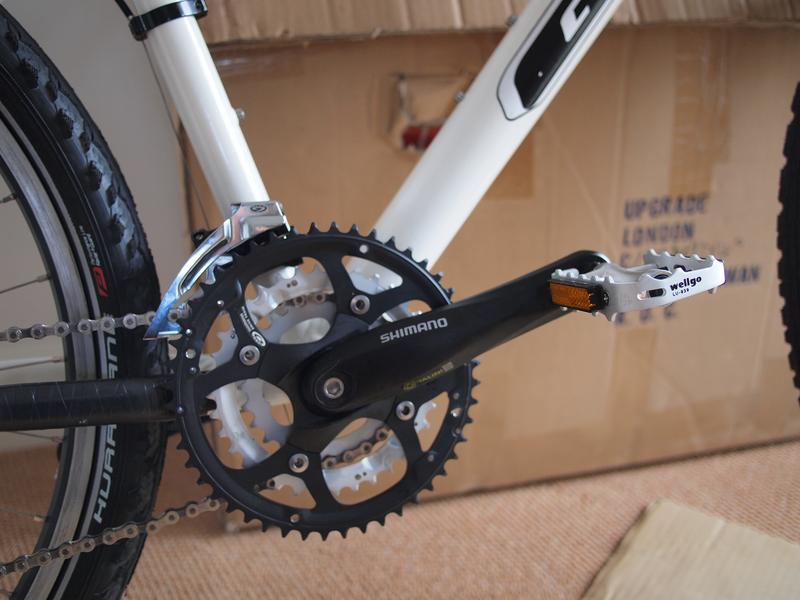 (definitely noone is ever going to notice the 2x forward, 4x backward spoke pattern on the drive train side of the hand made rear wheel)
Well... as I said in the beginning, I'm not really that much into retrobiking and not too fussed about the historical authenticity of my bike. Why bother with all the old stuff then? I actually wanted to have a simple and robust cross country touring bike. One that doesn't have much bits and bobs to break and one where I can repair everything on my own with some tape and cable ties, while sitting next to my tent somewhere in the middle of nowhere. I've previously been cycling in Iceland a couple of times, Morocco, and more civilised places like the Baltics and the Alps, and I hope to take the Zaskar to some more places I don't know yet. I added a faiv lowrider and a Bob Yak trailer (should be excellent with a stiff and solid Zaskar frame!), and the final result looks like this: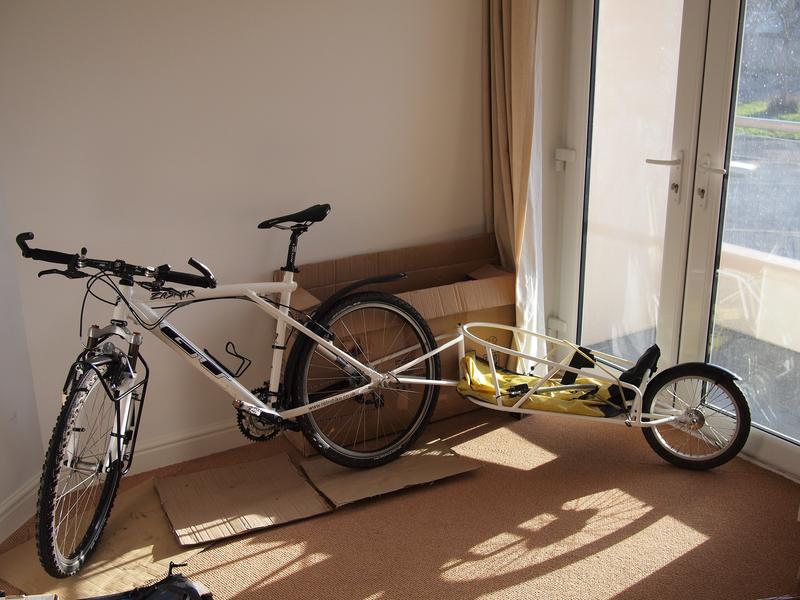 If you happen to see it somewhere, just say hello. Otherwise, thanks again to Mike for the nice frame!