As I sit at home on my week off work, finally tightening all the bolts on my recent Marin Palisades Trail project, a tonne of other projects are scattered orderley around me. My thoughts go from one to the other as I try and decide which should be next. The bike I have mocked together for the following photos, is one that I have had in mind for many years.
A few years back I decided to start gathering parts for what was my ultimate bike in my mind between 1997 and 2000. I remember that times were quite hard in those days, as my job didn't pay quite enough and my car seemed to take the majority of whatever cash was spare. I was also looking at moving out of home, and consequently bikes were a kind of 'make do', and only improve if it breaks hobby. Some of the parts from this project are actually from that time, and although I was short on funding, 0% interest at Leisure Lakes made things slightly easier back then. The other parts have been tracked down and collected with a very clear vision of that dream bike from 1997-2000. I always loved the Ti Marins and the Ultimate from 1994 was simply amazing, but times were moving fast in the sport, and 5 year old kit was simply history. So, in the spirit of the original Ultimate from 1994 using all the best parts available, here was my interpretation of the Ultimate Marin, but from the late 90's.
In the style of all my projects so far, this a collection of parts slowly evolving into the original concept. Most of the parts were carefully studied and tested by myself for their quality, their capability, and therefore they became a selected choice, rather than what looked pretty or cost the most. In fact, the Cook Bros. cranks were bought brand new from Leisure Lakes in 1997 with Middleburn rings, and I only retired them from weekly thrashings, just a year or so ago. So, you could say that this build started then, and has slowly evolved around the cranks over all these rigorous years!
Who says a Marin ain't cool?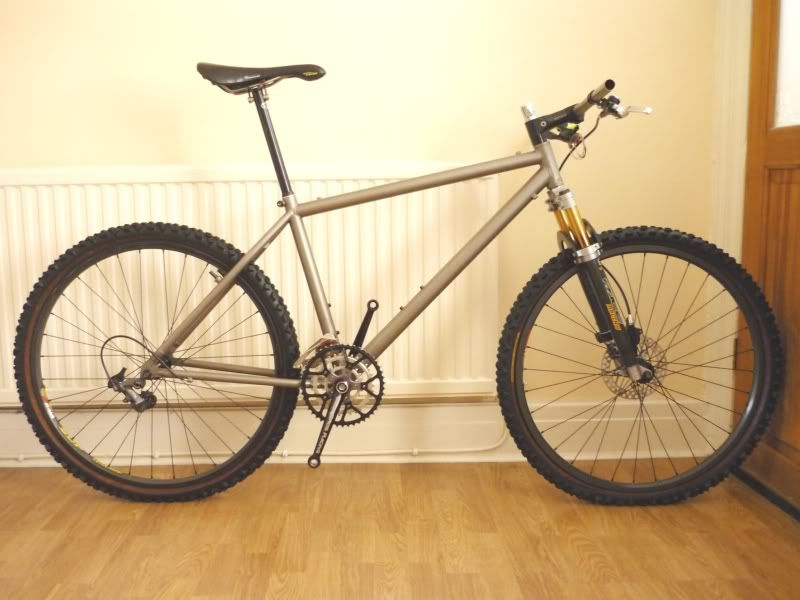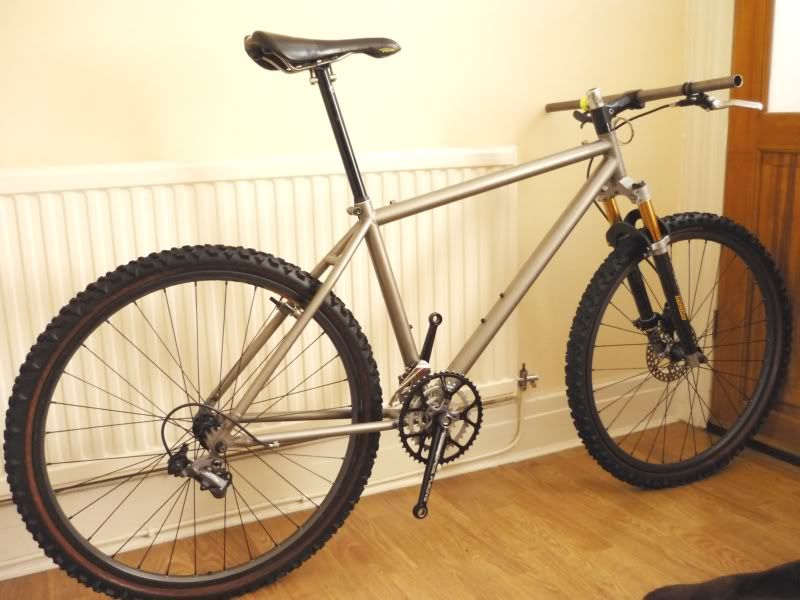 Parts still required are a King threadless no-logo headset in Black, and another 9 speed SLT99 Rohloff chain. The rest of the parts are lingering around the spare room. They are XTR M953 cassette, Latex tubes, Magura Raceline rear brake (that will receive a lot of detail work to match the Hope lever), and NOS Onza Ti pedals in Black. The decals have been designed and are sat awaiting the order to print.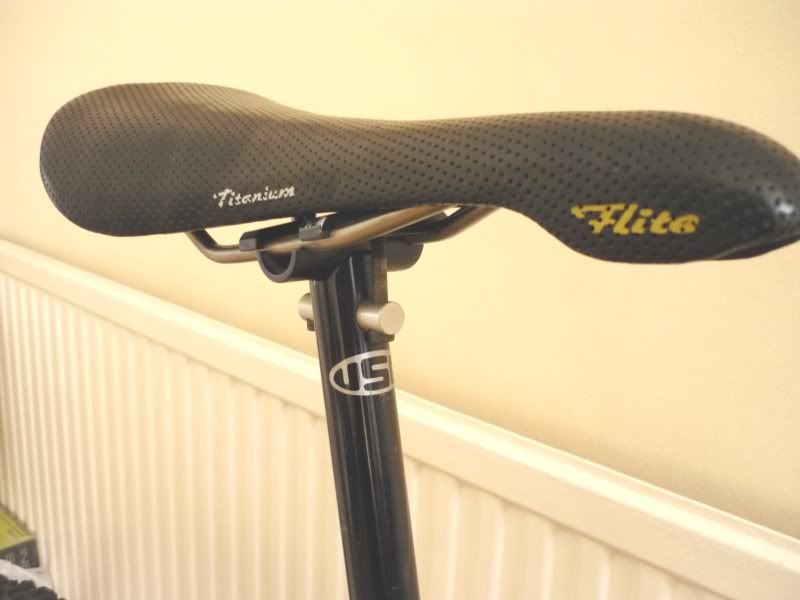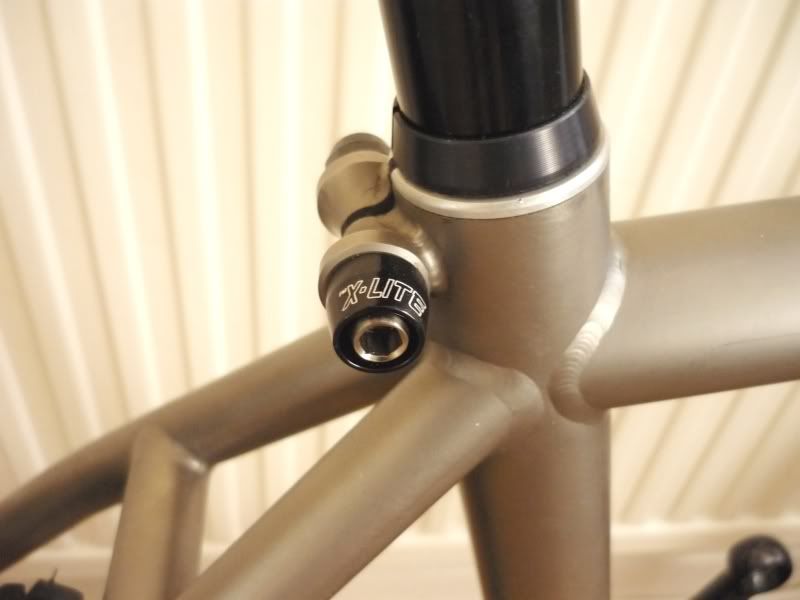 I will update as I go along, but here is a list of eventual build spec.
Marin Team Titanium 1999 frame Sandvik made
Pace RC36 Pro class
King threadless Black no-logo headset
Black Pace stem
Titanium bars
Onza Ules grips or Titec foam
Hope front disc with 155mm rotor
Magura Raceline rear brake
Hope Ti-glide hubs with Pace adapter on front
Black double butted DT spokes with Black alloy nipples
Mavic X517 rims (ceramic on rear)
Continental Traction Pro tyres with Latex tubes
Action Tec Ti bottom bracket
Cook Bros cranks with Middleburn/Cooks rings. Alloy bolts and Ti crank bolt
Onza Ti pedals
XTR M952 rear mech with SRP kit
XTR M953 front mech and XTR M953 shifters
XTR M953 cassette
Titanium allen key skewers
Rohloff SLT-99 chain
USE seatpost
X-Lite Ti seatbolt
Flite saddle with perforated leather
And a load of little Titanium and Aluminium bolts.

_________________
1990 Marin Team Titanium, 1991 Marin Team Titanium, 1993 Marin Team Titanium, 1994 Marin Titanium FRS, 1995 Marin Team Titanium, 1995 Marin Eldridge Grade, 1996 Marin Team Titanium, 1998 Marin DH FRS, 1999 Marin Team Titanium, 1999 Marin Mt. Vision Pro, 2015 Marin Mount Vision C XM9

1988 Concorde Colombo, 1990 Raleigh Dyna-Tech Cronos Titanium, 1992 TVT92 HM, 1993 Colnago Master, 1997 Colnago Master Olympic, 2005 Look KG481-SL, 2009 Look 586

WANTED: Marin Titanium - pre 1990, 1996 FRS, 2007 25th anniversary