Common as muck these custom Roberts jobs!
Here is a picture of my baby 94 Genesis thus far.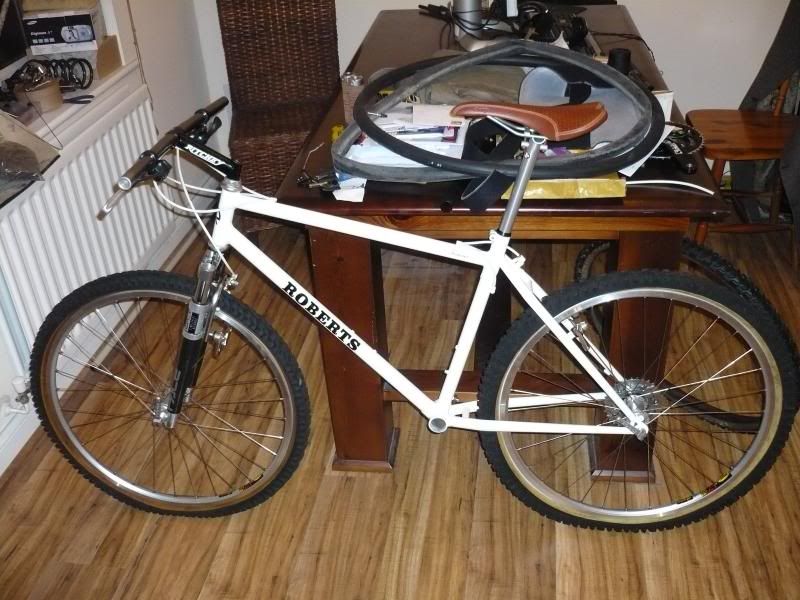 Flash seems to mess with the contrast but for this time of night it will do.
Frame- Robert Genesis 1994
Fork- Pace RC35 AB
Wheelset- NOS Middleburn Hubs on Mavic 317's (thanks to Canondale king for the wheel build)
Freewheel- POS 8 speed
Tyres- NOS Smoke/Dart (thanks to the bristol bike jumble...£10!!!)
Post- USE
Saddle- Charge Spoon
Headset- Shimano 600 1"
Stem- Ritchey
Bars- Renthal +130 (ive seen "RC sub 130's" before but this one is new on me"RC+130")
Brake levers & shifting - M900 XTR Sti's
Brakes- Ritchey WCS cantis
Pads- Kool stop
Cable outers- white Tioga
Rear deraileur- XT M737 (not shown)
Front deraileur- XT M735 (not shown- may change as the 735 I have is rougher than preferable)
BB- Hope Ti (not shown)
Cranks- Middleburn RS1's (not shown)
Frame was Bought off a chap on here & I have had it resprayed in original colour & new decals applied under the lacquer.
Not sure about the stem, I put it on as a temporary measure as I was hoping to have a pace RC45 XC stem in silver available (using a quill adaptor & shim) Grips are intended to be a pair of Brooks leather grips in a tone matching the saddle. Alternatively I was going to swap the saddle for my usual equip of a ti flite in black, then use a pair of clear onza porci-paws. Very much undecided on the final touches.
Between psychlist, Jez and myself I think we have the Roberts MTB range covered
Any comments/ build/ finish advice welcomed.

_________________
[size=67]Where we're going we don't need roads!
Under cover operative of the YVMBAPFS cartel.

The Pace fleet:
16" RC100/ 21" RC100/ RC100 Trials prototype/ RC200 F5/ RC200 F8/ RC250 Trials/ RC300 Gunmetal/ RC300 Silver/ RC500 F1 DH