This is my first post so i thought it fitting to show what i ride first!
Its a 1996 Univega Alpina 506 in green
I have had the bike since new and it has served me well, i rode it nearly every day from buying it up until i got my driving licence in 1999 lol
It has been in the garage ever since and only been out 2 or 3 times in that time.
Heres the spec:
18.5" cro-mo frame
Qranc riser DH bars
Concept stem and dia comp a-head set
Concept seat post with Bontrager seat
Shimano Deore LX sti shifter/levers, Hubs, Front mech, and Vs` which replaced the LX cantis`
XT rear mech
Middleburn middle chainring
Mavic 221 rims
Odessey Triple trap pedals
Cateye mity 2 computer
Crud Catcher
Everything is pre 1997 appart from the new additions
Which are:
Suntour shocks
Deore LX Vs`
SRAM chain (the old shimano IG had over 3000miles on it lol)
??????? road tyres
Continental Explorer off road tyres
Onto the pics: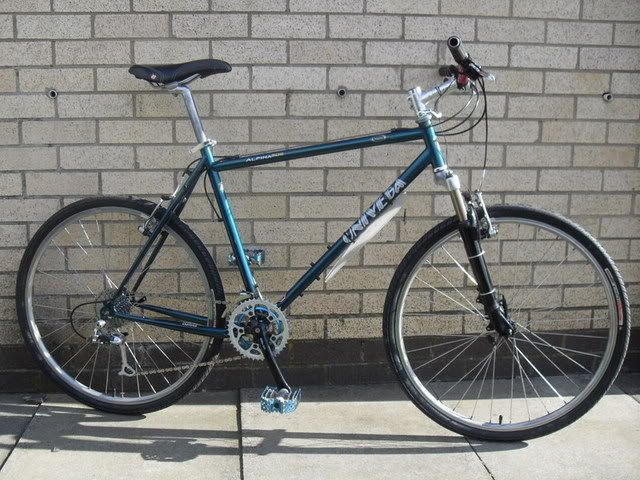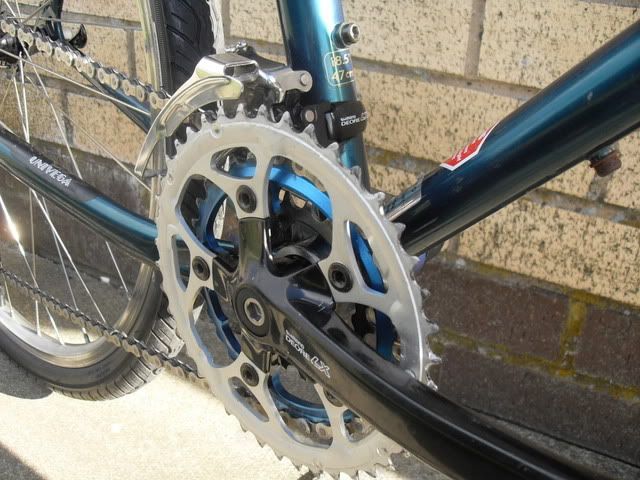 Not sure if i want to swap out the Vs` for the original cantis, and i think the pedals will be changed for something a bit more suited.
Any comments/ advice welcome on helping me clean it up.
Tony....