I've known for a long time I wanted an 80's Yeti in my stable. Fall of 08 also marked the beginning of my search for a bike for the 09 Keyesville Vintage Mountain Bike race in California. Time was running thin when I picked this up off Yetifan, and I was lucky enough to get a friendly seller who was more than happy to see it go to a loving home. Included in the sale was many parts he had laying around which helped the build along, and the elusive original Yeti fork.
Turns out this bike has an interesting pedigree. Its original owner lives here in Durango. A former Agoura Hills resident, he followed the Yeti crew here in 91 and brought this bike with him. He dealtt directly with Chris Herting in California sometime around "87 or 88." Chris remembers this bike even today. It eventually landed in Alabama, and sat unused and unloved for years. Until I got my hands on it
Before: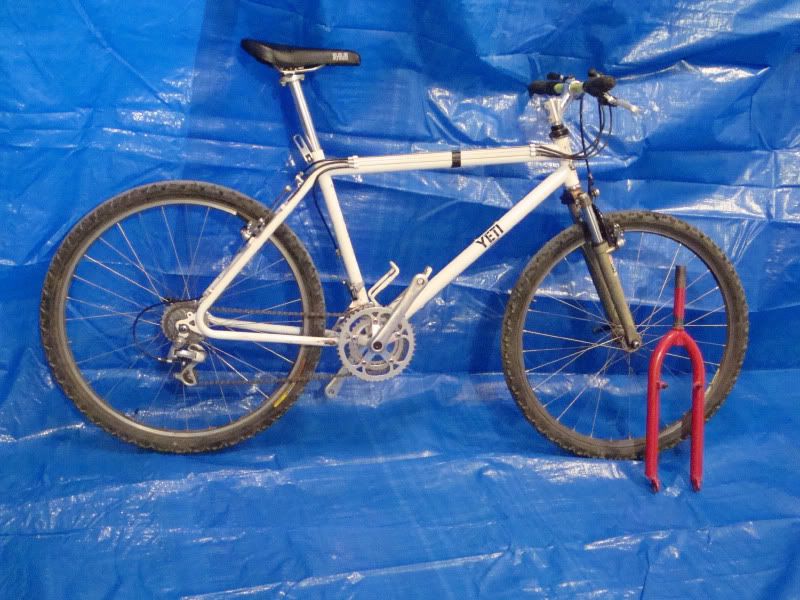 After:
Frame: Yeti Cycles "Yak."
Frame Number: 421
Fork: Yeti
Rims: Ritchey Vantage
Hubs: Shimano XT M730
Skewers: Shimano XT
Tires: Tioga FJ Cousins
Pedals: Shimano PD-M737
Crank: Cook Brothers
Chain: Sachs / Sedisport
Rear Cogs: Shimano 6-Speed Freewheel
Bottom Bracket: Shimano
Front Derailleur: Shimano XT FD-M720
Rear Derailleur: Shimano XT RD-M730
Shifters: Shimano XT SL-M730 Index
Handlebars: True Temper
Grips: ODI Tomac
Stem: Tioga T-bone
Headset: GT Epoch BMX
Brake set: Shimano BR-M730
Brake levers: Shimano BL-M730
Saddle: Selle Italia Flite
Seat Post: Shimano XT
Paint: Desert Turqoise W / White panels
Size: 16.5"
Frame Weight: 5.1 lbs
Place of Origin: Agoura Hills, California, USA
The "Yak" was simply a FRO with rack eyelets and a third water bottle boss added to mee the demand for a "touring" Yeti. Story on Yetifan... or you can see the brochure
here.
She's certainly no garage queen as see by the chainsuck incurred during the race last weekend. I put in two decent rides on her, taking victories in both the cross country and short track. For ride quality, its defining characteristic is its weight: 29lbs without bottles. Pointing this bike uphill just sucks. To be fair, it really doesn't come into its own until raced... agressive riding position, standing up out of every corner, etc. I wouldn't want to do anything else on this thing. Downhills are actually quite fun, and you can actually toss this sucker aound in the air is pretty easy. In the end, it is a very cool bike, and I'm pleased with how it turned out.