Back in 91 i had my mountain bike stolen bitsa special, insurance paid up and i had money burning hole in my shell suit bottoms (it was the 90's)
Looking through mbuk i saw an ad from discount cycles in cheadle selling a 16" gt karakoram ex demo i think.
Phone call and mums visa card later it was mine.

It stayed like this for a while then i started working and 1st weeks money went on some scott at4 think they were about £45-£50 in '92.
And then i had an accident coming home from work where a car overtook me then turned left as soon as he did. Bang! straight into the side of the audi coupe. Fortunatly a women coming out of the health club witnessed it and took me and the bike home, Long story short forks were bent backwards, i took the knees and elbows out of my clothes. I got some money to repair the bike from the driver and i bought some 2nd hand forks off my friend who had a british eagle pro carbon (anyone else remember these) and bought a new kona impact headset and its evolution began.
Different wheels, then thumbshifters and other bits and pieces were added until i got my Rd125lc.
What a bag o nails that was and the gt was only used to go to the local motorbike shop to pick up more parts to repair the rd.
Then 4 wheels came along and i sold it to another friend (neil) in 94/95.
Fast forward to 08 and iam sat next to neil at a wedding and a chance remark i asked if he still had the gt, he did and did i want it back as he is clearing out his garage. So i went round a week later to be reunited with the olde girl. Still loked ok to me.
A few hours in the garage and i still had the at4's here it is in 09. Think i ought to keep for ever now.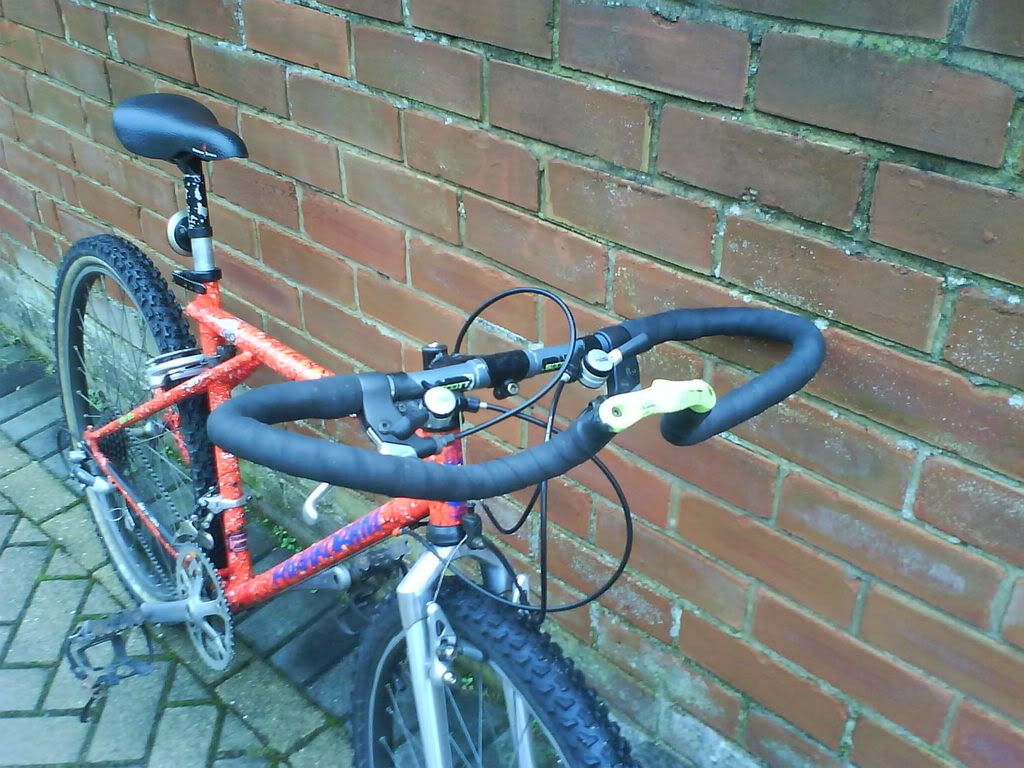 It still got the mint sauce stickers from b.i.t.d as well