Maybe some of you remember this bike from the Roadbike-section =>
More pictures
It are pics from right after I picked it up. It was the start of the project. The bike got a refinishing in the 80s and since than wasn't hardly used. Paint looked shiny like new, but unfortunately little rust worms develloped under the paint here and there. Probably it had been parked away in a moist environment. That had to be corrected. After a few failed attempts with cleaning and touching up, off it went to painter Brady van Dalen, who did a thorough job.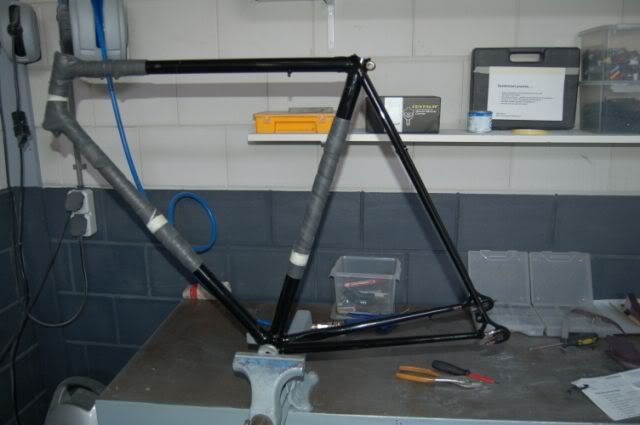 Headtube and panels were wrapped. They were in excellent shape. I can tell the result doesn't show any transition from black to panel or headtube.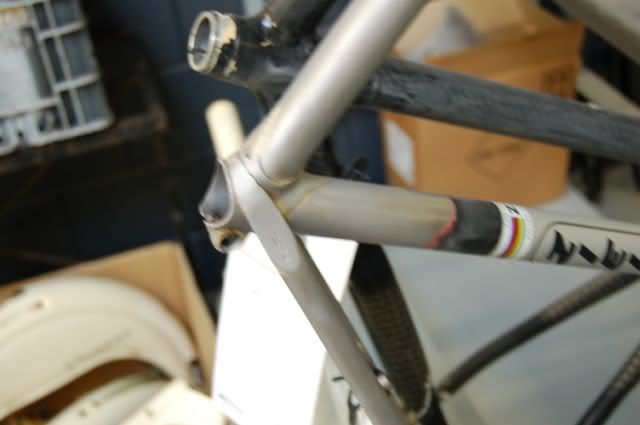 Non covered area sandblasted.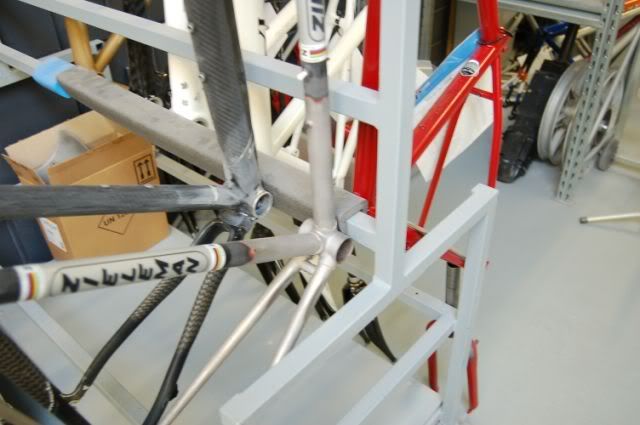 Maybe some of you recognize the red frame? The next project.
I had already decided to stick to the concept how I got it, what means 60s bike, 80s refinishing. That is its history. For the parts I decided to go a bit more exotic and quirky though. Months before I got hands on a RIH Bustraan with Super Record, Roval wheels and Weinmann Delta Pro brakes. About the most exquisite and obscure 80s stuff you can think of. The RIH was way to tall for me though. The RIH got the honour of donating his magnificent parts to the Zieleman frame.
Like all my bikes I built my bikes with surgical precission so moons later, last Saturday, I got it finished. Fellow bike addict and professional photographer Erik Boschman took a few 1st pics on the last Sunday 'Bikes and Coffee' event. Here they are:
...and with its proud ower =>
Ko Zieleman, Holland. Reggestraat, Amsterdam to be exactly. Also a first glimpse of Cinelli lugs and the Weinmann's =>
Built by the older Ko Zieleman. Have been told stays with ''Zieleman'' tops denoted they are built by the younger.
The Weinmann Delta Pro brakes =>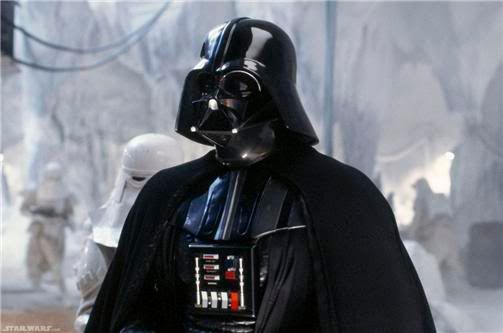 Still have the caps, but prefered the setup with tape, just to prevent from losing them.
Dart Vader approved.
Zieleman pantograped Cinelli 1R stem =>
Type Special, let there be no doubt on that
=>
Speclist
Frame: Reynolds 531 tubing, Cinelli lugs, Campagnolo dropouts
Fork: Reynolds 531 blades and steerer, Cinelli crown, Campagnolo dropouts
Stem: Cinelli 1R, Zieleman pantographed
Bar: Cinelli
Brakes: Weinmann Delta Pro brakes and levers
Headset: 600
Rear mech: Super Record
Crank: Super Record
Shifters: Nuovo Record
Front mech: Nuovo Record
Bottom bracket: Pragmatic and buttersmooth DA-NR mix
Pedals: Nuovo Record (on the pics Nuovo Gran Sport)
Wheels: ROVAL Aero wheels, flat spokes, sealed cartridge bearings, black flange, silver body
Saddle: TURBO Bernard Hinault
Seatpost: Stronglight Aero
Seatbinder bolt: Campagnolo
Bar tape: Benotto
Hope to have more pics up in future, with more covering of details.
Now I am supposed to ask you what you think of it. Well, okay tell it. I already know for myself though. I like it. I do and I should after all that went into it.