After realising that this was too short in the top tube for any distance rides, I broke the frame and forks out, and swapped all the bits for a longer and slightly taller Eldridge Grade which better suits my frame. I had to accept LX parts, which is the lowest grade Shimano groupset I've ever owned. They actually perform really well on the Eldridge as well.
Anyway, I was left with this frame to move on. Put it up for grabs on here and not a single offer or expression of interest!
So, it sat at the back of the pile gathering dust and annoyingly some scratches where 2 dogs leapt at it! I kept glancing over towards it, thinking of what its fate could be...
As it stands me at very little cost (compared to my others), I thought about what it would be like to run it single speed, but not fixed. I had no reason to run it on road tyres as my road bikes handle that chore.
The wheels were exactly what I wanted and got them this morning from Dyna-ti on here - Big thank you.
Now, I'm thinking about Yellow brake cables and the M565 ish Black LX stuff, as I've grown to like it so much. I've got the hubs and brakes, just need some Black LX crank arms.
Anybody have an opinion on the Onza single speed cassette converters? And what gear ratios are best for off road riding? 17 - 34?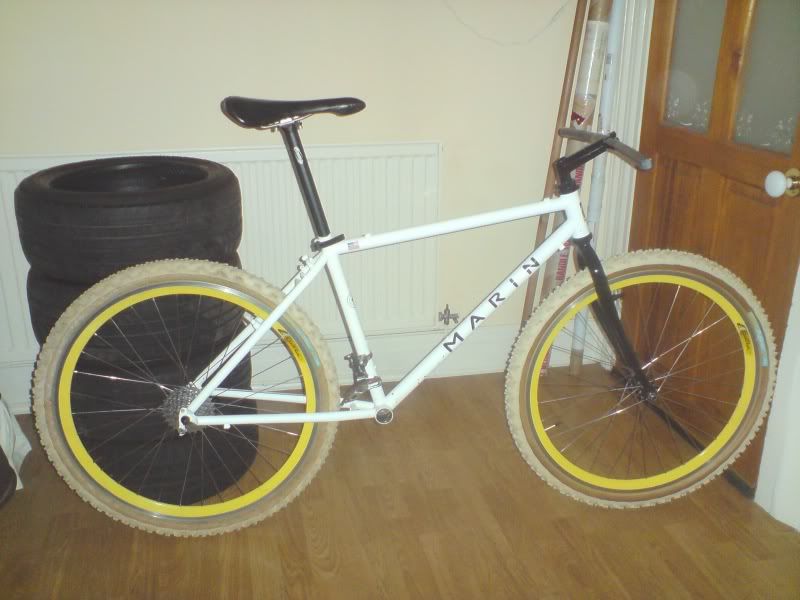 I've spotted some completely Yellow tyres too. Not sure whether they'd be better than the Michelins. I could even run White porcs.
Opinions welcomed?
ps. sorry about the front mech. I couldn't be bothered removing it from the strip down.

_________________
1990 Marin Team Titanium, 1991 Marin Team Titanium, 1993 Marin Team Titanium, 1994 Marin Titanium FRS, 1995 Marin Team Titanium, 1995 Marin Eldridge Grade, 1996 Marin Team Titanium, 1998 Marin DH FRS, 1999 Marin Team Titanium, 1999 Marin Mt. Vision Pro, 2015 Marin Mount Vision C XM9

1988 Concorde Colombo, 1990 Raleigh Dyna-Tech Cronos Titanium, 1992 TVT92, 1993 Colnago Master, 1997 Colnago Master Olympic, 2005 Look KG481-SL, 2009 Look 586

WANTED: Marin Titanium - pre 1990, 1996 FRS, 2007 25th anniversary