jmm wrote:
You need to get out more ben..!!
and work on the mk1..!!
Thanks.
For everyone else's benefit, he's referring to this...
http://www.vwgolfmk1.org.uk/modules.php ... highlight=
Anyway, back to an update on the Marin.
Pannier rack arrived and fits nice, as do the pannier bags. They are fairly cheap Brand-X panniers from CRC, but I picked them up for £8.50 for both! I am impressed at their quality and generous capacity.
The seatpost turned up, which looks a lot better in Black. The last post was the right size, but I couldn't get along with the Silver finish, so it's been donated to my mate. He is also completing the journies with me, and will be riding something a little older; a Giant Escaper from roughly 1988 that I rescued from a skip across the road from me. I will ask him to post a thread up, as it makes interesting reading.
Although I will take a camelbak with me, I think it is a wise idea to take water bottles along too, as water can run out fast on a long hot day.
Still waiting on a chain, inner chainring and that's about it. The chain will of course be a Rohloff, which seem to be getting very expensive these days. I remember paying £21.99 for them back in 1991. Plus I need to finish painting the pedals. They were Silver , but I wanted Black, so enlisted the help of Black Hammerite, and it works a treat. You really wouldn't know thay were ever another colour. So there you go boys, paint those worn looking Onza pedals with Hammerite and have 'em any colour you like.
The photos aren't that excitng, but the bike is honest and purposeful with a retro twist. I intend to complete a coast to coast ride in Wales, going from top to bottom, but that will be 2010's challenge.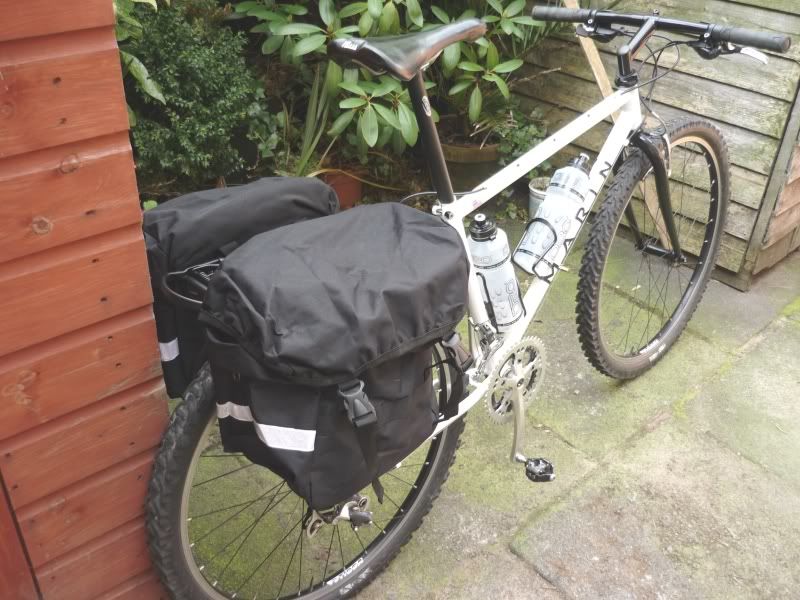 A quick before and after, demonstrates how far this little bike has come since its humble beginnings and all for the initial cost of £28 for the frameset, forks, stem, and bars. Most of the other bits were hanging around in boxes, swapped in deals or bought very cheaply on the net.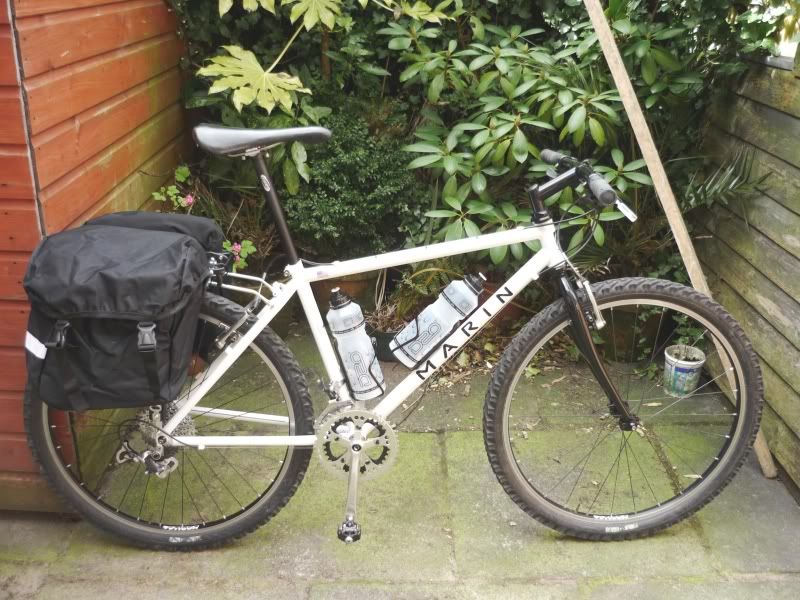 _________________
1990 Marin Team Titanium, 1991 Marin Team Titanium, 1993 Marin Team Titanium, 1994 Marin Titanium FRS, 1995 Marin Team Titanium, 1995 Marin Eldridge Grade, 1996 Marin Team Titanium, 1998 Marin DH FRS, 1999 Marin Team Titanium, 1999 Marin Mt. Vision Pro, 2015 Marin Mount Vision C XM9

1988 Concorde Colombo, 1990 Raleigh Dyna-Tech Cronos Titanium, 1993 Colnago Master, 1997 Colnago Master Olympic, 2005 Look KG481-SL, 2009 Look 586

WANTED: Marin Titanium - pre 1990, 1996 FRS, 2007 25th anniversary