The Odyssey Pro headset turned up this morning.
A nice thing it is too. It is clear that the stack height is quite low in comparison to the STX unit alongside. Subtract the section that inserts into the frame and there's a few extra mm. Just enough to grip on! There's also a grub screw on one side to stop any movement, because it doesn't run a washer between the top nuts, which is another contribution towards its low stack.
My mate came over with a box of bits that he swapped with me. A pair of XT crank arms, XT rear mech, XT front mech and a lovely chainring I've been watching in his garage!
I'll need to clean them all a bit though.
I bought another XT lever from here, to match the one I had. Can't remember who from, but thanks anyway.
Also, my chainring bolts and Black aluminium bottle cage bolts arrived. You can see the chainring backs are Titanium and the fronts are genuine Pace items, and there's even a spare. The bottle cage bolts are for various applications on the frame, such as pannier mounts, bottle cage holes etc.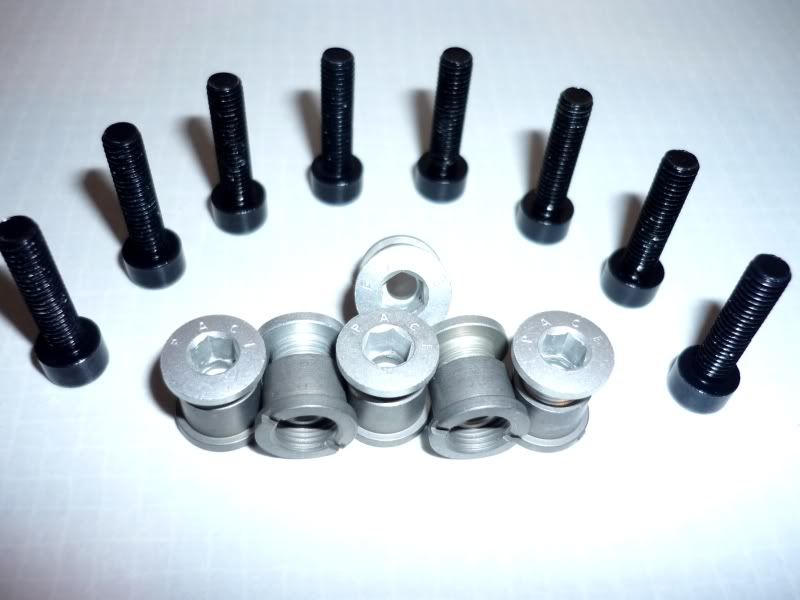 _________________
1990 Marin Team Titanium, 1991 Marin Team Titanium, 1993 Marin Team Titanium, 1994 Marin Titanium FRS, 1995 Marin Team Titanium, 1995 Marin Eldridge Grade, 1996 Marin Team Titanium, 1998 Marin DH FRS, 1999 Marin Team Titanium, 1999 Marin Mt. Vision Pro, 2015 Marin Mount Vision C XM9

1988 Concorde Colombo, 1990 Raleigh Dyna-Tech Cronos Titanium, 1993 Colnago Master, 1997 Colnago Master Olympic, 2005 Look KG481-SL, 2009 Look 586

WANTED: Marin Titanium - pre 1990, 1996 FRS, 2007 25th anniversary