OrangeRetro wrote:
This has to be the forums most eagerly anticipated thread.. I got a little excited when I saw that it had bubbled to the top.. but to no avail.. How's she looking WD?
Thanks for the comments
It is in need of an update but I don't have a massive amount to report
I have finished the fork threads and the borrowed tool has been returned – I am very happy with how they look but time will tell how they last …
I managed to save myself some work as I have sourced a 'headlock' from 'Bikeshopowner' :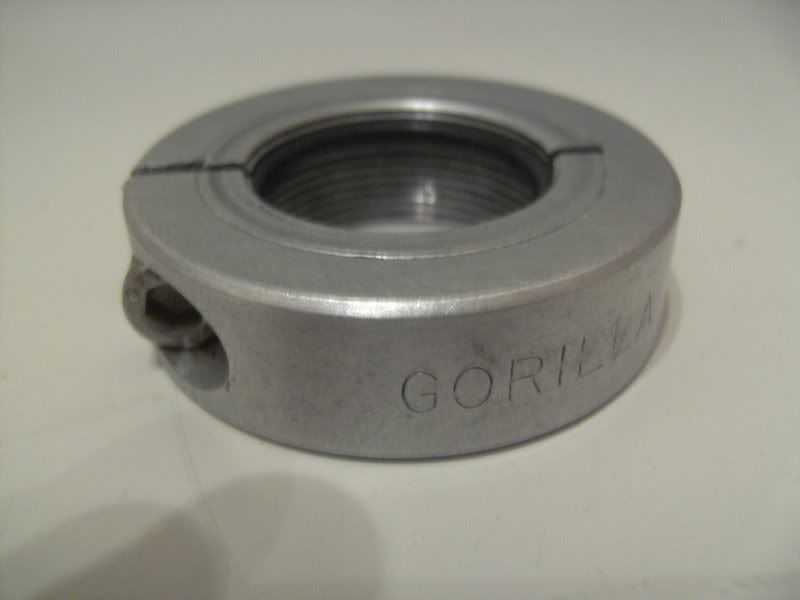 I am relying on this to support the top cup as the top 10mm of threads on the fork were good. I am just going to spin it up in the lathe to clean up the outside and then polish it so it matches the stem.
The XT shifters arrived courtesy of 'RockiMtn'. They have been stripped and have had the bands machined as per the brake levers / front derailleur. I have only finished one so far as it's a bit tricky to polish the insides of the slot as it is only 4mm – the other parts were much easier to do due to the bigger slots
The Bullseye jockey wheels have had the bearings pressed / loctited back in.
I never noticed when I was younger but the cantilevers had a noticeable amount of fore and aft play on the mounts. I am not so keen on this so I have made up some stainless recessed washers that fit / work perfectly. I tried ally at first but it was to soft and deformed when the bolts were tightened
I have polished up the front of the Ti bars (First time I have hand polished Ti – it's a bit hard / time consuming compared to ally and even stainless
) ready for the next stage. I have also sourced some Ti bar ends from 'chris667' to replace the ally ones as I wasn't happy with after the anodizing. When they arrive they will be treated the same as the bars.
I also sourced some Ti chain ring bolts from 'Disco Drive', not that they will ever get noticed but I hate looking at steel bolts that have started going a bit scabby down the hex.
I will try and get some pictures of all the above and then post them up in one go – hopefully tomorrow but we will see if my limited net time allows …
WANTED
: If anyone can help I am looking for (to finish the build) :
Old style USE Ti post 25.0 dia – Not bothered about clamp color or condition as I have some black hard anodized stuff to go on it.
Chain rings : 94 BCD – Outer and middle in large sizes (min of 48T for outer) – either black or silver – condition must be A1 or hopefully even NOS
WD