fingers wrote:
Amazing...

The brazing work tooks top draw, excellent job!
Thank you, the best work I have done on it that no one will see
Well sorting through the bits to build it up (itching to get the forks back
), I was reminded about the QR's which had a bit of a story …
I originally had Ringle holeys (silver) on the wheels and these were striped, cleaned up and sent for black (hard) ano with other bits, unfortunately though they 'suffered' a little with hidden corrosion (mentioned way up this thread somewhere) which was highlighted by the re-anodisation process. Two of the three levers were good but one leaver and the nuts / washers didn't look pretty enough for me to put on the build. The new bits I made for the seat came up really good :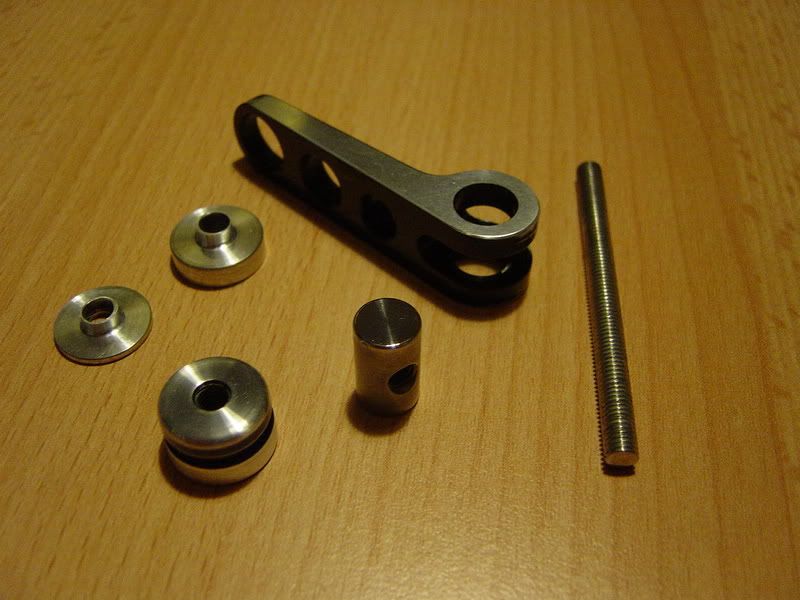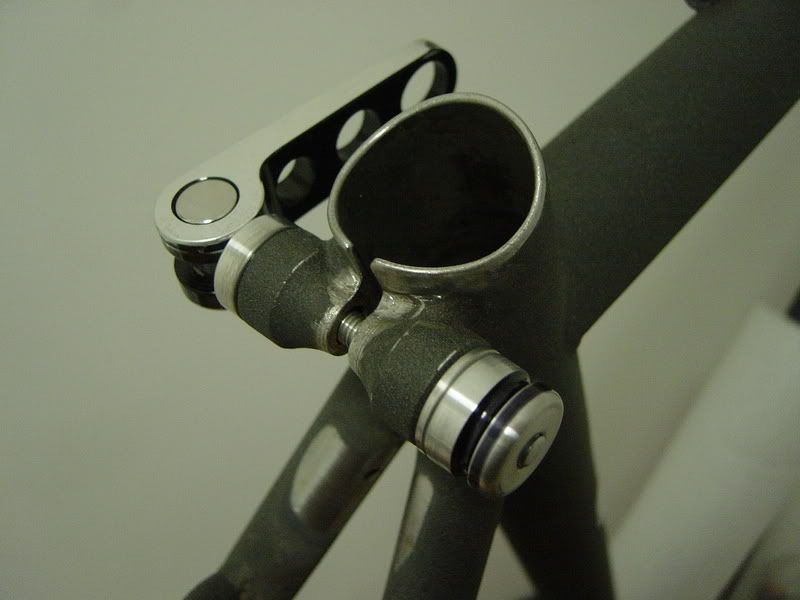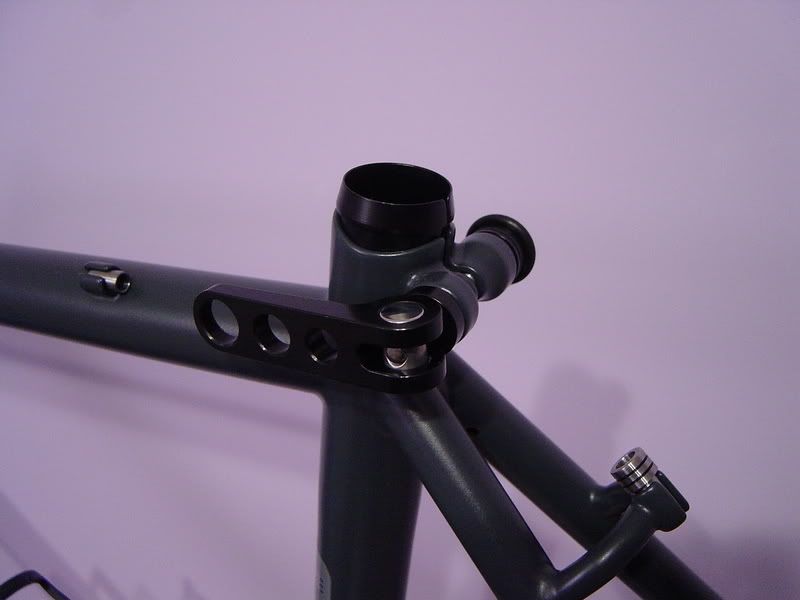 And are defo on the build to stay but I ended up with a new set of USE ti spin sticks on the wheels
I had been keeping my eye out for a wheel set of ringles to complete the look of the Marin but didn't have much joy. They would need to be in black A1 condition so I could use them 'as is' or another colour in A1 condition so I could get them re-anodised in black again without fear of the same problems as last time
Also I didn't want to pay for another batch of ano until all the bits off the ProFlex are ready to go so I could get it all done at once.
I don't know why I didn't think of it earlier but Mum's orange had come to the rescue with the temporary loan of the USE ti post - and it also had black ringles …
Dad (who really owns mums bike
) spotted the brand new spin stixs and actually wanted them to keep so the deal was done and I ended up with a 'pretty good but not mint' set of black ss holeys
Should I clean them up ready for ano or should I use them as is until I can get them done with the ProFlex bits ? hhmmm, well my impatience got the better of me and I went to work with the wet n dry to remove a few scratches to go down the ano route
Looking at the first one part way through the process got me thinking, I could really bling them up without having to go through the cost and delay of fresh ano
A few hours later and I was pretty pleased with myself
Black / polished alloy, new Ti rods (bought for £4 off here ages ago on the off chance that they may come in useful
) – chopped to perfect lengths and polished ends, polished barrels and new O rings :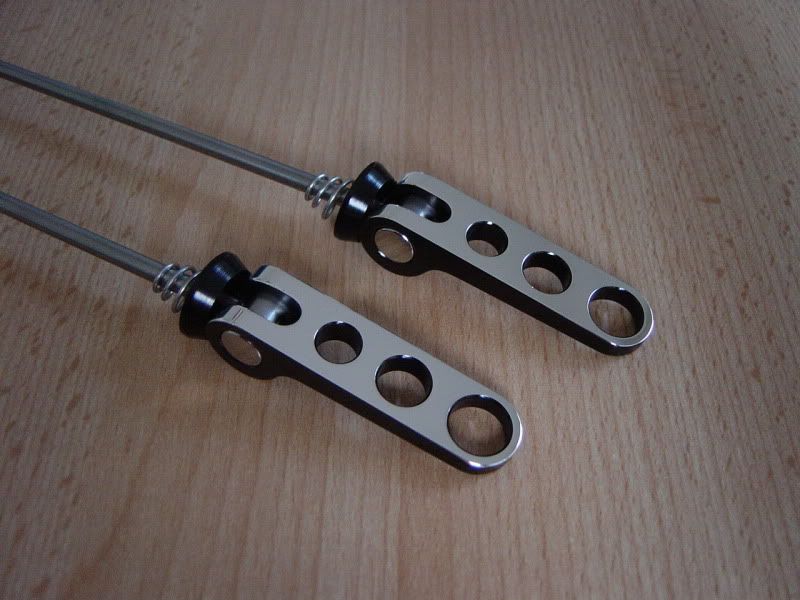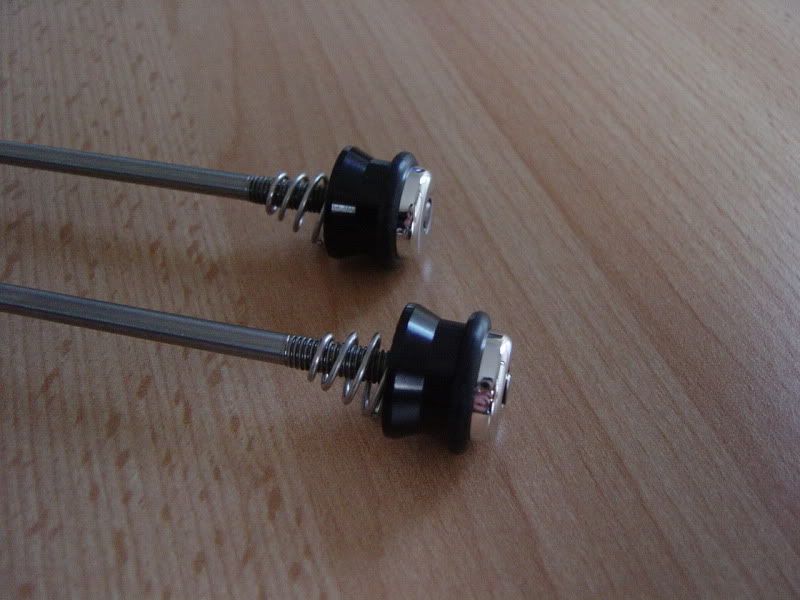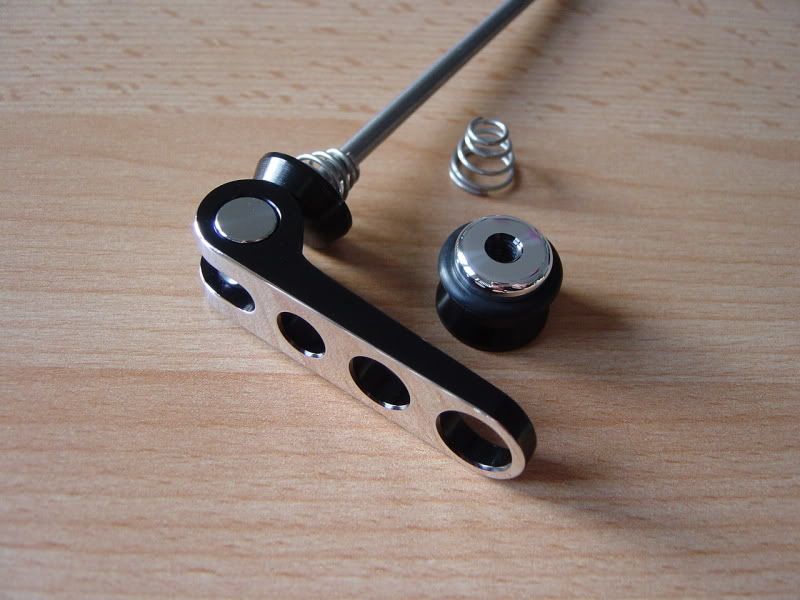 They are now assembled and loctited. I think they will actually be easy maintenance – If I scratch them (so long as I don't take a chunk out of them) I can just strip, flat and re-polish as all the vulnerable parts are now silver / bare alloy anyway – Its seems a win / win situation all round as they actually suit the build better to !
I am now looking out for one black holey in good condition (doesn't matter if it's a seat or wheel QR)
– I can flat / polish the lever to use on the seat QR and this would give me two good levers in full black hard ano to use elsewhere / keep as spares / possible sell etc.
Just the rear derailleur to assemble (its all in bits) and spruce up now, shouldn't take long - if I can remember how to put the springs and o rings back …
WD