Hey all,
Well it's been a while coming, but my first build is virtually done now and I'm quite proud. Ok, so it's not the best, most retro or most bling, but it is my first time so please go easy!
I bought the Sintesi frame off Ebay for £40, I am a sucker for nice ally welding and this is very nicely put together. It's stamped Verlicchi on the back end, and the build is very nice. I have no idea what they would have cost new, information is sparce on the model, but I figured £40 wasn't a lot for a frame.
I am happy with what I've done, apart from the umpteen different shades of red anodising there are
. I had everything apart, rebuilt all the bushings and cleaned everything. I had to rebuild the pedals, rear mech, cranks and brakes. I polished the Middleburn cranks with Autosol and a Dremel, they look better polished IMO.
With the exception of the shifters and saddle, everything came off Retrobike. Not bad, huh?? All comments, criticisms etc welcome. If you recognise your bits, please say!
*I've just realised the pictures I took with my K850i are rubbish, so I'll do better tomorrow.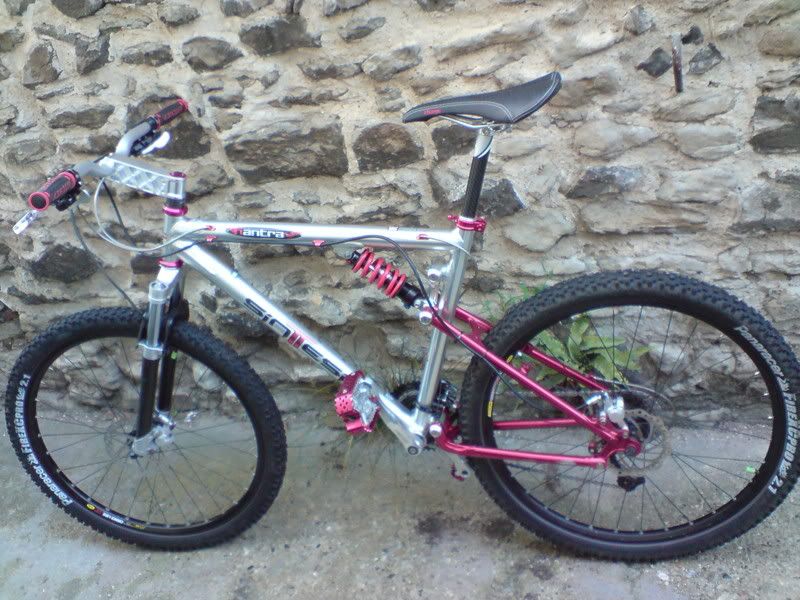 Frame: Sintesi Hantrax FS, 18.5"
Fork: Pace RC36 Evo
Headset: Onza Mongo III
Stem: WT Shorty CNC
Handlebar: X-Lite XC2 riser
Grips: Ritchey
Brakes: Hope Mono Mini hydraulic disc
Brake Pads: EBC Green stuff
Brake Levers: Hope
Shifters: XT 9-speed
Front Derailleur: XT
Rear Derailleur: XT
Derailleur Cables: Ebay special kevlar jobbies
Cassette: Shimano 9-speed
Chain: HG93 narrow 9-speed
Cranks: Middleburn RS7, mirror polished by my own fair hand
Chainrings: Shimano mega-9
Bottom Bracket: UN73 square taper
Pedals: Odyssey triple trap
Hub Skewers: WTB/ XT
Rims: Mavic F321 disc rear, F219 disc front
Hubs: WTB Momentum front, XT rear
Spokes: Black DB
Tyres: Panaracer Fire XC 2.1
Tubes: Green slime
Saddle: Charge Spoon
Seatpost: Giant Carbon
Seatpost Binder: Hope