Alright chaps, I've just come across this forum and cant believe I've never seen it before.
Anyway here is a pic of my main steed, the spec has changed slightly since the picture was taken, different forks and crank but it's largely the same. It gets absolutely thrashed about and i find it to track like a fighter regularly hammering on ones etc. If i ever break the frame i'll mount it on the wall in the honour of one of the best frames GT ever built!!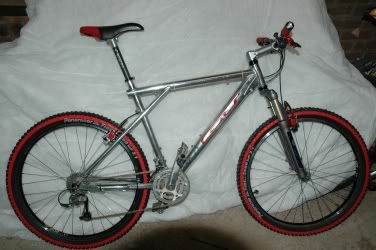 Edit: actually I've just seen that they are my 'new' forks on there i originally built it with a set of pace rc36 pro's with the Ti coating on the sliders which i still have and have been meaning to sell for ages but i just cant bring myself to part with them!!