Hi fellow Miyatian!
Quote:
If anyone has any ideas about how I can upgrade, please let me know. As you can probably tell, I'm a newbie mountain bike enthusiast. I've been riding mountains for many years, but never gave it much thought, other than how fun and challenging it was. To be honest, I don't know enough about bikes to know if I have a good bike or not to even bother doing upgrades.
Congrats, you are the owner of the best bike in the world! ...but we should not say the later too loud, as I like they still can be had at a bargain
I have three frames using the same construction:
1991 Koga Miyata TerraRunner Carbolite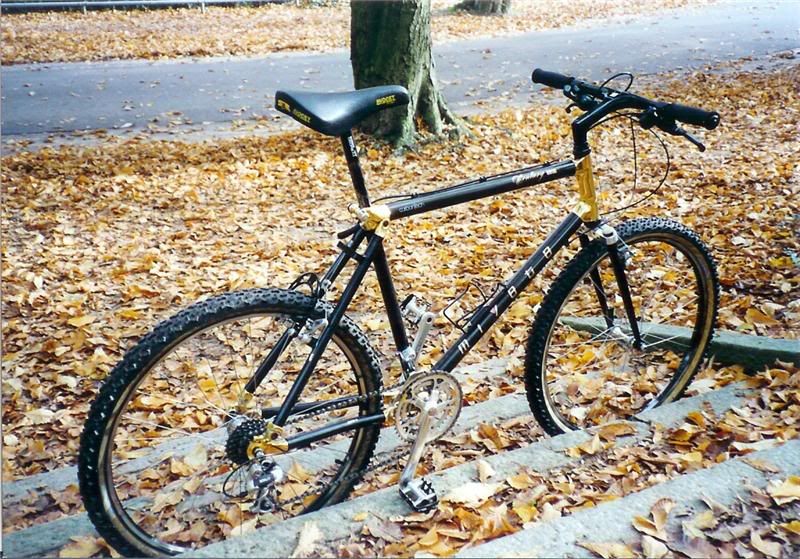 1990 goldplated Miyata Century celebrating 100 years Miyata bike building
1991 Miyata Team Greg Herbold signature ed
With the similar lugs Miyata created dozens of frame models using several materials for tubing. It is a bit like Lego. For the front there was aluminium and carbon tubing and for the rear there was steel, aluminium and carbon.
Yours has an alloy front and I think a steel rear. I think a steel rear because the stays look more svelte. Furthermore with steel the stays were brazed to the dropouts and with the alloy & carbon the tubing was clued and bolted to the dropout. This I can't see on the pics though. Too unclear.
The combination of alloy front and steel rear was the most economical offering.
The 1990 and 1991 models differed. Making new lugs and other tiny modifications requires substansial money, but Miyata was a big and committed company. For '91: Slimmer dropouts and a reworked, slimmer bracketlug with intergrated chainsuckteeth. Frame now fitting 1.125" headset and 73mm bracket, instead of 1" and 68mm. Furthermore toptube cablerouting and bolted instead of welded seatstaybridge and brakebosses. For the 10,000 this enabled the use of carbon for the stays.
By seeing the toptube cablerouting for example, I conclude yours must be a 1991.
For 1992 there already was the 2nd generation of bonded and bolted Miyatas.
On upgrading: I do not know why, but I sometimes see relatively low end stuff on the Japanese Miyatas. Take into account the frames are actually pretty expensive.
This is a Japanese RidgeRunner: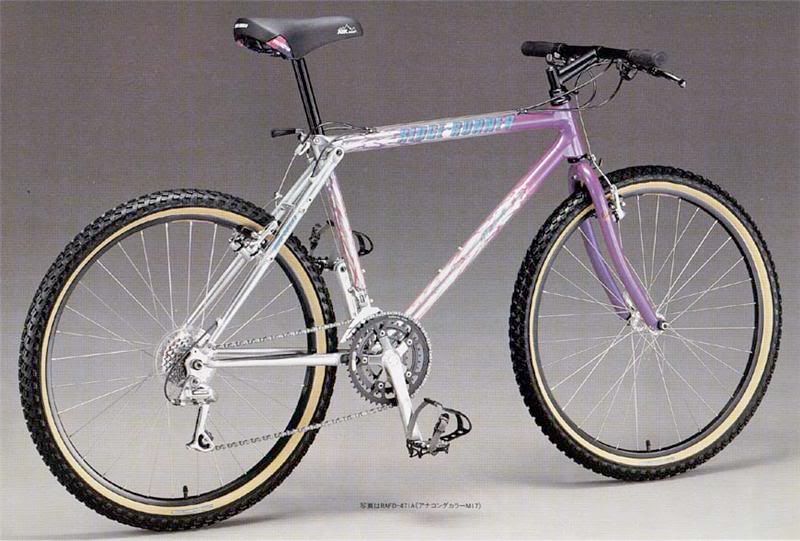 With Shimano Deore DX it is decent specced. DX or XT (back then there was no XTR) is appropriate.
My TrailRunner Carbolite has black DX and the Century has XT. My Team is still a frameset. The TrailRunner C has a carbon front & steel rear, the Century has a carbon front & alloy rear and the Team is full alloy.
On upgrading to suspension: It is not suspension corrected. I once put a long travel forks in a non corrected frame. Handling did change substantially, though I still like the ride. It is also subject to personal preferences. Expect your bike doesn't like cornering as much as it did with a rigid fork. When opting for suspension you should look out for a forks with threaded, 21.5cm, 1-1/8 steerer.
- Melvin