Just started posting on here, thought I'd pop a post in here with details of my pride and joy thats been with me for 10 years since new.
Frame: 1998 Santacruz Chameleon
Fork: Marzocchi Z1 BAMs
Headset: Cane Creek
Stem: horrible XLR8 one
Handlebar: Azonic Double wall
Grips: Onza Ules
Brakes: XT and DX V's
Brake Pads: Cool Stop blues
Brake Levers: XTR
Shifters: Sachs Wavy
Front Derailleur: XT
Rear Derailleur: XT
Cassette: 7 Speed unknown
Cranks: Middleburn RS-HD
Chainrings: Middleburn Slickshift 24, 38, 48
Chainring bolts: Middleburn
Pedals: DMR V12
Hub Skewers: X-Lite
Rims: X-Lite Phatsos
Hubs: Early Hope Bulbs F+R
Tyres: IRC Kujo/El Gato mix, Panaracer FireXCpro on the rear in the winter.
Tubes: GT
Saddle: Flite Titanium/WTB
Seatpost: Titec
Weight: Not a porka, but not exactly a featherweight either!!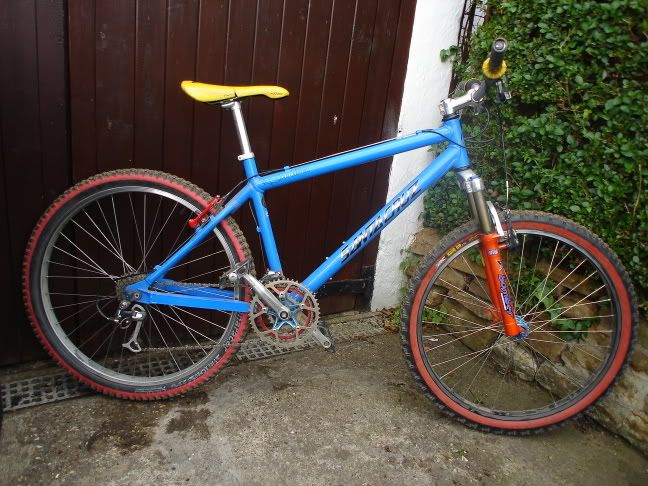 Any thoughts comments or advice welcome!