I had to wait 3 weeks for a new chain I to arrive. I had ordered it along with some other bits (cables, cableends, grips...) at a bike shop. I really started getting angry about the delay. They had my money after one day but they delayed the shipment because one 2,50€ part of my 100€ order was out of stock... I had to contact them an and request a partial delivery. (The rest did not arrive untik today, its over one month later...
) Why do such things always happen, when the weather is fine and you desperately wait to get the bike done?
But finally the parts arrived and I had the opportunity to flick a quick round about the woods for a first test:
Was fun, but I wasn't satified with the handling. Steering was kind of odd. Heavy feeling to twist the handlebar back to straight position. I prefer a more neutral feel.
So I messed around with different steerer configurations. Was not able to test them, because the weather got messy. Up until last weekend.
Little tour with the kids:
Even found myself a nice colored wall: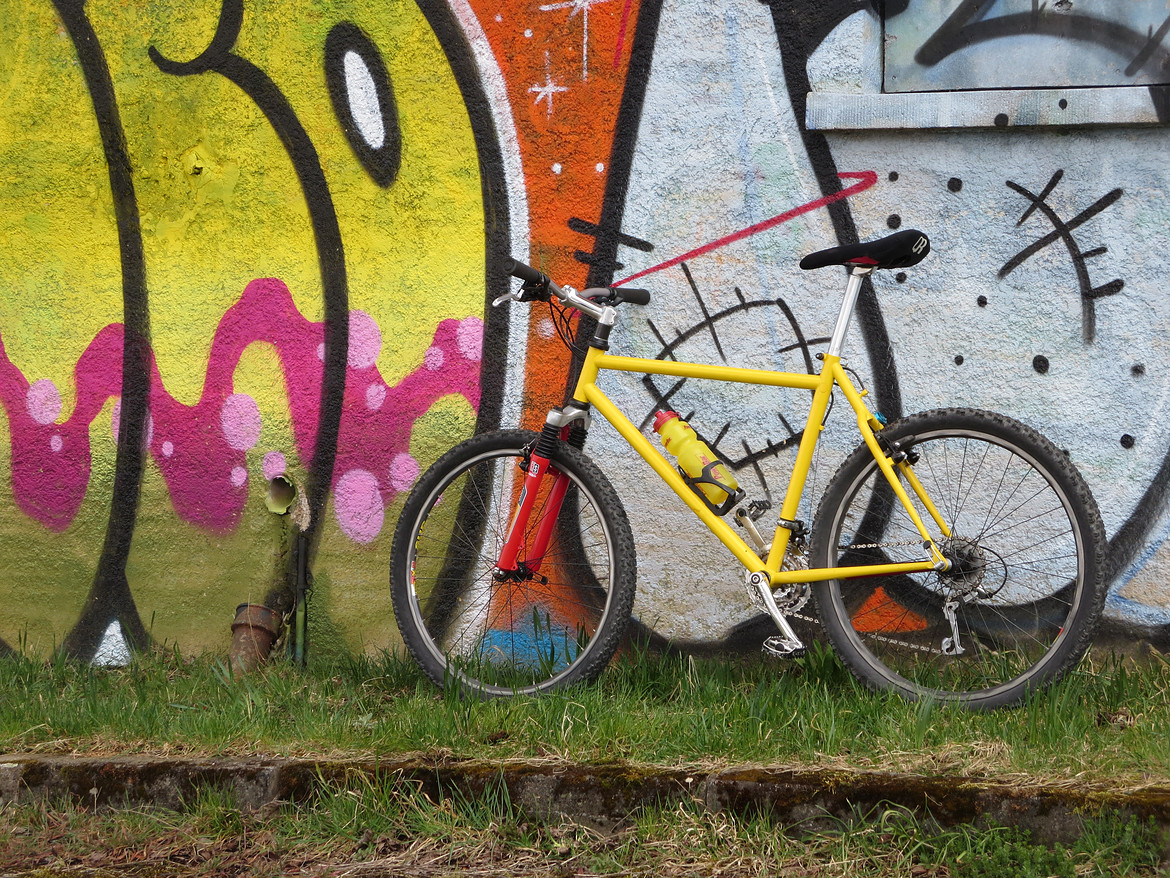 So this is how the bike is looking today. Steering is much better like that. But I dont like the look. The handlebar should be black and straight. I will try different stems to get the (steerer) feeling it now has while using a better looking bar.
Oh, and I need a Flite...
As usually, the project is 95% finished and the last 5% will take me forever.
What do you guys think?
_________________
My bikes:
1995 Specialized FSR
,
1995 Ibis Szasbo
,
1992 BikeTech Hikari
, 1997 Klein Mantra
(pics)
,1992 Scott team racing
(pics)
, 1989 Kuwahara Pacer
(pics)
, 1992 Centurion Titan
(pics)
, 1985ish F.Moser jodler
(pics)
, 1992 Hercules Titanal
(pics)
, 1994 GT RTS-1
(pics)
,
1995 Klein Pulse
,
Current projects: 1996 GT LTS Thermoplast,
1992 Klein Pinnacle
,
1992 Marin Rocky Ridge
Ex bikes:
1992 Rocky Mountain Cirrus
, Cannondale
SM2000
, Specialized
Rock hopper comp
,