Hello Zeringer,
Welcome to the site
Nice bikes you have there. I have two Panasonics: a Panasonic MC-Comp elevated chainstay mountainbike and a MC-6500 spare frame. Both are well crafted frames made of Tange MTB OS. No light weights, but durable performance mountianbikes.
I still dream of owning an early 90s Panasonic PR6000 road bike. To my information that bike never made it to the US market, as Panasonic had withdrawn by '89. Because of expensive Yen and the rise of Taiwan mainly. Other great makes like Miyata and Bidgestone stayed a little longer, but by mid 90s they too were gone because of the same reason. In Europe Panasonic was around till mid 90s.
I scanned the 1991 Panasonic catalogue a while ago. You can find it
here.
The catalogue is in Dutch, but I can tell that on the PR6000 it says that it is the best handmade roadbike in the cyclingworld. Quite a claim, but pretty sure it won't be far from the truth. I see PR6000s offered on local classified sites quite regularly, so I am pretty confident that one day I encounter the right one that will be mine
PR6000 in the 1991 catalogue =>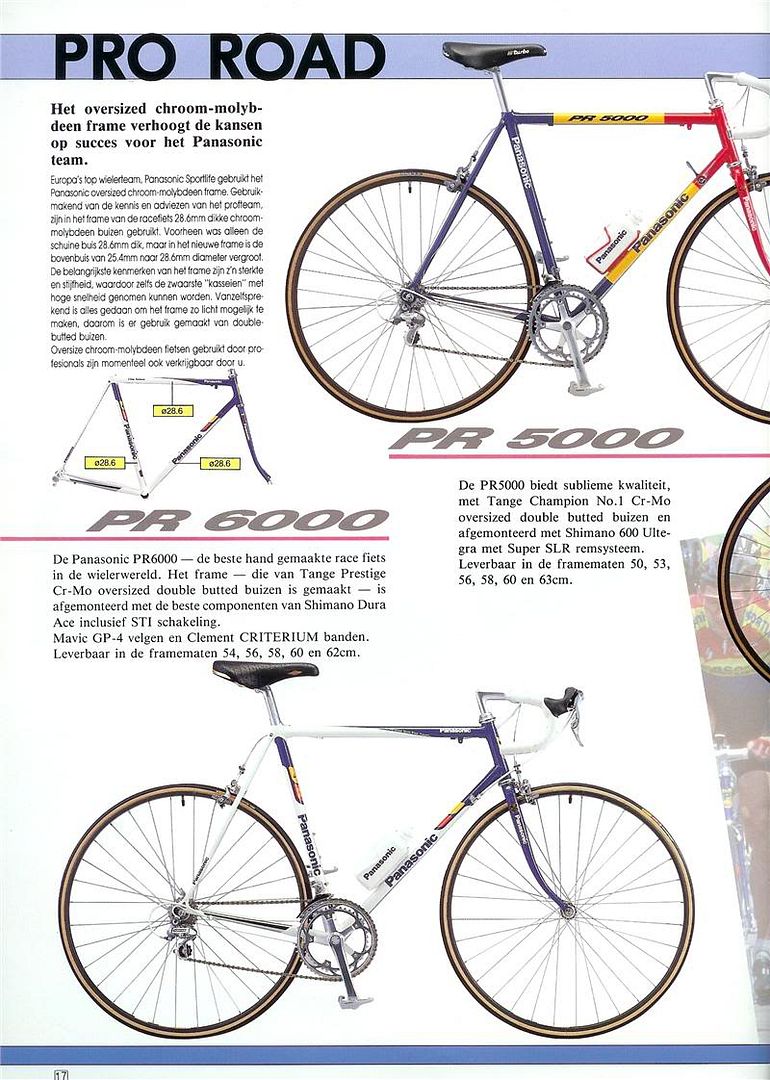 I know Panasonic is still making bicycles. They carry a great line of custom butted titanium bicycles and they also still do sweet steel =>
Panabyc POS
Unfortunately they do not make it to Europe (heard there is some import into US)
_________________
official OW
2
0
1
0
Concours de Elegance jury member
Enter Elev12K's candy store
For Sale:
☆ Vitus FCK9
☆ Koga Miyata Survivor