Another one almost done is my bitsa singlespeeder that has been christened FRANKENSHITE II.
Based on a Diamond Back liberated from a skip 10 years ago it has been built up using all those leftovers that no one wants.
Inspiration came from 70's hot rods and customs and album covers by The Band for the paint. Its kinda Ed Roth, Barris, Von Dutch, SOCAL kinda thing.
It rides ace, stops well despite the minimalist one brake and will fly up anything with those lazy wide bars.
its destined for a life of pub and shop runs and the occasional bit of tom foolery around the woods and over the jumps!
The colour doesn't photograph well but its a metalflake metalic brown and looks completely different depending on the weather.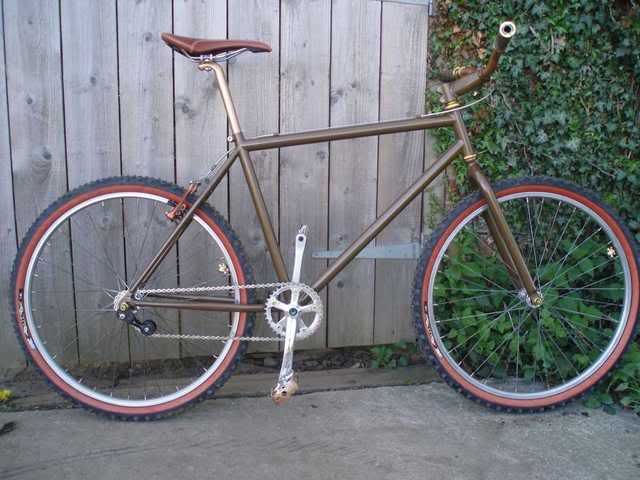 The frame had a little custom work before powder, all bosses were removed for the bottles, racks, cables, mudguards etc to give it a smoothed out look, drop outs were re-shaped and the P2s had the bosses cut off and the pannier mounts brazed up. Stem was powder coated at same time as frame. The bars, pedal cages and brake lever were painted in contrasting Arizona gold.
It still needs a few finishing touches and Gil is doing some hot rod inspired decals for it, thinking of making a button draylon saddle cover for it but it might be taking the hot rod thing too far
but hey its ridable again and thats what counts!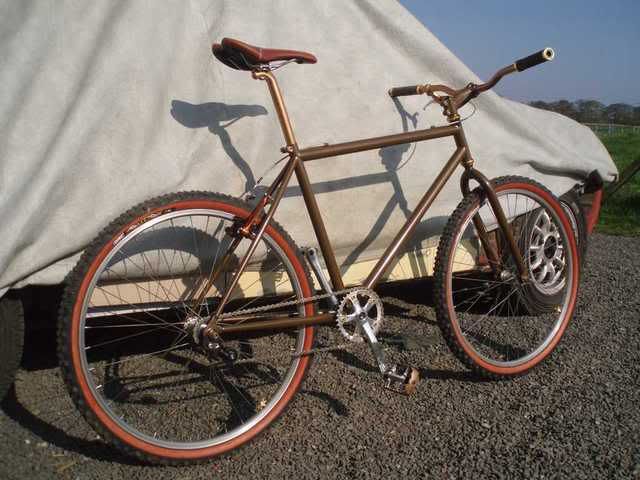 SPEC
Frame: Diamond Back 1992ish custom bodged!
Fork: Kona P2, brake bosses and mounts removed
Headset: Chris King No ThreadSet
Stem: God Knows ???????
Handlebar: Titec Hell Bent, custom paint
Grips: NC 17 lock on
Barends: No Chance
Brakes: Single rear Avid Ti V brake in copper
Brake Pads: Avid
Brake Cables: Leftover
Cantilever cable hangers: N/A
Brake Levers: Dia Compe
Shifters: N/A
Front Derailleur: Nope
Rear Derailleur: as above
Derailleur Cables: what for??
Cassette: Beach Boys- Little Deuce Coupe
Chain: Old BMX one from shed
Cranks: M900 XTR
Crank Bolts: SRP
Chainrings: just the one thanks, from Mr Shimano
Chainring bolts: Gold ano Alloy
Bottom Bracket: Shimano sealed thing
Pedals: Deore Flatties, custom paint
Hub Skewers: Gold ano bolt through jobbies
Rims: Un-branded crap and slightly wobbly
Hubs: Shimano Deore Paralax
Nipples: Rusted solid
Spokes: see above
Tyres: IRC Rust wall
Tubes: old ones
Saddle: Charge Spoon
Seatpost: Out of the tool box (has been used for years to get headsets out!)
Seatpost Binder: Alloy gold ano cheapie thing from CRC
Misc: Gusset bachelor tensioner, 24/7 single speed converter and gold skull and cross bone valvecaps (for a larf
)
Weight- pretty light considering