OK, so she's not quite finished. Still borrowing the wheels from the E4 and awaiting a Spoon saddle (Due in at the LBS in July).
But I couldn't wait.
I swapped the XT V brakes off the E4 so I could stop a bit. |Problems there (but I'll come back to that) and took her for a bit of a spin.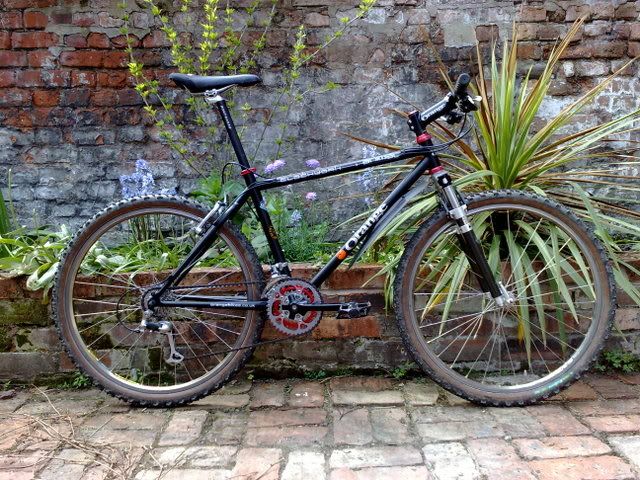 Oh man!...................I'm so pleased with the way she rides, I had a huge smile and I only went round the block.
I've got some Avid V's coming for her (decided against Maguras for now, but they're on the long term 'to do' list.
I've run into a bit of a problem with the front brake though......there isn't room for the XT brake on the RC35, the spring retaining stud on the arm hits the rear brace.
Going to canti's isn't an option, so I hope the Avids work else there will be much head scratching.
I don't want to have to swap to a set of RC36's but I might have to......maybe??
_________________
Modern:
Cotic Solaris | Cotic Escapade
Retro:
1988 MF Explorer | 1991 DB Apex | 1992 DB Response | 1992 Dave Yates Diabolo | 1993 Orange Clockwork | 1994 GT Zaskar LE | 1994 Saracen Kili Flyer
WANTED
:
RS Mag 21 with 1/18" unthreaded steerer
|
DBR Dual Response