Another Ibis project that I've been working on. Many of the parts actually started out on my 1992 Ibis Mojo but I came across this frame when sourcing a Syncros seatpost for the 92. The XTRaMojo came with a full XTR groupset, while the Mojo came with XT or DX. So it made sense to move the XTR groupset from the 92 to the 93. I also think polished components show better with this frame colour, which is True Blue. The 92 build will be going in a different direction.
Frame: Ibis XtraMojo
Fork: Steve Potts Type II
Headset: 1" WTB\Chris King
Stem: 1" Ibis Titanium with noodle, 135mm x 10deg
Handlebar: Ibis Titanium
Grips: ODI Attack
Front & Rear Brakes: Avid Tri-Align ( to be replaced with Grafton Speed Controllers)
Brake Pads: WTB Dual Compound
Brake Cables: Shimano XTR housing, Gray with Wheels Mfg Ferrules
Shifters & Brake Levers: XTR ST-M900
Front Derailleur: Deore XTR FD-M900
Rear Derailleur: Deore XTR RD-M900
Derailleur Cables: Shimano with Wheels Mfg Ferrules (black housing to be replaced with gray)
Cassette: XTR CS-M900 12-28T
Chain: Shimano HG90
Cranks: Cook Bros RSR, 175mm
Chainrings: Shimano SG-X
Bottom Bracket: Syncros Titanium (to be replaced with White Industries Titanium)
Hub Skewers: XTR M900
Rims: Mavic 230 SBP, 32H&28H (will be replaced with Mavic 231)
Hubs: TNT Titanium, 32H rear, 28H front
Tires: Timbuk II from FirstFlight
Saddle: Selle Italia Flite
Seatpost: Syncros Titanium 29.4x330
Seatpost Clamp: Ibis (to be polished)
Weight:TBD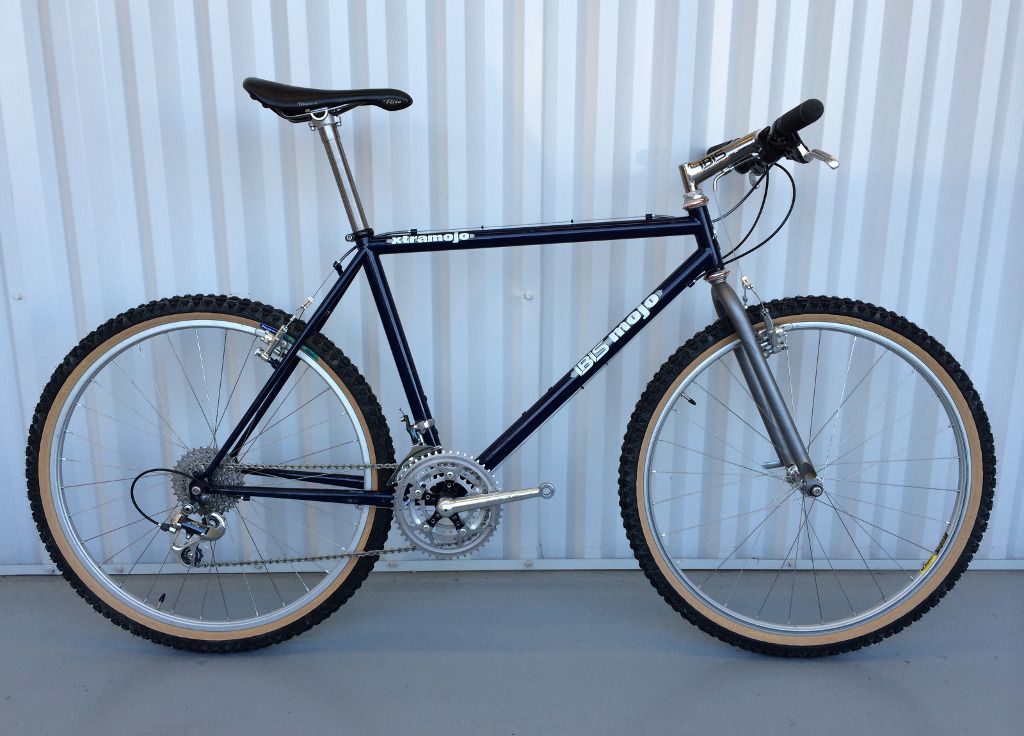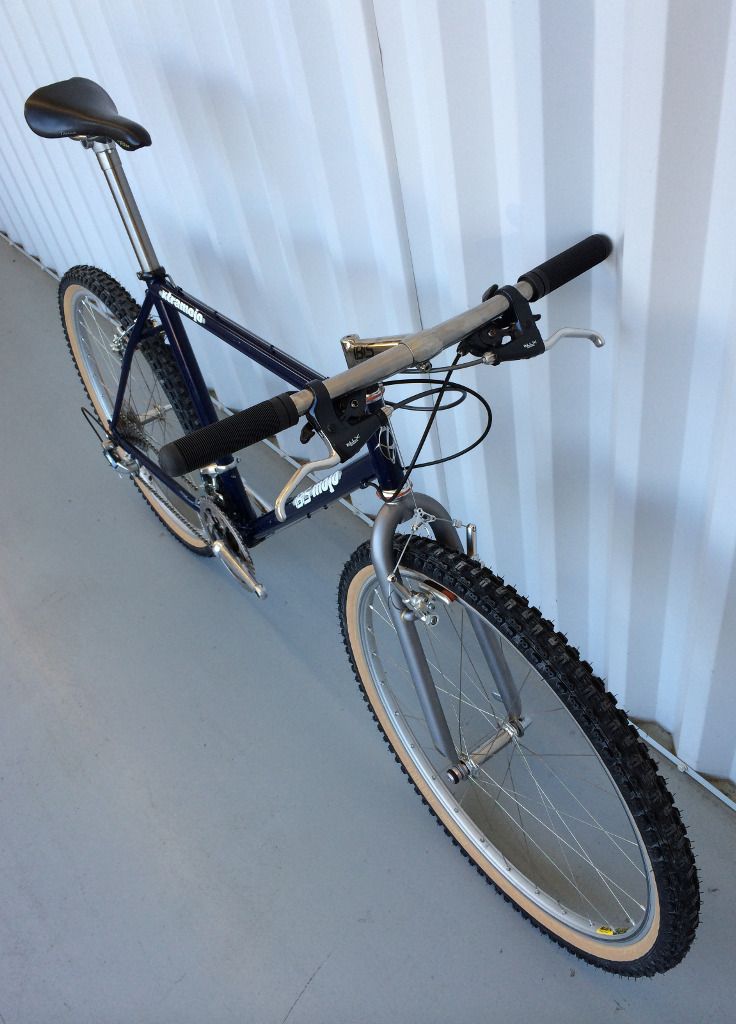 The frame came with a colour matched Mag 21, but I prefer to make it rigid with the Type II. A future step in this build will to have the fork painted to match the frame. Some other refinements are to polish the black seat clamp to match with the headset, replace the Tri-Aligns with silver Grafton Speed Controllers, and replace the Mavic 230 rims with more period correct M231 rims. I'm also thinking about have black spider on the cranks polished. The shifter housing needs to be changed from black to gray. The gray brake and shifter housing tie in with the gray background on the frame decals. I'll post some more photos after the build is closer to being finalized.