Right then, after 12 months of tinkering with old projects in an already bulging man cave, I've landed a new one.......off we go again!.....it's another bucket list job, so I have some energy with it!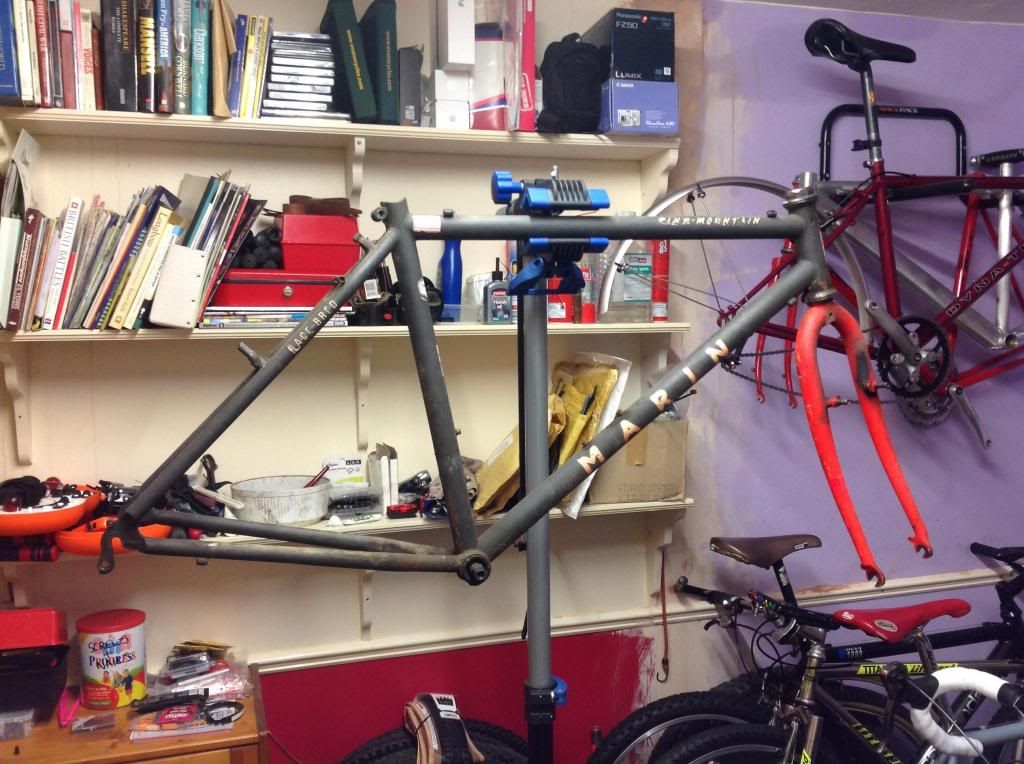 It's been a commuter for a mate of mine, uncleaned in what appears to be the past 15 years, and some sideways upgrades from a previous owner. Non original parts as it arrived today include a flex stem, Scott bars (bent at the clamp, so hack sawed off and binned!), the dx hubs are built onto some mavic 517 rims which still have the milling marks on the braking surfaces and appear nearly new, a 730 xt rear mech, and a new stx headset.......other than that it is all original dx/Marin spec.
No time to do anything other than strip it down tonight, but I'm tempted to do a full original spec resto, including a possible respray......time to ponder it over initially, but an immediate question is has anyone mastered the zolatone respray yet?.......
Will need new bars and stem......
Bb knackered, but shifters and levers in good nick, turbo a little tatty, but shark fin, cranks, rings and block all good, or will be after a bath and polish up.......
It's a nice frame, first Marin for me, but it's pleasingly chunky......
All help, pointers and comments welcomed......
To be continued!......

_________________
Darren
1991 CANNONDALE M1000 : 1993 DAVE YATES D.O.N.K.I.S.N.O.B. : 1992 CLOCKWORK ORANGE : 1995 KONA CINDER CONE : 1991 STUMPJUMPER COMP : 1992 KLEIN ATTITUDE DOLOMITE : 2008 TREK 8500 : 2009 TREK EX9 FULL SUSSER : 1984 JACK TAYLOR ROAD BIKE : 1988 BARRY HOBAN ROAD BIKE : 1992 DYNATECH CHROMO COMP : 2008 S-WORKS ROAD BIKE : 1991 LITESPEED TITANIUM : 1991 TREK 8700 : 1991 FISHER HOOKOOEKOO E STAY : 1991 MARIN PINE MOUNTAIN


Happiness is the morning sun on polished spokes.........