I think I may have been a little dismissive of e-stays in the past so never went looking for one but when this came my way it seemed so close to original spec even down to the Ritchey force 2.0 tyres, I just had to fix it up & try it. Main problem was that the thread on the steerer was eaten away by a wrongly adjusted headset. No problem, the deal included a new fork & headset but it was a PITA getting it right :
viewtopic.php?f=1&t=273553
Seems OK now, but this problem may indicate the bike being assembled at home, i.e. bought in a box as there were other dumb features such as the STI units being on upside down .
I'd be interested in any catalogue scans, magazine references to this model, or personal experiences. I'm just guessing 1990, I was still messing with motorbikes then. Frame number is H8912####; would that imply Dec '89 manufacture for 1990 model year? It's got Exage 400LX Biopace, the parts I'm not sure are original are the Vetta Gel seat & the foam grips, I remember Oxford 'Baja' grips from my motorcycle days & these are something similar. Pedals were some VP trekking type; I just put SPDs on 'cos they're what I'm used to. Everything else looks like original, right down to the cute white outers!
Took it out a coupla times on the local trails in slippery conditions, & handles OK, not as flexy as I thought. The front forks are pretty whippy though; tend to pop out of tighter corners! Also I get some flex from the tall stem. Can't change that though, it's a real special part – the front brake cable threads through the clamp bolt & through stem to exit underneath. Awesome! Stem even has bottle cage bosses, talking of which there's another set on the main tube which are also cable guides, & a set just in front of the BB, sensibly angled left so you can grab the bottle not the chain ring but it's still going to catch all the shit off the front wheel!
Brakes, though – I was concerned about the plastic levers, & mainly plastic arms on the front canti's. Work great in the dry though (feel the fork whip!), & U brakes are cool, just mounted like this the straddle cable/frame interface could be a rust patch waiting to happen. I've seen useful plastic cable guides on BMXs with this set up, 'til I find one I've just got a bit of inner tube on there for safety's sake!
Funny being back on a bike with a gear dangler – you can feel something move when you pick the bike up, keeps making me think the headset's loose again!
20+ year old tyres don't seem too grippy, have they gone off or were they always like that? Hoping for some drier trails soon but it's a blast anyway! (specially when young 'uns on flash bikes have to let me pass!)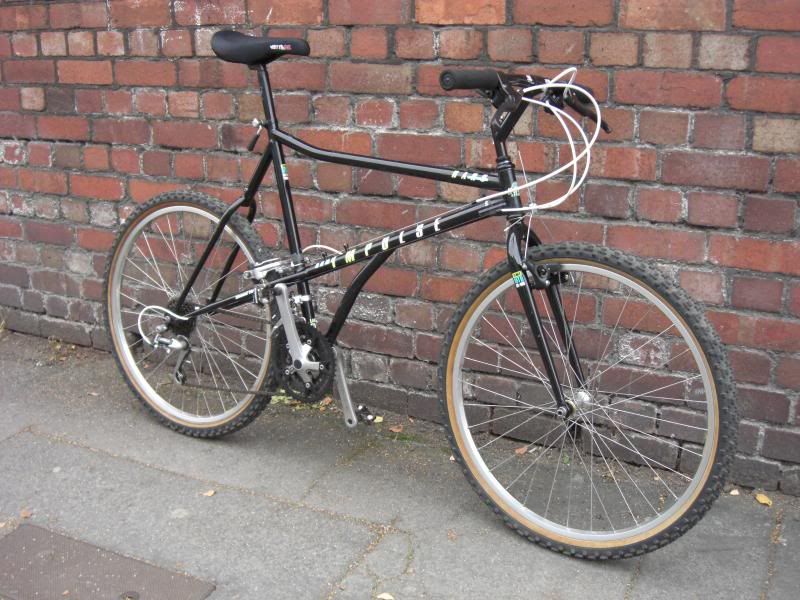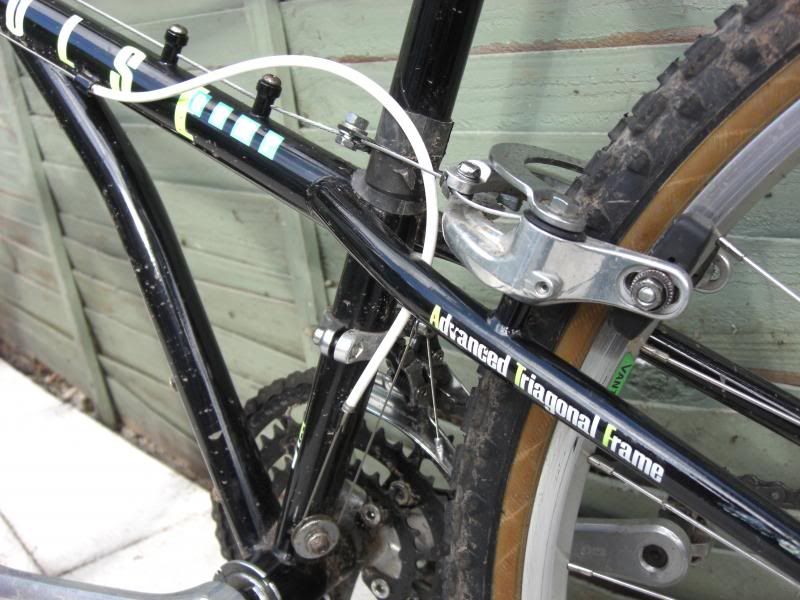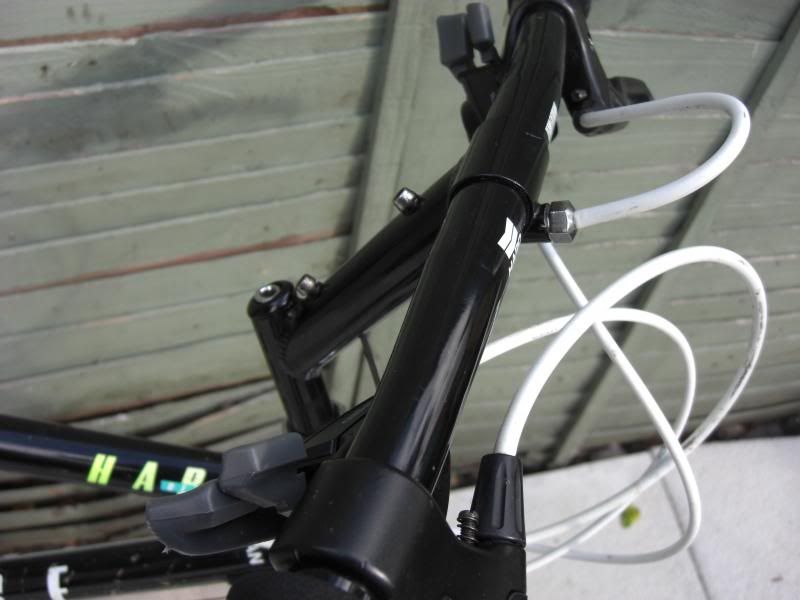 _________________
Not all my bikes are fixed.