Here's my 2K4 Explosif in 1996/1997 disguise, built for riding to work and back and ridden for the first time today.
Frame: 18" 2004 Kona Explosif, True Temper OX Platinum, sliding dropouts.
Fork: Rock Shox INDY-C (I know it should be an SL, but it was free)
Wheels: 1998/99ish Bontrager SuperStock/RACE, asymmetric rear rim & hub, radial front lacing, radial non-drive side rear lacing
Cranks: 1996 Shimano Deore XT, integrated spider (damnit) 42/34/22
Brakes 1997(ish) Avid 20 linear pulls (w/matching noodles and rubber thingys!)
Shifters/brake levers: Shimano Derore LX (Blue LX)
Rear Der. : Shimano Deore LX (Blue LX)
Front Der. : 1994 Shimano Deore LX (Black 'new' LX)
Seat: Vetta SL
Headset: FSA Orbit
Post: Generic POC
Bars 1994 GT 3 degree bend flat bar.
Stem 1994 GT Flip Flop IV
Grips: Race Face Good & Evil
Tires: Bontrager Jones AC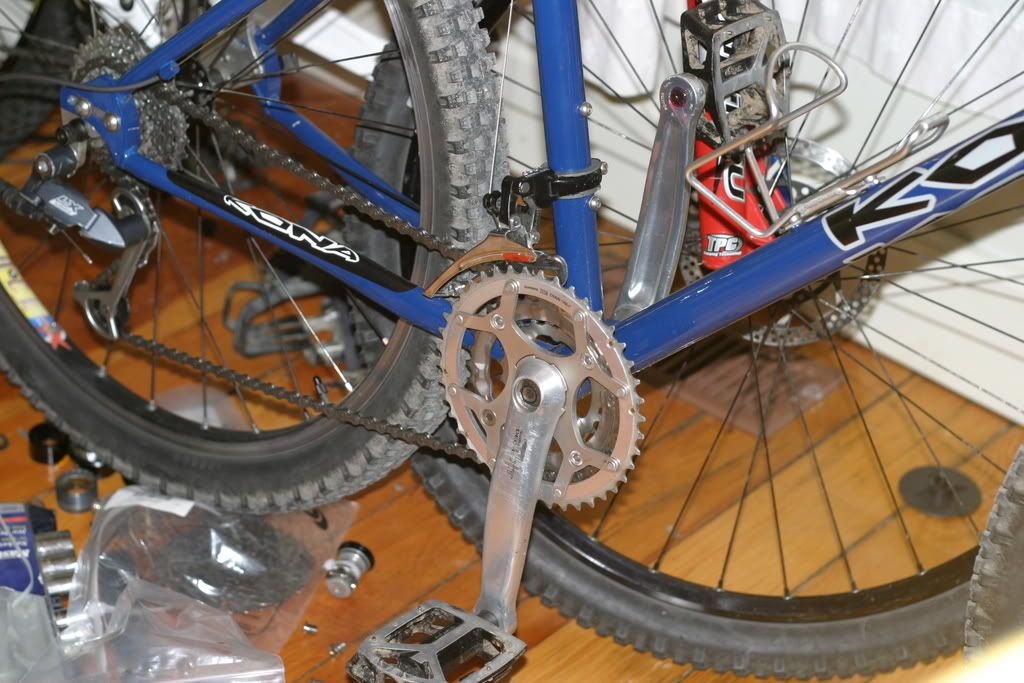 Sorry 'bout the crappy pix, the room is small and my wife currently has a 50mm fixed distance lens on her camera, also the clutter behind does not help!
This is a first build, I will probably add a Syncros post and Cattlehead when I canm and I do plan to run the bike with project 2s in it's final build, but I only have the P2s with disc tabs (no bosses) and I wanted to run the Avid 20s. I used Dura-Ace cable housing because the silver tones in well with the outline on the decals, the eventual theme will be Blue/Silver/Red, although i will probably keep the Black/Black/Black wheels cause they are cool looking and nicely laced.
So, is it retro or not? My all time favourite Explosif is the 1996 with the 1997 coming a close second, I think if you ignore the d-outs (and the ugly ''psuedopod' this passes pretty well as a late 90s bike.
_________________
1986 RM Ritchey "Canapurna", 1988 Concorde Squadra PDM, 1989 Vitus/Rocky Mountain Futural CX, 1990 Kona Explosif Custom, 1993 Pro-Flex 853, 1994 Kona Hot, 1995 Specialized Stumpjumper FS, 1995 TREK Singletrack 950 (rusted out
), 1997 DMR Trailstar, 2001 Santa Cruz Chameleon, 2008 Kona Explosif