I thought I'd start a write up on a recent find
viewtopic.php?f=1&t=270508
it was 4.30 pm on sunday the 8th of september and it was time to go and see the guy I'd only briefly spoken to on the phone for about 10minutes , after having left a raggy note on his bike at work , asking what the bike was and would he maybe be interested in selling it.
After battling through the sunday afternoon traffic , and being sent all over the place by an electronic joanna lumley
, I arrived at the house , and was greeted by this guy I'd spoke to over the phone, he didn't look anything like I'd imagined , and was built like a brick S*it house, so thought I'd better be nice too him ,pay the full asking we'd discussed over the phone and leave.
A few cups of tea and a general chit chat about bikes and work later , we walked into his garage and he had 20 or so bikes and bits and bobs hanging up all over the place
, the one I'd spotted at work was hung next to a full carbon trek thing that he'd only picked up yesterday , he went on to tell me how he 'used' to be into his bikes big time , dread to think what he 'used' to own,
He went on to lift, what he called 'nigel the work bike' down from the racking and was saying how heavy it was, I went to pick it up and despite all the junk over the bike it felt a lot lighter than my univega.
He was saying how he liked the bike and had bought it from a friend some years ago , he seemed to think it was a serotta , but the years had past him and could not remember if this one was or not, he went on to say that he'd not used it much as it was a little too small for him and only used it now and then for work so needed a good clean, the only thing he wanted to keep was the wheels, but told me he had the original wheels and tyres for it that I could take instead along with a few other bits that he didn't have any use for.
A cup of tea, a black squashed tubed mystery bike and a box full of bits later, an exchange of currency took place , and 'nigel' the bike was mine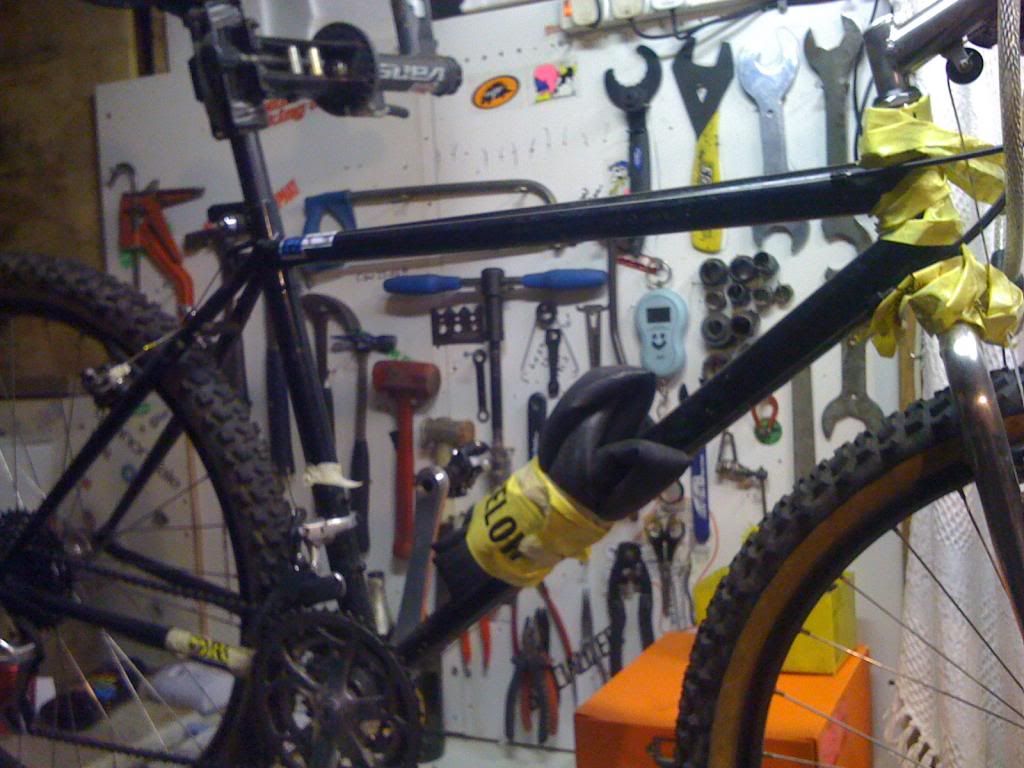 Need to get the spit and polish out , then see what were looking at underneath all this poop..