Some may remember when this bike was posted for sale in July of last year. The sale process was somewhat prolonged and in the end I received the frame, with a repaint by Toxik Harold and the Syncros Seatpost. This was fine as it was the frame I was after in the first place. I've been acquiring parts for over a year and although I don't yet have all my planned parts I decided to built it up into a rideable state yesterday with what I had on hand.
Frame: 19" Brodie Sovereign, fabricated June 19th, 1994 (Originally Metallic Black, now ORT Green)
Fork: 1 1/8" Brodie GatorBlades
Headset: Chris King Wide Body with Grip Nut
Stem: 1 1/8" Brodie Quill with thru-stem routing, fabricated in 1991 (Reach is 150mm which is a bit too long for me so I plan to have it modified to 130mm)
Handlebar: Moots Titanium 23"
Grips: WTB Original Trail Grips
Front & Rear Brakes: Joe's Brakes
Brake Pads: Kool Stop Thinline
Cantilever cable hangers: Joe's Hangers
Brake Cables: XTR with Wheels Mfg Ferrules
Shifters & Brake Lever: XTR M900
Front Derailleur: XTR M900
Rear Derailleur: XTR M900
Derailleur Cables: XTR with Wheels Mfg Ferrules
Cassette: XTR M900 12-28T
Chain: KMC X9SL
Cranks: Raceface Turbine (cloverleaf), 175mm
Crank Bolts: Syncros Crank o' Matics
Chainrings: Shimano SGX 46T, 36T, Onza Buzzsaw 26T
Bottom Bracket: TNT Titanium, 114mm (still in transit, so currently using a Deore XT)
Pedals: Crank Bros Eggbeaters w/ custom Titanium Axles
Hub Skewers: NukeProof Titanium
Rims: Mavic 231, 32H
Hubs: NukeProof Titanium, 32H (Rear Hub acquired, still looking for matching front)
Tires: TBD, blackwall
(Current wheelset is a placeholder until I find a suitable front hub and build up the planned wheelset)
Saddle: Selle Italia Flite
Seatpost: Syncros Titanium 27.2x300
Seatpost Clamp: DKG
Weight:TBD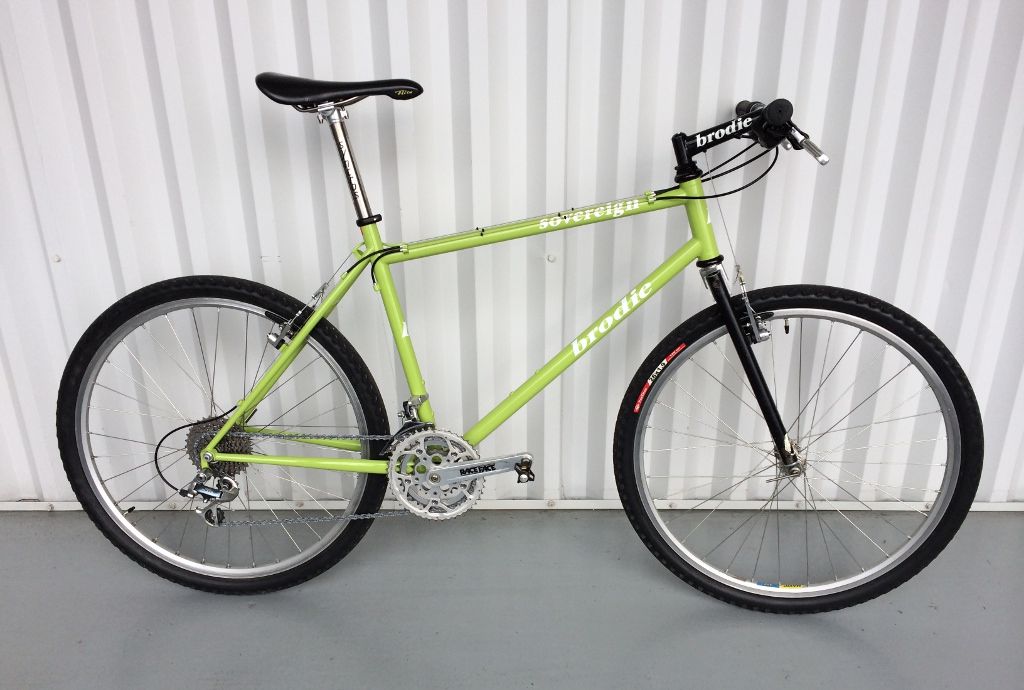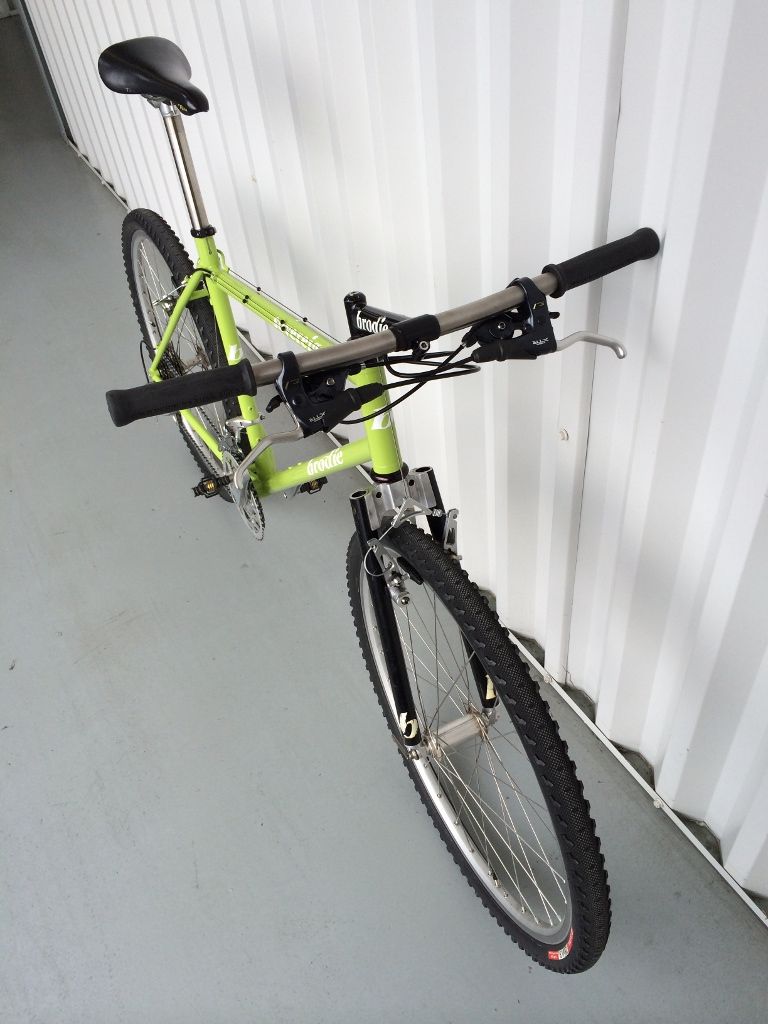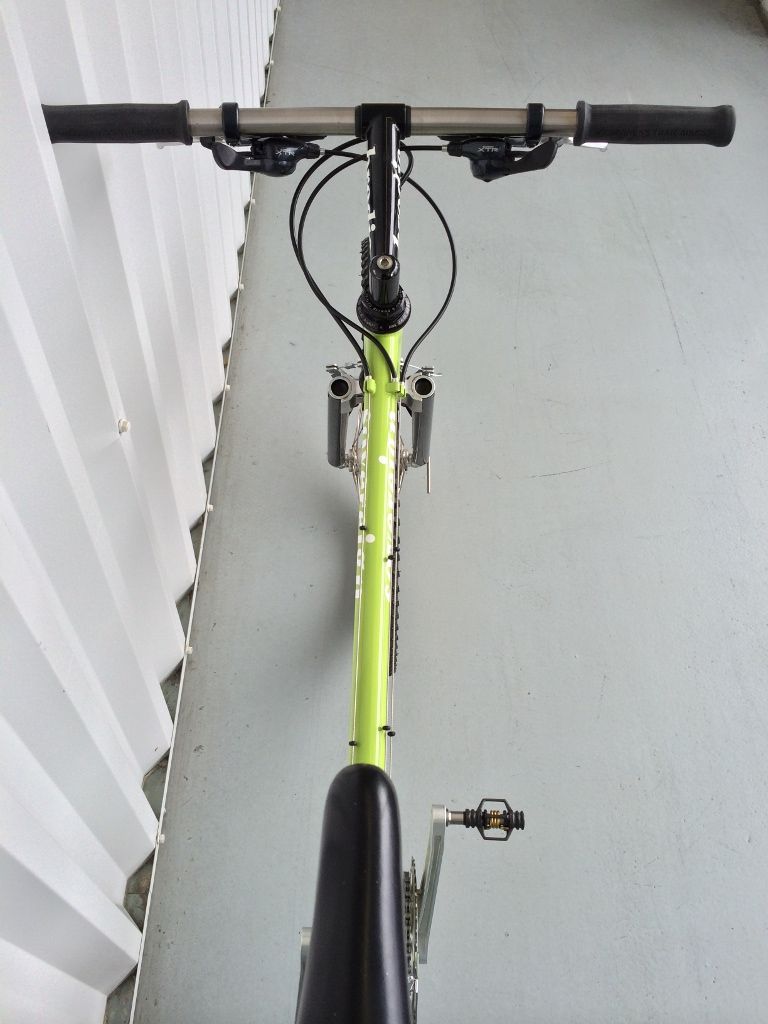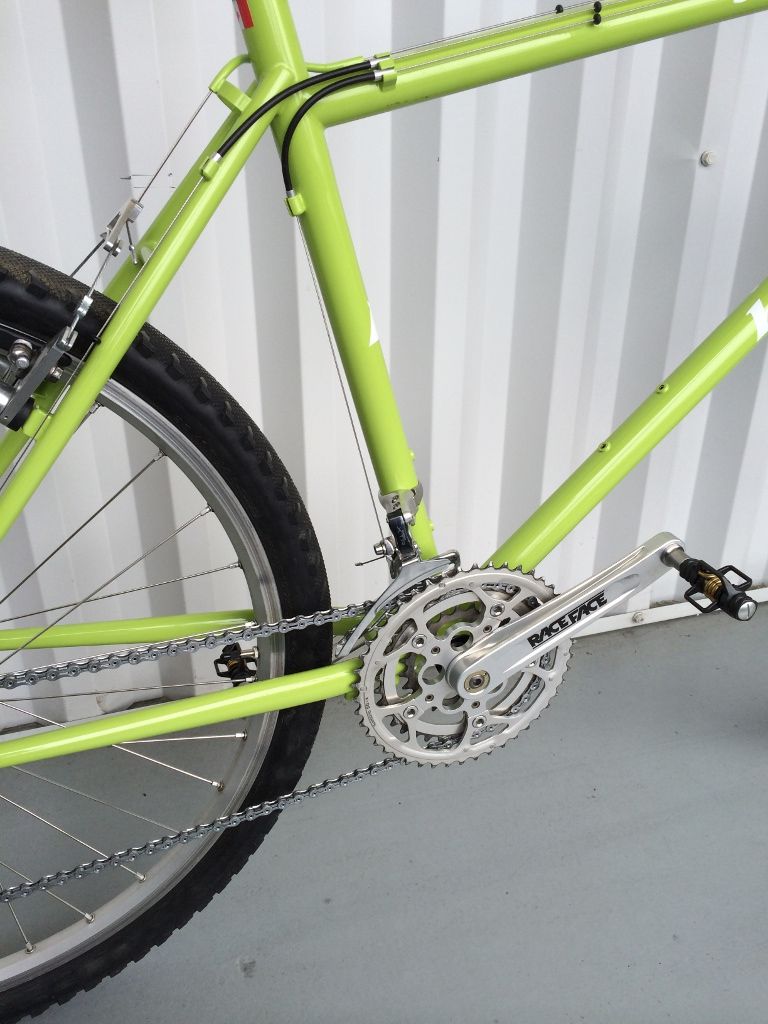 There are still some finishing touches required most notably adding the final wheelset, the forks could use a repaint, and the stem is a bit longer than I need. Hopefully I can get these sorted over the winter.