Bit of an update on this...
First if all I picked the frame up from the powder coaters yesterday afternoon andim pretty pleased. It's not 100% perfect but not far off but it didn't cost the earth.
First job was to pop on the BETD reducer cups so that I can run 1 1/8 forks. The cups are nicely made and not too expensive. They're also deep enough that you a erase headset will have enough material to be supported properly.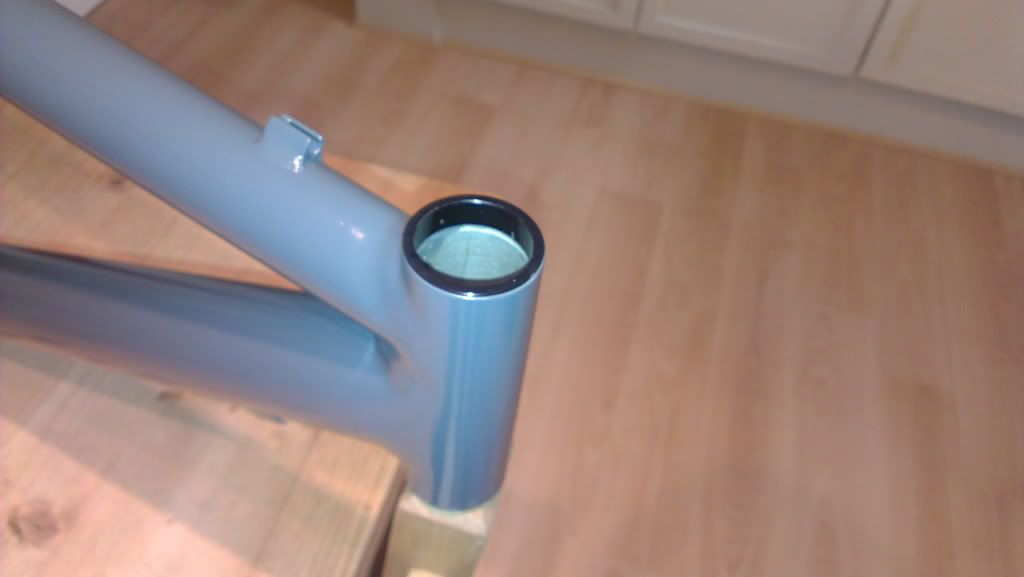 I thn decided to wait unti the decals arrived from Gil_M...which they did this morning.
Work in progress...
Decals all on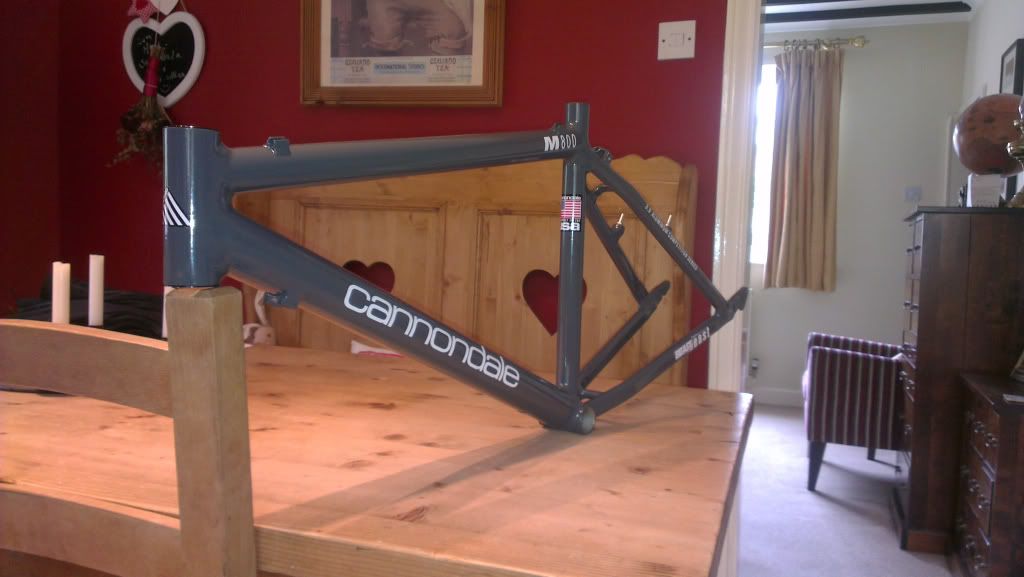 Next I decided to hang on the parts that I had; headset pushed on no worries so next up where the forks and this is where things started to go wrong. Windwave are out of stock of new steerers so I put up a wanted ad to which Tizmo replied a d came up trumps with an ali steerer of 200mm. The price was right so I thought I'd take a punt. It arrived super quick but its too short so I'm going to have to wait until they're back in stock. It's a shame because the ali one is much, much lighter than the steel jobbies.
I'm going to have t take the frame to a bike shop to get the bottom bracket threads chased through because I struggled to get the bottom bracket in. This meant tha I couldnt get the bottom bracket in. Whilst I was trying to install it. I rested the frame against something and managed to rub two letters off the decals on the seat stays. Grrrrrr. I'm Hoping Gil will be able to sell me a replacement.
I managed to get a few things mounted, including the forks.
I'm pretty pleased with it so far and am looking forward to getting it finished.
I'm going to build by own wheels and will be ordering barge rims (Mavic 317's) and Sapim DB Race spokes at the end of the month. Will also get a BETD chainring and a KMC chain so it'll pretty much be good to go.
I've got a set of XTR V's on the way from Ringo.

_________________
2015 Stanton Ti Switchback
2006 Specialized Demo 8
2013 Specialized Allez Sport
1999 Santa Cruz Chameleon
1994 Cannnondale Beast of the East (rebuild still in progress)