Hi all, I managed to get out before the rain started! good job, very heavy.
Back to the bike. The freehub was past it's best in my opinion. I could have potentially got a few rides out of it but, considering the whole hub was disassembled....I saw some shimano RSX road hubs on crc, these have the same freehub as exage and was a good and cheap opportunity to gain cones, bearings etc
For a little over 7 quid, rear end all fresh again!
Original cassette back on (HG50) and a new sram chain, works just fine and shifts sweet enough. I always like to 'shake down' a bike before any real test gets thrust upon it. So far, i found the front hub cones need pinching up a little, too much air in front tyre and front mech won't allow chain to drop to inner ring. This turned out to be the inner limit screw that needed winding out a full turn or so.....yep, it's seized! And, the screw head is butchered, must have been an issue some years ago. At some point i will shave the bottom of the bolt down to gain the adjustment the mech needs.
Overall a very smooth ride. I found the eldridge a big ol' comfy horse, on the heavy side but, ideal for what i'm going to deploy the bike for.
This type of trail, canal side stuff, wooded trails and other easy and flat sfuff. Afterall semi-slick tyres on hugging the wolber rims.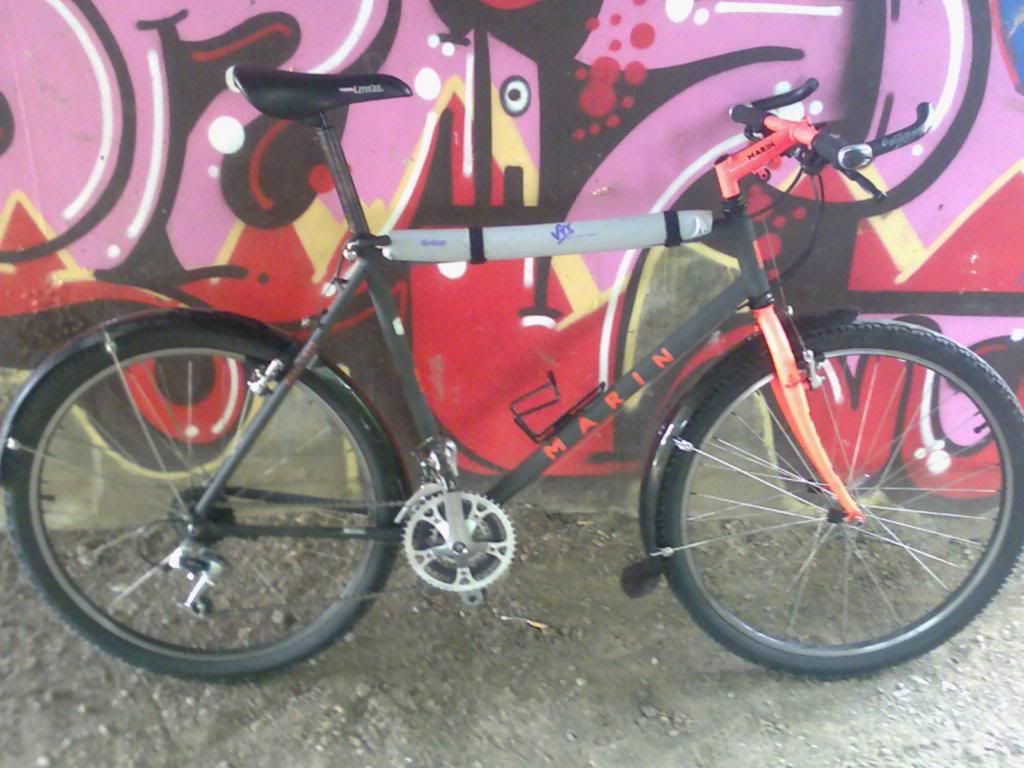 Original chainstay protector has taken a beating, still doing the job though.
I just can't work out the flouro colours vs lighting conditions? ask wookiee. Sometimes the pics show the bars and stem as 'blood orangey/grapefruit. And then to naked eye, the colours are most definately bright
stinking
orange. Must not complain, that it what retro is all about.

_________________
Ride yorkshire on an old bike.

Sports Massage Therapy-

events-craftworkmuscle.co.uk