I've been getting this one ready for riding after a long while with it buried in the back of the garage. I recently had knee surgery and my PT guys says I need to do some bike riding. It's been a long time and I think it will be fun getting back into it. I don't really think I need to go out and spend what it costs today for a new bike, so I'll just keep this old girl going!
There are actually two of these I'm working on. My Dad also has one from the same year. We bought them the at the same time when we were both racing downhill.
The original frame kits had the frame, a Judy DH fork, an AC crank and chain guide set-up, a Kore stem and seat post, and a set of bars. When we bought them, we did a straight swap of the Judy's for the White Brothers DC-118 forks and the long original stems for some short billet aluminum ones. Everything else was as it came. The rims I used were Mavic 121's on White Industries hubs. V brakes, shifters and rear derailleur were all XT.
I've now done quite a bit up updating. The shifters and derailleurs are now late model XT 9 speed. Brakes are now disc(old school retro Hayes nines
) and wheels are now Sun rims(retro Single tracks in silver, not black) with Hope hubs. And last thing, I put a three ring and XT derailleur on the front since I don't think I'll be doing any more DH racing with this rig. I figured I might as well make it more useful for trails.
I've only ridden it a little around town, I'll be hitting some trails soon!
I didn't get a before shot, but here's how it looks now;
Both mine and my Dad's, his has some different parts, but more or less the same;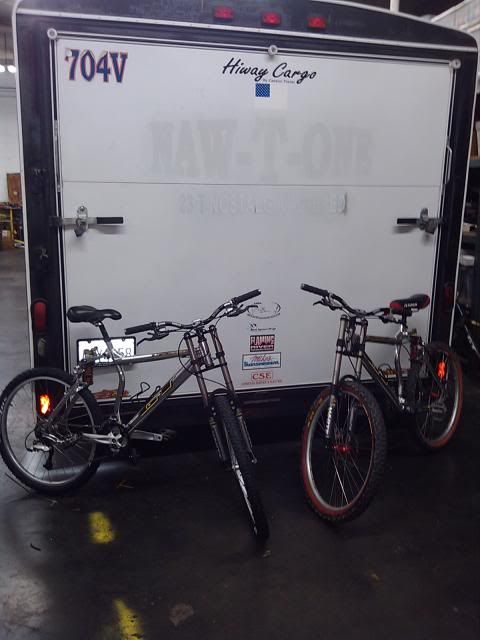 The forks proved to be a pain in the butt to put disc brakes on, but I like them too much to toss them, so it was worth the trouble.
I had to mill the lower tube to clear the rotor bolts and I had to make a custom mount for the caliper;
The frame was easy to put disc on, just welded a tab;