There is something about these bikes, you get one and, it's never enough. Either you want a different model to add to your collection or just another bike to replace one you no longer have but pine for another. You know what i mean
The one i had was a 1992 with the larger tubing on the stays, no issues other than that i felt contact with my inner calf muscles when it wasn't necessary, great bike but, ultimately a weak link in the collection of other rigid bikes already in the stable.
With notable differences with the 90-92, year on year alpinestars offerings you have plenty to choose from within a short period of time. I like the whole 'something-mega' trademark so a 1991 with the slimmer stays was the obvious choice.
Now to find one! The old adage is dropping on a straight one at the right time, hoping not be skint when i find it. I didn't do too badly with this below. mechs, and cranks were salvageable but rims, stem, headset etc were destined for the bin, no big deal as it was going to be a build up on a very slow burn, i was collecting the parts i need from jumbles, meets and wherever else at the the right price
Once determined as a DX i sought a few bits and bobs in that flavour before committing to any paint finishing. It looks like the frame and fork have been half-arsed repainted at some point, long a go too as rust worms and patina were setting back in to this undercoat....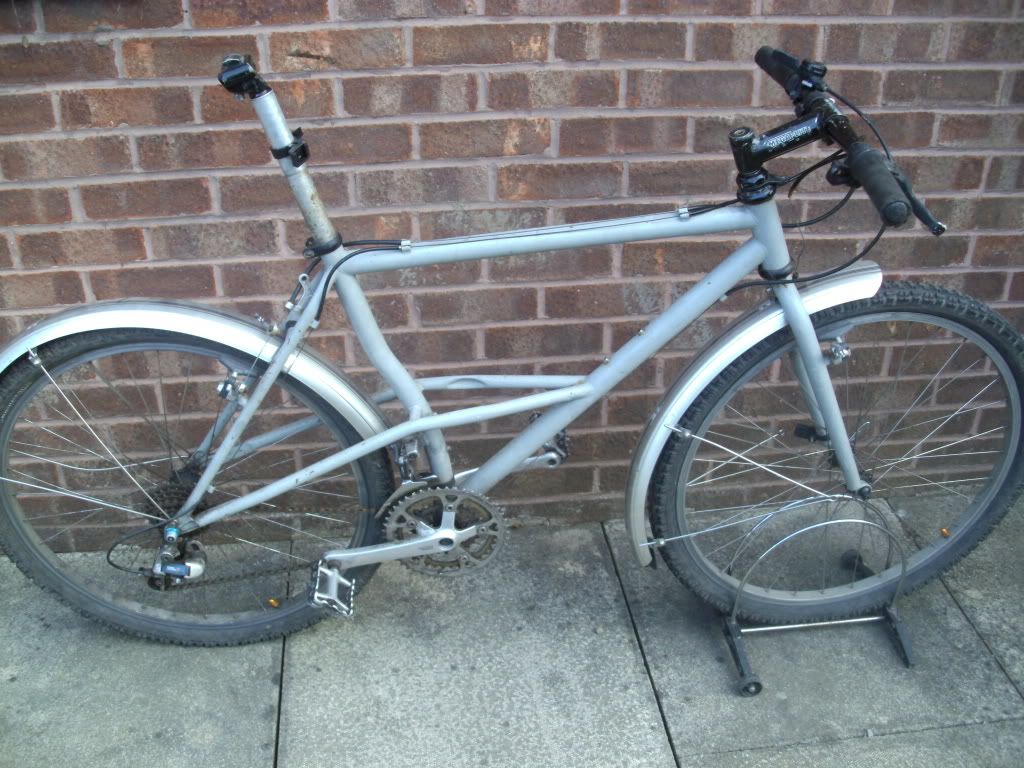 Let's getting cracking!
The whole frame and fork were powder-coated this week, only to break my heart to have to paint over the most tube-busy section of the bike, costing more cash, stress, and white fingernails
I went for a stone chip specific off-white. The idea was to try replicate that pearl effect that a-stars had even from the '89 ms racing frames, the best i can. white and flat was no going to be enough and, the coaters gave a firm "no!" when i asked for pearl.
The bits to be done over in white were masked off where needed for decal placement and then rubbed over with 1200 to take the shine off and leave a horrible, scarred-up finish(good for the top coat if nothing else) killed me to do it. The effective grey undercoat helped keep the white a 'off white' and i also kept the coat to a 3 full layer of paint to almost get that egg shell effect both in texture and colour depth. When you see it real time you would almost think "needs another coat" but, that's the idea to allow the grey to push through in certain spots, more so in other spots. I think i will patent my own 'pearl' effect paint
Stop laughing now and see what mess i've made. Look mighty odd without decals these bikes...
Gil's decals are good.
No messing about with the masking.
This example and other experiences with rattle can paint means i'm going to have wait six months to harden the finish then, 85 coats of laquer to stand any chance of the white lasting two rides.
I can at least get it all decal'd up and shift any contamination by monday afternoon. i'll be back with more news.
cheers.

_________________
Ride yorkshire on an old bike.

Sports Massage Therapy-

events-craftworkmuscle.co.uk