Well, this is another journey at an end. Sad that it's over but glad that it turned out solid.
1993 Yeti ARC ASLT. A former team bike raced and owned by Missy Giove. Given to a former restaurant owner here in Durango and
displayed
for more than 10 years. The restaurant closed, and when I returned to Durango after a 3-year hiatus, I tracked the owner down and fortunately she still had the frame. Chains still attached.
The frame was filthy with 10 years of restaurant grease coating every surface and filling every hole. It took awhile to get it clean. From there it was 10 months of acquiring parts. Unlike Yetifan Andy's
older sister
, parts spec throughout the year appear consistent with an odd mix of Grafton, Ringle, Shimano and Grip Shift. Happy to say that its 97% exact to how it was raced.
This is no wall hanging garage queen. Its beat with many dents, scratches, and a sizable dent at the shock mount. Former Yeti GM Bill Shaw confirms this was her bike and he recalls the race where massive downtube dent happened. I've made some small changes including a NOS yellow rear end to replace the turquoise one (which didn't come until 94). No one can explain when the rear end was swapped but Shaw guesses that, since each team member was allowed to keep one race bike, she kept this one and had the rear end put on.
Enjoy
Fork:
Custom Answer Manitou "2.5." M2 lowers, M3 guts and custom work for fit
Bar:
Answer Hyperlite
Bar Ends:
Onza OZ-170
Stem:
Custom "Team Cut" Answer ATAC
Headset:
Chris King
Grips:
Yeti Speed Grip
Saddle:
Avocet 02 Titanium
Seatpost:
Ringle Moby
Brakes:
Grafton Speed Controller
Brake Levers:
Shimano XT
Cranks:
Grafton Joystix
Chainrings:
Shimano
Bottom Bracket:
Shimano UN71
Pedals:
Shimano PD-M737
Chainrings:
Shimano
Chain:
Shimano
Cassette:
Shimano XTR
Rear Derailleur:
Shimano XTR
Front Derailleur:
Shimano XTR
Shifters:
SRAM Grip Shift SRT600
Skewers:
Ringle Cam-Twist
Hubs:
Ringle Superbubba & Supereight
Rims:
Specialized BX25 Rear / Campagnolo Mirox front
Tires:
IRC / Yeti FRO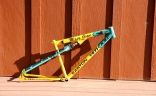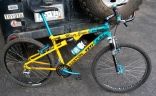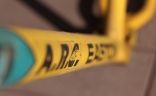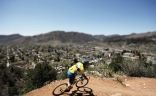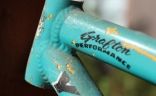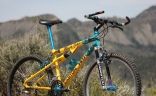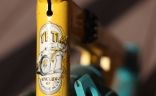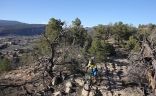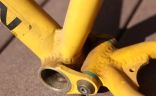 Last edited by Anonymous on Thu May 30, 2013 9:41 pm, edited 1 time in total.