I've created a monster and have no idea where it fits best, but figured most people into Kona Hahannas will look on the MTB section...!
Since all my newbie questions I've finished my first custom build. I ride a '93 14" Hahanna daily that I've had from new (nicknamed 'the Beast'), basically on the road the whole time...fabulous, rigid, light, and pin sharp handling - but I liked the idea of putting road wheels on one. I clearly realised this was a lot more complicated than just switching wheels, so went looking for another frame to maybe do a scratch build, maybe a single speed to keep it simple, and experiment.
I did A LOT of stuff I've not seen before, so documenting it in case anyone is interested/needs advice.
So, I eventually got hold of a slightly worn out '98 14" Hahanna. It was not quite the Joe Murray era vintage, but I went for it anyway. I'd already bought a set of P2 forks, but hadn't learnt yet about steerer tube diameter variation, and when they came, offering them up against my old '93, it was clear they were too large. However, when I picked up my '98, I spend a few minutes looking at it, realising that actually the gauge of every tube except for the seatpost tube was a slightly larger diameter than the '93/94 Hahanna frames.
It was quite nice, being subtley chunkier, as it seemed still quite light (for cro-mo), and kind of made me think of flashy modern road bikes, especially in bright scarlet fiery red. I named the bike 'Aries' right then; Hahanna meaning 'hot' fyi. However, as previously a kid's knockabout MTB, it was loaded with heavy suspension forks, and lots of average MTB gear. I stripped it down to the only the frame; tested the forks; indeed, I had accidentally got the right size! Thus I decided, working with now the frame and forks I knew and loved and feeling the vibe it was giving me, to build something flashy and sturdy to go fast on the road.
About 6 months later, working around the rest of life, I have a glorious machine (in my eyes), which I've just taken out and tested after finally finishing details. Rides BEAUTIFULLY. Changes gear silently; handles so, so well. I've not even tested it for speed....BUT not one thing on it was straightforward, or didn't go on with some level of modification. If you think 'wow, I could do that with my old mtb' I'd advise EXTREME CAUTION/FOR THE LOVE OF GOD MAYBE NOT, unless you're like modding and tinkering and challenges and are 'creative'....I knew little about bike building before I began, so had to do ALL THE LEARNING. Intense.
Here's some pictures and what I used and did: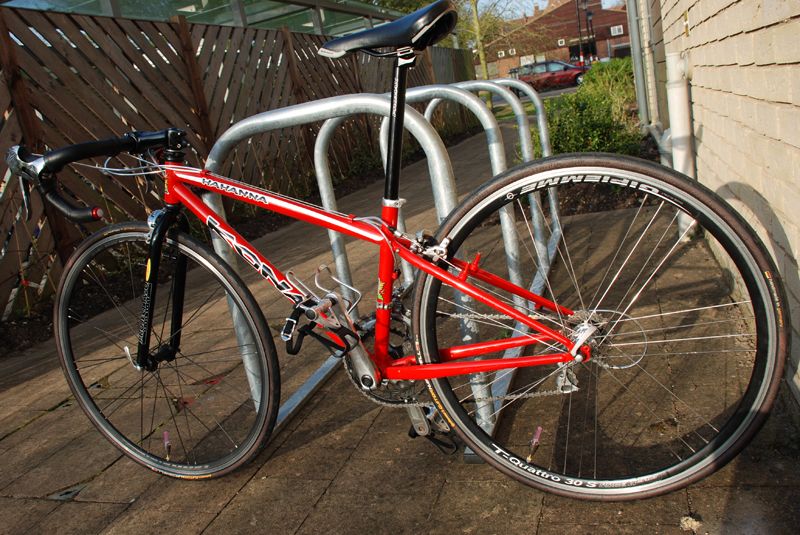 - P2 Forks/Kona Impact headset: well, I could have used road forks. But I wanted the retro look and their generally awesomeness, and basically I can't justify it any more than the frame, so...never mind. The steerer was typically too long (have you seen the size of this frame!!!) and was threaded. So as to retain the Impact headset, which I nearly rejected(!), I needed to thread the steerer and cut it. The chap who did it said he'd never tapped harder cro-mo! Did a beautiful job, and I used an old headset as a cutting guide. I like low bars so I allowed room for one slim spacer.
- Specialized long stem/Scott anatomic drops/ and BBB quilll stem adapter: OK so I scrapped the idea of making this build 'lightweight' ha! I had lovely threaded forks, but wanted to use the modern stem type for threadless steerers. So I got an adapter, which was of course too long, so had to modify that, but it worked well. I kept my reach measurement the same as 'the Beast' as I was comfortable with that. Could get away with shorter, but meh.
- Ultegra groupset. STI flight deck 9 speed shifters/cassette/rd/fd (double), and incidentally chunky Ultegra rear hub. Like a fool I decided to put gears on this bike. I basically went with what I could find on ebay at a reasonable price, and started with the shifters, as what I could get hold of would determine the groupset (eg. 8 speed, 9, shimano/campag etc). I bagged a good condition set of 9 speed triple STIs for a decent price, flight deck compatible (not that I could afford that!). That meant I had to find Ultegra 9 speed stuff - and did ok. Critical was finding by chance the rebuilt rear wheel with an HG cassette, Ultegra hub - ideal. No faff. The rim was more worn than I'd like, but still had a good wear groove present. Can't recall the precise cassette ratios but I knew at the time and calculated accordingly to get the short cage RD.
Front derailleur was a problem, because like a fool I hadn't realised that some derailleurs were bottom pull, some top. My frame only had cable stops for top pull. I had a bottom pull Ultegra FD. So, lots of reading later, we made an experimental titanium rip off of a Speen adapter, with some tweaks. My STI shifter was designed for 3 chainrings, so plenty of clicks to pull the cable across despite the slight mechanical disadvantage. Worse to come: because of this adapter, the cable had to come out at a sheer angle form the stop on the down tube - it was simply unacceptable. So, we hacked the back off an old RD, put a riv nut in the seat post tube, and bolted in a new cable stop. Elegantly done, but quite a wacky mod!
- Tiagra hollwtech pedals/XTR BB/FSA chainrings 52/39: The BB was new, from Rose cycles, and the cranks and chainrings came as one off fleabay. Again, what was available at the right price. Beggars could not be choosers with this build! Of course, I knew the chainstays might be wider than a road bike, and conflict with the HUGE chainrings. I researched fitting this well-reputed MTB BB with these considerations, and it worked to put one spacer crank side. It meant I lost a tiny fraction of spline on the other crank attachment, as the cranks are designed not to have spacers. My assessment was this was easily passable. The inner chainring is CLOSE to the chainstay, but acceptably clear. Alignment? Indexing? Of course I faffed for ages. No problems with chainline at all.In fact, fewer than I read about people reporting on standard road bikes. Worked very well in almost every ratio. It shifts so, so smoothly!
- Tektro Quartz normal/medium reach calipers/Kool stop salmon pads: Why not callipers on a MTB frame converted to 700c wheels? They work fine -but do need mods to the frame/forks. I originally had some nice short drop callipers but they were a fraction short. You'll see form the pictures we drilled the rear bridge between the seatstays and also the hole in the forks. The bridge has a custom ally washer, made by my father and I (similarly commented how hard the cro-mo is!). I could have ground off the cantilever posts, but the bike may get rebuilt and they may be wanted, so I didn't want to disable it. Kool stops to look after my rims!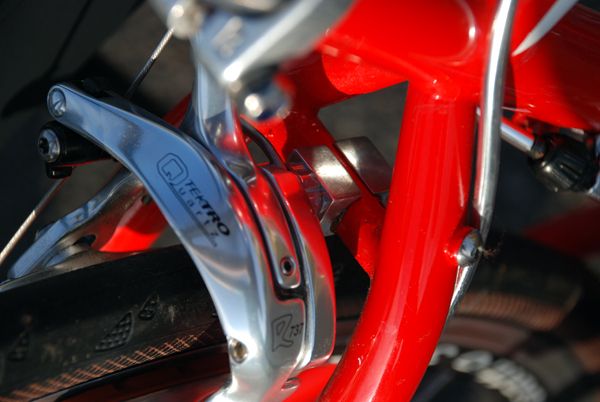 - Gipiemme T-Quattro rear wheel and Gipiemme..something else..front: What was available to me at a good price! The front has a silky smooth original hub and is little worn; the rear is older but came with so much money worth of stuff on it and was so ideal I had to have it. We cold set the chainstays of course to fit a road wheel - bit hard getting it symmetrical, but got there in the end, and the wheel fitted nicely.
-Kona smooth saddle and XL seat post. Surprisingly, not mod required. That's...just not normal...
OTHER NOTABLE MODS:
- Custom stainless STI shifter guards. Ever leant your bike up on a wall? Knocked it over? Crashed it? What scrapes the ground/wall first? The damned expensive STI shifters! Hence why I've got some red paint on the tips disguising some of the previosu owners misdemeanours. We decided to create some experimental shields, obviously compromising on weight and ergonomics, but what the hell. They are held on with jubilee clips, all stainless, and re-positionable. I made four sections of leather padded handgrip and laced them on (at bit like Gropes). Overall, for my riding style, it's all quite comfy and usable! Only fitting that the 'ram' should have horns..
- Cosmetic stuff: Frame came up lovely with Smoothrite touch ins, t-cut, and a white accent stripe in sprayed smoothrite (tough paint). Because why not. Chrome cable outers + stainless inners, because shiny. Oh and most of the bolts etc are stainless - nothing worse than orange screw heads.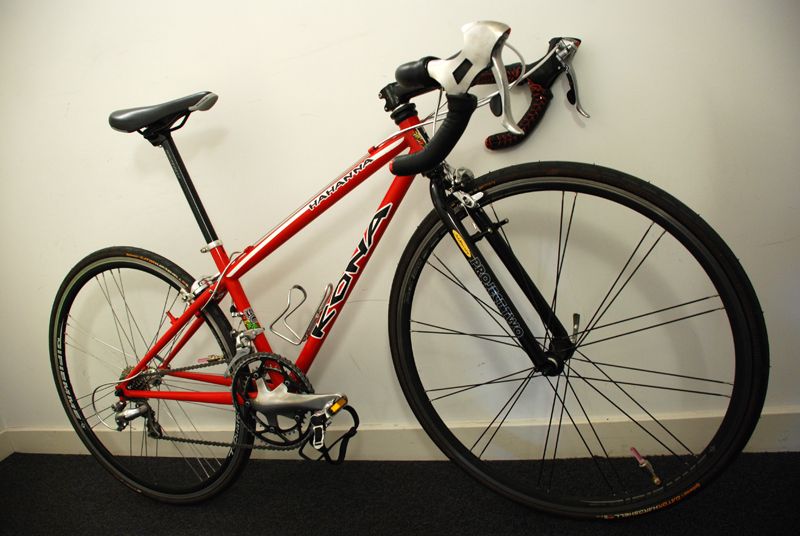 WHY SO MUCH EFFORT FOR A HAHANNA? Because that's how I roll, and I like a challenge and doing something original. Riding it, it feels a lot like my other one, but more AWESOME. It probably weighs the same if not a little more than 'the Beast'; but then I weigh about the same as a bag of sugar. And it wasn't the point of the build, which was to experiment, and build a tough road machine. I was ok budget wise until I have to get Conti Gatorhardshells...this made me weep. Almost the most expensively bought things on it!
I have two other frames at present; I am currently formulating project 'death bike'....
Plus, I'm always on the lookout for more 14" Hahannas, and P2 forks (~39cam axle-crown(?); the shortest ones) and other Kona bits.
Any questions, comments, suggestions welcome!