I have has started this as a shoe string project !
I bought the Marin Muirwoods on ebay for £10 ! But its been outside in the garden unloved for a long time
Its a 1992 Muirwoods, It has the original 200GS groupset fitted still though the shifters are broken.
When i bought it the seat post was seized, Chain is rusted solid, Headset is very rough, Wheels have had better days they are not buckled and spin ok but the spokes are very rusty and i dont trust them
This project i am doing on the cheap and will try to reuse what i can or replace with used bits i have or can get cheeply.
I have started with working to unseize the seat post, This morning i had a go and put the post in my vice and that has it turning a bit, so i have sprayed with more oil and we keep going with, I removed the chain as thats for the bin.
wheels came off with a little fight the quick release s where security ones (allen keys locks) and rusted up.
I have a spare set of wheels (Karma from wookie) whick look period right though , I am considering removing spokes from some scrap wheels i have and fitting them one at a time to my old wheels, Could that work ?
Headset i wondered if i can just replace bearing ? i have found bearing races on ebay for 3 quid.
bottom bracket spins ok so i my leave for now.
I need some shifters, I have a set of xt thumbs i may put on the bike but then i need brake levers.
Anyone any suggestions that may work ?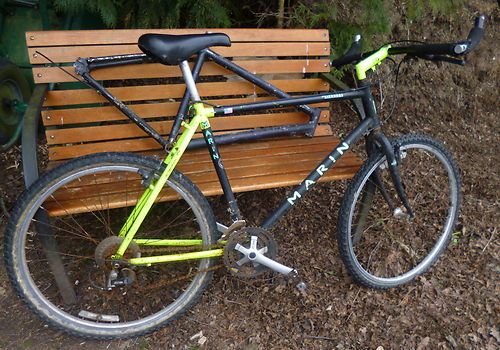 _________________
2008 Kona Cindercone, Also GT Tempest project build, 1990ish Dawes switchback, Raleigh racer modified. Raleigh Quassar