legrandefromage wrote:
...Nah, something to have aspired to 20 years ago if you were still rattling around on the tired well intentioned christmas or birthday bike...
Right, Sorry if I go on a bit here.
In 93 I was 14, and My best mate had let me have a go on his Muddy Fox Courier Mega: I needed a mountain bike.
I had a raleigh lizard, and quickly realised that it was not the pinnacle of MTB makers art. I trawled all the catalogues and fell head over heels with the Kona range, they really were unique, with their modern blackwall tyres, sloping top tubes, and straight legged forks. I nagged my parents for 7 months that I wanted a Fire mountain for my Birthday. I knew it was expensive, but I gave them enough notice! On my birthday, my parents excitedly ushered me into the garage, and under a sheet I found a Muddy Fox Pathfinder. Gutted.
I rode that Pathfinder everywhere for 2 years, by which time, I had a part time job, and bought a malt 1 from merlin cycles. But I never lost my love for the 93 Fire mountain.
So, when this came up on here for a criminally low price, I had to have it!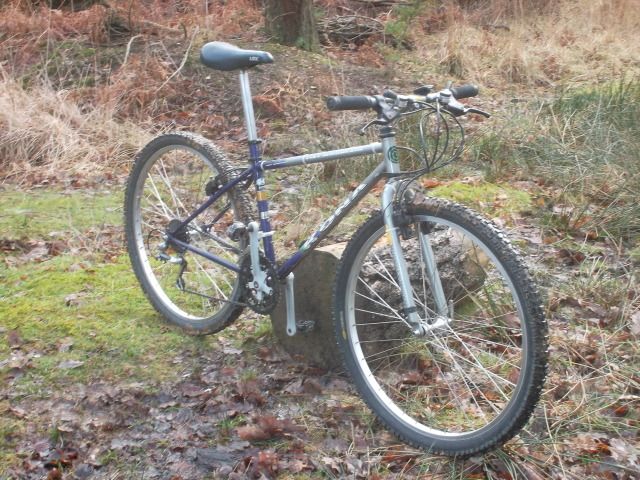 Factory standard, except the saddle (Ritchey logic), Grips (ODI) and a nice set of period Magura HS11s. I never put a thread up, as I didn't think anyone would want to see a Fire Mountain!
She's a joy to ride. LGF, You won't be disappointed!