So, I bought another KHS. Thats not a surprise as I own a few already. Except that this one is unlike the others as it is Titanium, my favourite metal for bike bits BITD as there was no way I could afford a Ti bike as a poor student at that point in time.
I stumbled across it on ebay by myself recently. Bid on it, won it then found a thread on here commenting on it :
viewtopic.php?f=4&t=366773
So here are the pics copied from the advert:
Nice side view
View from beneath. Could FM be a sponsored riders' initlals?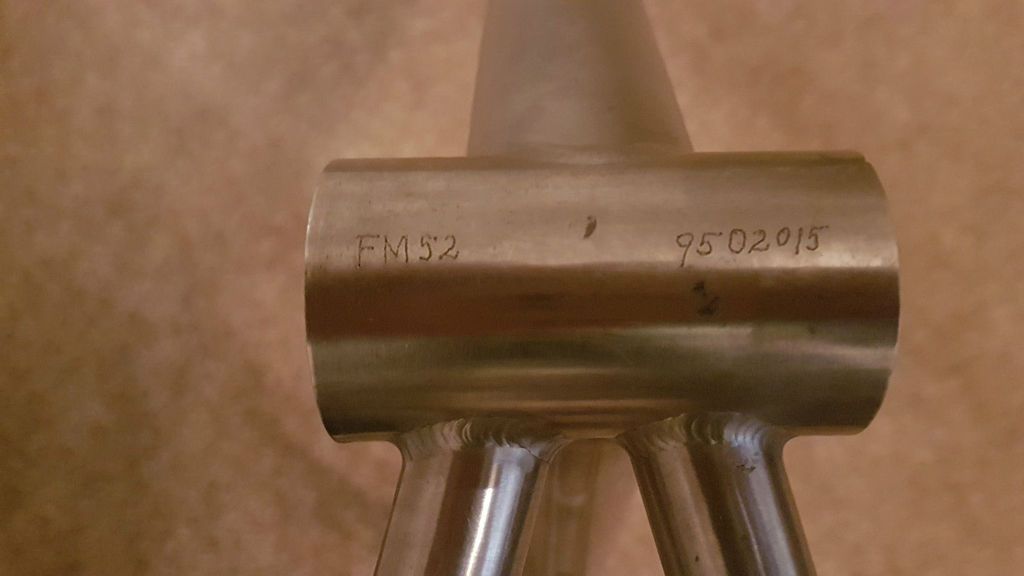 I need some rear brake bosses:
Tyre Rub: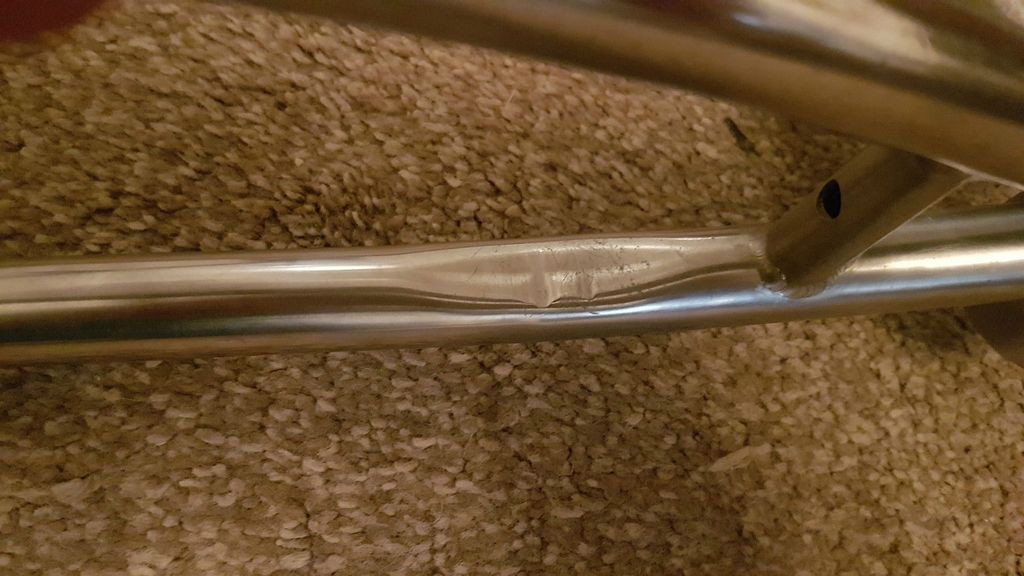 Top tube dent:
That was about a month or so ago. All I had was a frame and no knowledge of what the spec of the bike originally was. There is literally no knowledge out there of this bike other than a handful of people on here in the last 10 years also trying to find out more about theirs to no avail. It is known they are from Litespeed, built in 1995 and most likely sold as frames as they aren't in the catalogue or catalog as they call them over the pond...
From the RB ebay thread I was advised I should be looking at building it with XT M737 and Mag21's as good for a 95. And of course I'm not going to do that. As such I've acquired a full XTR M900 groupset for this frame. I had a nice Bontrager Ti handlebar in the stash. I've acquired a nice Ti Syncros seatpost and a Litespeed Ti Saddle (which makes a change for me as Flites are my normal standard). I've acquired a NOS Ti Stem that is as shiny as the frame, its a Ballistic and I've never heard of them but that isn't saying much. I've acquired a 107mm Royce Titanium BB for the M900 crank. In the stash I have a pair of wheels with an XTR M900 rear and a silver Hope Ti front hub with silver Mavic x517 rims with double butted spokes. They are very nice indeed and inreally nice condition. I've got a pair of new re-issue Smoke and Dart tyres with amber sidewalls too. Should be very nice. In my infinite stupidity I've managed to buy some Rockshox Judy DH's with 80mm travel which should go nicely on here. The only bit missing is a headset which will be a 1 1/8" Chris King in an undetermined colour, silver to match the frame, black as that seems to be the most popular colour for sale or red to match the forks.. Who knows...
I'm hoping to get this one built this year but am in no mad rush as I've a few more projects in the queue ahead of this, the 93 Montana Team from Wadsy (I just
had
to buy that) and the 93 Raleigh Torus LX in no particular order...
Hopefully it should look something like this spec when finished:
Frame:17" KHS TiLite 1520grams. Oh yeah!
Fork: Rockshox Judy DH - 1 1/8"
Headset: Chris King 1 1/8" Aheadset
Stem: Ballistic Titanium 120mm (very shiny as NOS!)
Handlebar: Bontrager Titanium 560mm
Grips: not decided yet.
Barends: Not feeling the need but I have some Airborne Titanium ones in the stash somewhere if I do..
Brakes: XTR M900
Brake Pads: XTR M900 C
Brake Cables: Shimano XTR (grey)
Brake Levers: XTR M900
Shifters: XTR M900
Front Derailleur: XTR M901 31.8
Rear Derailleur: XTR M910
Derailleur Cables: Shimano XTR (grey)
Cassette: XTR M900
Chain: Shimano
Cranks: XTR M900 175mm
Crank Bolts: XTR M900 - D'oh!
Chainrings: XTR M900
Chainring bolts: XTR M900
Bottom Bracket: Royce Titanium 68mm/107mm
Pedals: TBA.. Some form of SPD. Preferably with Ti spindles.
Hub Skewers: Hope Titanium - The very early ones with Hope name cut into the flat bit.
Rims: Mavic x517 Silver
Hubs: XTR M900 Rear / Hope Titanium Silver Front
Nipples: Haven't checked!
Spokes: double butted iirc
Tyres: New re-issue Panaracer Smoke and Dart with amber sidewalls
Tubes: Lightweight. 1.5-2.3"
Saddle: Litespeed with Titanium rails
Seatpost: Syncros Titanium 27.2
Seatpost Binder: Hope 31.8 (IIRC) Alloy
Bottle Bolts: will get 4x ally ones to replace the very long steel ones.
Rear brake bosses: Will have to get some Titanium ones for this as currently mia. Will invariably order the wrong size thread if given a choice..
Weight: Have expectations of very light!
I do feel the need to throw some trick titanium bits into this build. I have a Titanium bolt to replace the big steel one in the XTR rear mech, could have sworn I have some Titanium crank bolts somewhere too. Probably near the X-Lite Titanium brake bolts which are also somewhere too. I have some time to find more bolts and things to shave as much weight off this one without affecting its strength or longevity.
Will get some pics up of the components in due course and weigh them too where I can.
So what does the panel think?
Cheers
James
Edited to change fork travel from 100 to 80 mm - D'oh!
_________________
Works: 90 KHS Montana Pro, 92 KHS Montana Pro, 93 KHS Montana Team, 94 Raleigh MTrax 3000, 95 KHS TiLite #1
Almost works/being rebuilt: 93 Raleigh Dynatech Torus LX
Doesn't work/In queue to be rebuilt/frames: 88 KHS Montana Pro, 89 KHS Montana Summit, 92 KHS Montana Pro to Team, 93 KHS Montana Super, 95 KHS TiLite #2, 1995 Litespeed Obed FS, 1999 Amp B4, Some early/mid 90's Raleigh, Dynatech and Mtrax frames.
So I might have a problem with KHS and Raleigh bikes...