I've had this bike from new in 1991(ish). Done loads on it, raced (both XC and DH), toured, commuted even road time trialed (25 odd mins for 10 miles iirc). Had other bikes as well and this wasn't always 'Top Dog' but was always there and was always fun to ride.
Sadly after several years of pretty hard use I found a crack on one of the rear drop outs when cleaning it
. Had it repaired and re powder coated. This happened at a time when I'd discovered night clubs and girls ....... Oh and alcohol
. As a result of my non bike activitys its rebuild after repair never happened, though it was mostly a case of bolting back together.
Move on a few more years (probably about 10 or so
) and several house moves, 2 sprogs and 1 divorce, I find the need to get tinkering again
. And what better to tinker with than the YETI !! The only thing against me is time, or rather lack of it
.
I'd got , what I thought was, all the bits to build it back up. But after searching in various lofts and sheds, both mine and parents (the usual man caves
), time and my use hadn't been kind to various bits.
It did have a Hope rear hub and Ringle front hub, but when I got the wheels out of my parents loft both hub flanges had cracked. Also when I got the seatpost (Kingsbury) out of the box of parts for it, I found that it was errr.... less than straight.
Thankfully I've been in to bikes for such a long time, I'd amassed quite a few 'spares'
. So hubs have been replaced with M730/2 XT units and the seat post was replaced with a Controltech one.
Here are some pics of it in its current state of rebuild. Not too sure what I was thinking when I decided to get it powder coted
YELLOW
. The current intention is to finnish it and have it all fettled ready for Mayhem this year (quiite fancy lining up on the startline with my YETI race top
).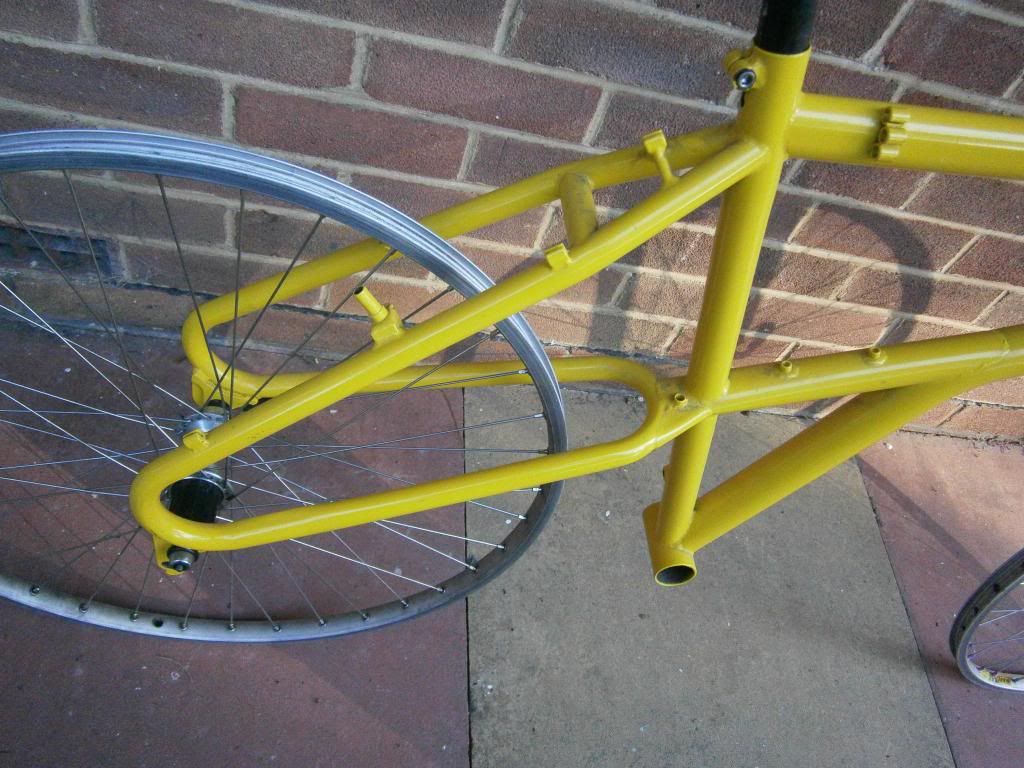 One for the E-stay fans
XT hubbed wheels can be a bit trick, rear is built 2 cross on the non drive side and 3 cross on the drive. Front is 1 cross with alloy nipples.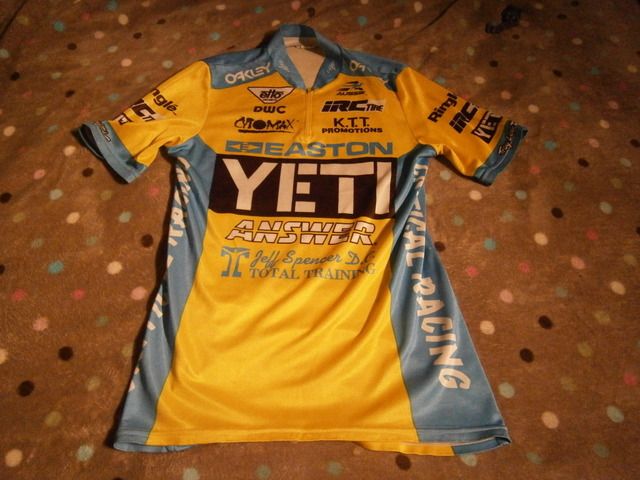 And the race top. Need to loose my spare tyre for it to fit now
, but I'm getting there (was 17st Jan last year, am currently 14 1/2st and plan to be arround 12 3/4st ish))

_________________
Current steeds :-
1991 Yeti Ultimate, 1997 Manitou Hardtail, 2016 Scott Scale 960,
199? Pace RC200F3, 1989 Jamis Dakar Sport, 1990 GT Tequesta,
1989 Kona Explosif, 199? Park Pre 825 Pro, 1993 KHS Montana Comp, 1992 Trek 1000