This Catalyst was advertised in the Classifieds about a year and half ago and was conviently located in mid-town Toronto.
viewtopic.php?t=154106
Photo of how it looked when advertised and at the time of pick-up.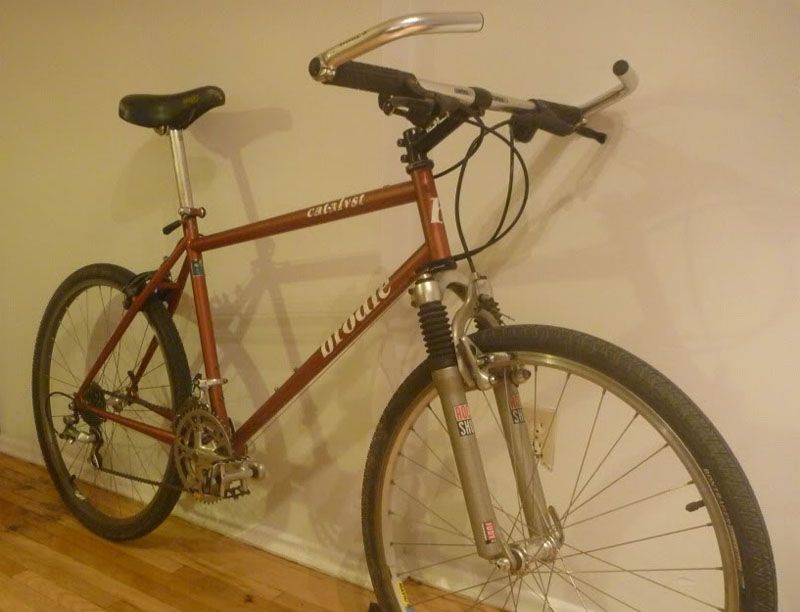 Since that time the build has slowly been evolving as new parts have been acquired. Below is a summary of the build as it stands today with planned updates noted.
So far I've kept on the slicks that came with it and it's been my primary bike for commuting\riding around town. The next biggest updates are a new wheelset and
a repaint for the frame.
Frame: 19" Brodie Catalyst (fabricated December 10, 1990)
Fork: Brodie Gatorblade
Headset: Chris King
Stem: Syncros CattleProd
Handlebar: Syncros FlatBar
Grips: WTB TrailGrips
Front Brake: Joe's
Rear Brake: Deore XT U-Brake with Brodie Booster
Brake Levers\Shifters: Integrate Push\Push (to be replaced with Deore XT Thumbies and 2-Finger Deore XT Levers)
Front Derailleur: Deore XT
Rear Derailleur: Deore XT Short Cage
Cassette: Deore XT 12-28
Cranks: Syncros Revolution
Crank Bolts: Syncros Crank'o'Matics
Bottom Bracket: (to be Syncros Titanium)
Hub Skewers: Deore XT
Rims: (to be Araya RM17)
Hubs: (to be Deore XT in black)
Tyres: (to be Timbuk II)
Saddle: Avocet Racing (to be replaced with smae in better condition)
Seatpost: Syncros Hardcore
Seatpost Binder: Deore XT Quick Release