So, I got bitten by the Retrobike bug a couple of years ago. In that time, I've been searching out potential projects thru craigslist, feebay, etc. I tend to look for steel or titanium, and I'm also a fan of Ibis. It was their modern Carbon Mojo that got me back into mountain biking. I started off focusing only on Ibis but other potential projects came along that I couldn't resist, Brodie, WTB, Salsa, etc. My intent is to post each project as I work thru them.
First up is a 1992 Ibis Mojo.
I found this one on listed on Craigslist in Long Island, New York. (I'm located in Toronto, Canada) The photos on Craigslist postings are usually aren't of sufficent resolution to properly assess condition, so I'll ask the poster to email me higher resolution photos. He sent me these.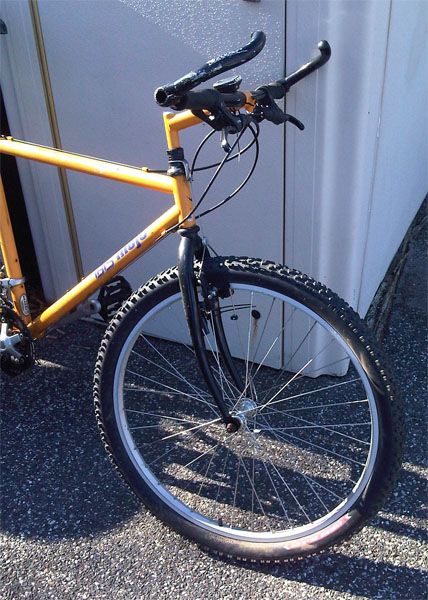 It had a mix of original and various parts added on over the years, likely as the originals needed replacement. My primary interest in the frame, which was my size and doesn't look like it's been abused. The paint is in rough shape, which is ok because it makes the decision to repaint easier.
There were a couple of items in the photos which caught my attention.
The Mojo first shows up in the 1992 Ibis catalog. The catalog photos shows the infamous hand-job rear brake cable holder. A close up of the last photo shows a one-armed holder but with no hand. The second is the Salsa stem. In the 1992 catalog, photos show the integrated binder-style stem being used. The Salsa stem was used on earlier models like the SS. All the other frame details are inline with an Ibis from this period. So this appears to date the frame to early in the production of the Mojo. Perhaps early 1992?
Close-up of rear bracke cable hanger
Excerpt from 1992 Catalog
The asking price was very resonable, so I took a quick trip to Long Island and picked it up the following weekend.
My plan for the build is to keep it period-correct with using mostly M900 XTR with a rigid fork. My priority is to built it up to a rideable state and then start to make final decisions about the built.
- Crispin